Description
About Conference
ConferenceSeries Ltd takes the privilege to invite speakers, participants, students, delegates and exhibitors from across the globe to its premier Sustainable energy 2017, to be held during Oct 23-24, 2017, at Florida, USA. This revered conference will be focusing on the theme "Furtherance of the future Energy Industry". ConferenceSeries Ltd organize 3000+ Global Conference series Events inclusive of 600+ Conferences, 1200+ Workshops and 1200+ Symposiums Every Year across the USA, Europe & Asia with support from 1000 more scientific societies and 50000 eminent personalities.
Summary:
Sustainable energy provides a forum for information on innovation, research, development and demonstration in the areas of energy conversion and conservation, the optimal use of energy resources, analysis and optimization of energy processes, mitigation of environmental pollutants, and sustainable energy systems. Sustainable energy is also concerned with the attendant problems of modeling and forecasting, conservation strategies, and the environmental, social and economic impacts of energy policies and usage, including climate change mitigation and other environmental pollution reduction.
Sustainable energy 2017 Conference to be held in Florida, USA with the theme of "Advanced Energy techniques for Sustainable growth". Sustainable energy Conference is going to help the people who are directly or indirectly related to the Electrical industry and academia. By this conference, people can share their views and ideas and can improve their knowledge about the advanced techniques to increase the productivity of the industries.
Sustainable energy Conference invites a common platform for Deans, Directors, Professors, Students, Research scholars and other participants including CEO, Consultant, Head of Management, Economist, Project Manager from business and industrial sectors across the world in order to establish a scientific relation between academic experts and other participants through information sharing and networking. Experts around the globe are going to meet on one platform of Sustainable energy Conference to introduce advance technologies and recent scientific explorations as well as future of Sustainable energy and electrical fields. Eminent speakers from all around the world are going to be united to introduce the most advance researches and technologies in Energy and other related fields. Sustainable energy Conference also enables a chance to conduct a workshop, symposium and exhibition to emerge new possibilities in the Electrical fields and other related sectors of energy. This conference will provide the sponsors for practical demonstration, product promotion and make a connection with eminent persons and other customers to receive new business line for future marketing.
The conference includes important topics such as Renewable Energy Resources, Energy System & Efficiency Improvement, Energy Sciences, Advanced Energy Technologies, Energy System & Efficiency Improvement, Energy Storage, Power Meters, Power Generation & System, Solar Cells, Climate Change Mitigation & Environmental Impacts of Energy Systems, Cloud Computing, as well as Future Trends and Advances.
Benefits of Sustainable energy:
Enhanced cyber-security
It equips the grid to meet increasing demand.
Decreases power blackouts and surges.
It facilities real-time trouble shooting.
Reduction of expenses to energy producers.
Target Audience:
Academicians
Directors/CEO.
Managers/Engineers.
Professors
Researchers from top universities
Scientists from top research institutes
Scholars
Agriculture engineers
Students
Training Institutes
Market Analysis
The transition towards renewable energy is creating a fundamental, long-term shift in the global economy. This shift can be expected to have a significant impact on fossil-fuel producers, including the oil- and gas-exporting countries of the Gulf Cooperation Council (GCC). The landmark December 2015 Paris Agreement, backed up with detailed plans by countries around the world to overhaul their energy sectors, could imply the eventual softening of global demand for oil and gas, the main drivers of local economies. But it also presents an exciting opportunity for economic diversification and entry to new markets. With the advent of lowest solar prices in the world, Gulf countries are set to capitalise on their promising solar resources for power generation and water desalination. As the present market analysis finds, the GCC region can cut its annual water use by 16 per cent, save 400 million barrels of oil, create close to 210,000 jobs and reduce its per capita carbon footprint by 8% in 2030 – all by achieving the renewable energy targets that national and sub-national governments have already put in place. The year 2015 was an extraordinary one for renewable energy. High-profile agreements were made by G7 and G20 governments to accelerate access to renewable energy and to advance energy efficiency. The United Nations General Assembly adopted a dedicated Sustainable Development Goal on Sustainable Energy for All (SDG 7). Despite a dramatic decline in global fossil fuel prices, the world saw the largest global capacity additions from renewables to date. However, continuing fossil fuel subsidies and low fossil fuel prices did slow growth in the heating and cooling sector, in particular. Renewables are now cost-competitive with fossil fuels in many markets and are established around the world as mainstream sources of energy. Renewable power generating capacity saw its largest increase ever. Modern renewable heat capacity also continued to rise, and renewables use expanded in the transport sector. Distributed renewable energy is advancing rapidly to close the gap between the energy haves and have-nots. This year's report clearly demonstrates the enormous potential of renewables. However, to accelerate the transition to a healthier, more secure and climate-safe future, we need to build a smarter, more flexible system that maximises the use of variable sources of renewable energy and that accommodates both centralised and decentralised as well as community-based generation.
Organizing Committee

Agenda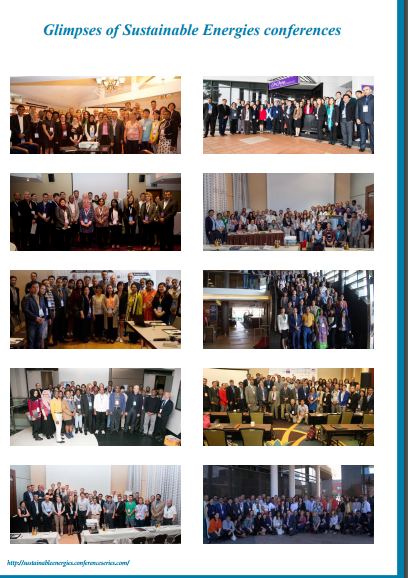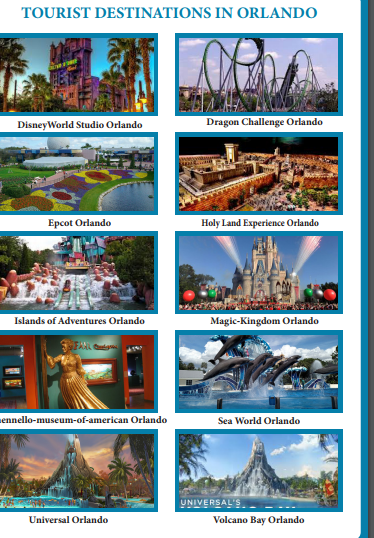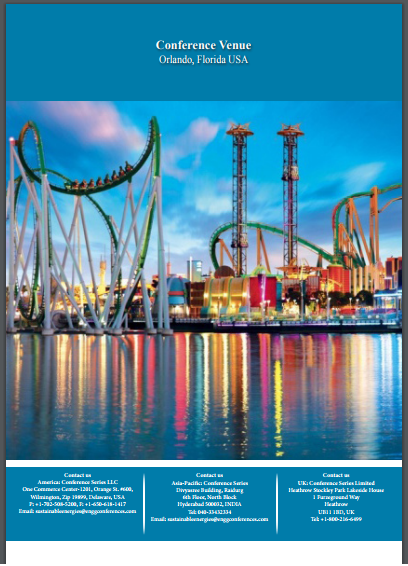 - please contact the event manager Marilyn below for the following:
- Discounts for registering 5 or more participants.
- If you company requires a price quotation.
Event Manager Contact: marilyn.b.turner(at)nyeventslist.com
You can also contact us if you require a visa invitation letter, after ticket purchase.
We can also provide a certificate of completion for this event if required.
NO REFUNDS ALLOWED ON REGISTRATIONS
-----------------------------------------------------------------
This Event Listing is Promoted by
New York Media Technologies LLC in association
with Conferenceseries Ltd.
http://www.NyEventsList.com
http://www.BostonEventsList.com
http://www.SFBayEventsList.com
-----------------------------------------------------------------
SHU171109CEV
Date and Time
Location
Holiday Inn Orlando-International Airport
5750 T G Lee Boulevard
Orlando, FL 32822
Refund Policy