Description
Dear International Students,
You are cordially invited to attend the Free International Students Immigration Expo on March 25th from 10am to 6pm.Get all your questions answered by many immigration attorneys and professionals. This expo will present information about America Immigration Options, including your H-1B, CPT, OPT, Green Card, Investment Immigration and all other Visas of interest to International students. There will also be a resume workshop to help sharpen your resume for getting jobs - particularly tailored for International students.
Please forward a link to this page to your best friends and ask them to register. They will thank you for it. Seating is limited so you must register to reserve your seat.
---
Date: March 25th
Time: from 10am to 6pm
Venue: Four Points by Sheraton New York Downtown 6 Platt Street New York NY 10038
Program:US Immigration Attorneys will be available to talk to you throughout the day from 10am to 6pm. There will be short presentations by immigration attorneys throughout the day.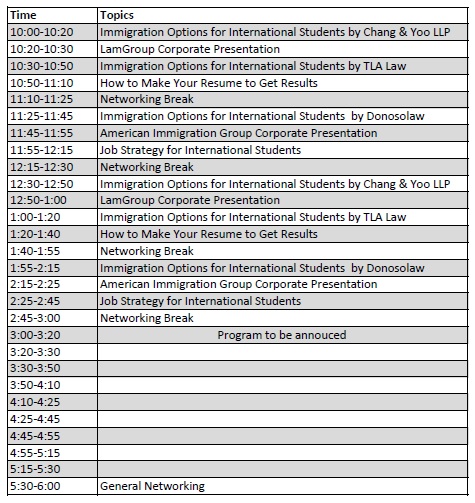 Speakers:
Tao Lin - Managing Partner of TLA Law
Mr. Lin is the Managing Partner of TLA Law and practices in the areas of U.S. immigration and international transactions. He received his B.A. from the University of California, Los Angeles and a certificate from the Johns Hopkins University-Nanjing University Center. He then worked for the Perennial Law Office in Taiwan and Lewis D'Amato's Hong Kong Office before receiving his J.D. on a scholarship from the University of Pittsburgh Law School.
He joined Caesar & Napoli, a New York law firm in 1998 where he was the head of Immigration from 2004 to 2009. He also served as an advisor at the United Nations. Licensed to practice law in New York for nearly 20 years, he is a co-author of "A Guide to U.S Immigration & Visas", published by the Law Press, a leading law publisher in China, and is the Managing Attorney for NYU Law School's Chinese-language Pro Bono Program. He is also a panel member of the New York City Bar's Immigration Legal Referral Service.
Ignacio A. Donoso I.A. Donoso & Associates
Ignacio A. Donoso, Esq., is nationally recognized as a leading business immigration attorney, with particular expertise in visas for companies expanding operations to the U.S., start-ups and entrepreneurs. Mr. Donoso founded Donoso & Associates in 2013, after previously working from 2010 to 2013 as Partner of FosterQuan, LLP (now Foster Global, LLP), one of the top immigration law firms in the U.S. Mr.Mr. Donoso's career spans 18 years as a member of the State Bar of California, of which he has dedicated the last 13 years exclusively to immigration law, including business immigration, family-based immigration and removal defense. In early career, Mr. Donoso advised Fortune 100 companies on international transactions and mergers. Since 2003, Mr. Donoso has represented Fortunate 500 companies and their employees, skilled workers, professors and researchers, professionals, athletes, artists and thousands of investors in their U.S. visa planning. Mr. Donoso has been selected to serve in many AILA National Committees including the Texas Service Center Liaison Committee, the National Annual Conference Planning Committee, and since 2013, Mr. Donoso has served on the National EB-5 Committee.Mr. Donoso is a frequent speaker at national and international conferences on U.S. immigration law, and has frequently published on specific issues related to immigration matters. He has been interviewed on national news media including Fox Business and the New York Times, as well as local television and radio in relation on immigration issues.
Brian C. Lin - Chang & Yoo LLP
Brian was born and raised in Delaware. As a law student, he served as a judicial extern for the Hon. Sue L. Robinson at the U.S. District Court for the District of Delaware. He also interned for the Massachusetts Committee for Public Counsel Services Roxbury Defenders Unit, and served as a Supreme Judicial Court Rule 3:03 Prosecutor for the Norfolk County District Attorney's Office in Quincy District Court.
Prior to associating with Chang & Yoo LLP, Brian worked at Greater Boston Legal Services (GBLS), supported in part by Boston University's public service fellowship program, with a focus on appellate litigation and legal advocacy in the administrative proceedings of the Social Security Administration (SSA) and the Centers for Medicare & Medicaid Services. Brian is also a licensed real estate broker.
Qendrese oversees all paralegal and banking functions at American Immigration. Mrs. Sadriu-Rrustemi has the integral position of Director of Investor Relations. Mrs. Sadriu-Rrustemi utilizes her expertise to work closely with the firm's attorneys, consultants and our escrow bank on all EB5 related transactions and compliance issues. She was formerly with JPMorgan Chase Business Banking Department where she managed business relationships, financings and investments. She is licensed by Financial Industry Regulatory Authority (FINRA), and North American Securities Administrators Association (NASAA). Mrs. Sadriu-Rrustemi has a Bachelor's degree in Finance and International Business from City University of New York.
Qendrese Sadriu-Rrustemi of American Immigration Group
She fully supports the Finance Department and assists in the management of the EB-5 Immigrant tracking system to meet the requirements of the USCIS guidelines. Qendrese manages the total aggregate number of approved EB-5 alien investor I-526 petitions per Federal Fiscal Year made through the Regional Center and tracks the total number of approved alien investor I-829 petitions per Federal Fiscal year to date made through the Regional Center. Qendrese manages all communications with foreign agents and investors in the job creating new commercial enterprise and ensures that all foreign investors complete all appropriate legal documents to ensure that the alien investor is a sophisticated "accredited investor."
Tong (Tony) Zhang LamGroup EB-5 RC
Tong takes the responsibility to operate the comprehensive management of EB-5 program from the consolidating the basic program documents to consultation services to EB-5 investors, including research and analysis on EB-5 insights, executing B2B and B2C marketing strategy, partnership with internal and external professionals, maintaining excellent customer relationship, etc. Tong graduated with master degree of Economics and Bachelor in China Border Security Law. His Many years experiences and background with passport and visa administration for Chinese people make us always strong to provide valuable service to our clients.
---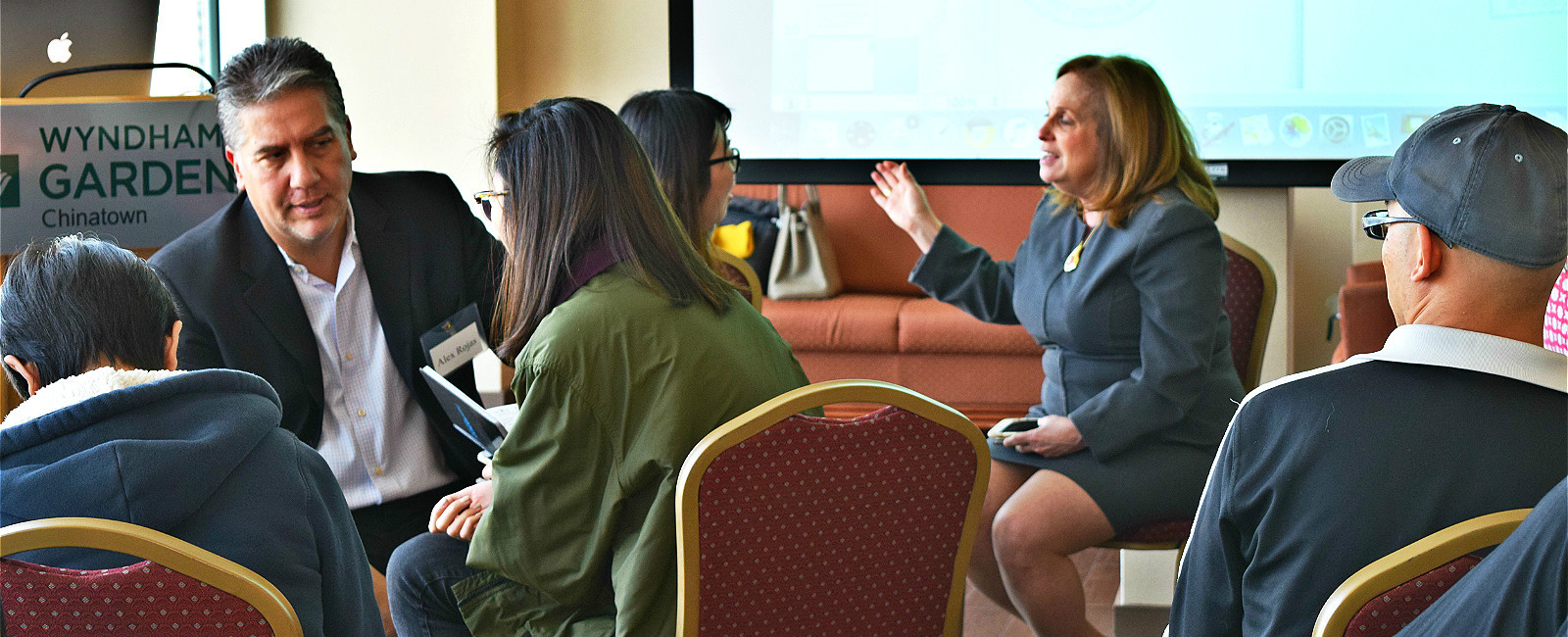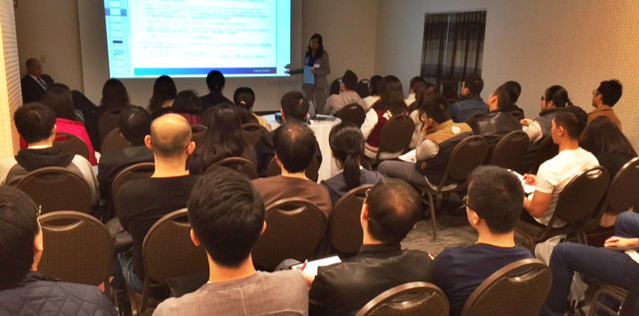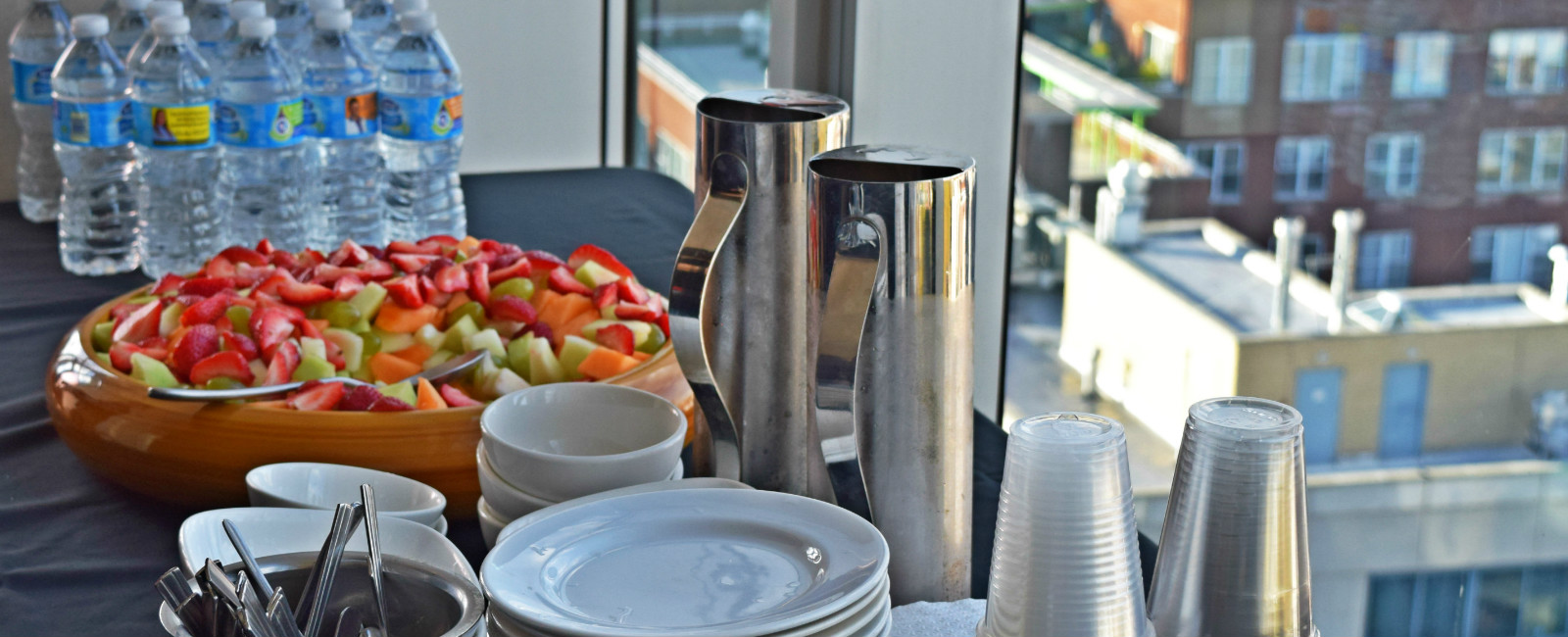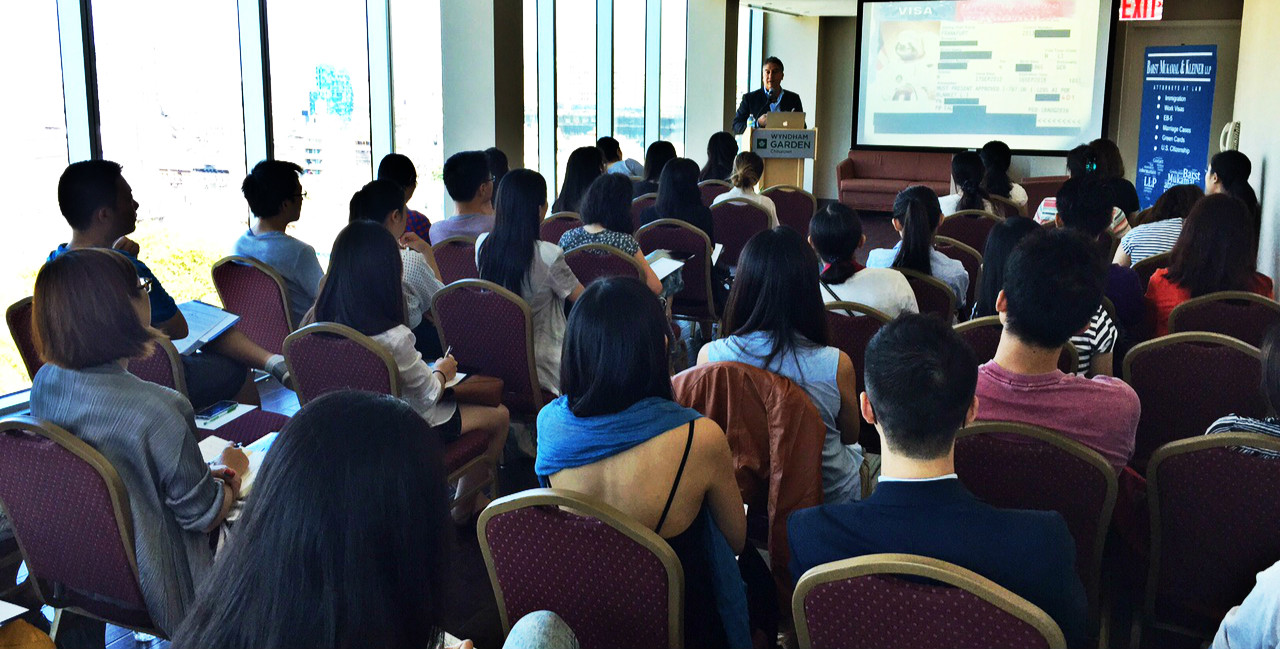 ---
ILW AT A GLANCE
Founded in 1999, ILW is focused on immigration. ILW has two divisions: law publishing and marketing services. We are a small, customer-focused company-just under one dozen people; our offices are in mid-town Manhattan. ILW Publisher Sam Udani has been in the immigration field for 24 years.
ILW's flagship product for the last 16 years is Immigration Daily, an online newspaper sent out by email each working day to 32,000+ subscribers. During the last 12 months, Immigration Daily featured 1,500+ articles from 300+ authors. Immigration subscribers include 10,000+ attorneys, paralegals, and corporate HR personnel, 10,000+ immigrants, hundreds of people in academia, think tanks and journalists, 1,000+ officials at US Department of Labor, US Department of State, US Department of Homeland Security, and other executive branch agencies, dozens of people in courts throughout the country, many members of Congress and their staff in both parties and both Chambers on the Hill,100+ officials in state governments across the country, and thousands of other people interested in US immigration law and policy. Immigration Daily has been quoted in published and unpublished opinions by federal courts.
ILW has provided Continuing Legal Education (CLE) credits for attorneys in many states. We have conducted over 600 CLE seminars and workshops to immigration attorneys during the last 15 years. ILW has provided immigration law CLE seminar content on Westlaw and law.com.
ILW has published dozens of books on immigration law (most titles intended for lawyers) covering every major area of immigration law during the last 12 years. In addition, for many years ILW has distributed 7 immigration law titles from 3 other law publishers (American Lawyer Media, Juris Publishing, and Legal Research Bureau). ILW.COM has co-published a book with the Society of Human Resource Management. One of our books was in the Mandarin language.
For the past 8 years, ILW has provided full-spectrum marketing to a small handful of immigration law firms. For the past 4 years, ILW has provided marketing services to small handful of EB-5 projects.
ILW's EB-5 activities fall into three general categories: Persian Gulf, India and China. In the Persian Gulf, ILW has conducted over 50 events in Dubai, Abu Dhabi, Sharjah, Kuwait, Manama, Doha, Muscat, Riyadh, Jeddah and Istanbul. We manage agent networks in many middle-eastern countries. In India, ILW works with a Investment Bank with over 100 offices throughout India, along with a US immigration law firm with a US immigration attorney permanently stationed in India. ILW conducts events and manages the investment process through the Indian investment bank. ILW has also conducted many EB-5 events in China, Taiwan and for Chinese students in the USA under Reg D.
ILW.COM's website has 250,000+ visitors each month and 2,000,000+ page views each month. ILW's LinkedIn Group has 2,500+ immigration professionals, ILW's Twitter feed has 11,000+ followers, and ILW.COM's discussion board has 20,000+ registered users. ILW.COM features 50,000+ pages of free immigration information online, the largest content repository for US immigration law information on the worldwide web. For 16 years, ILW.COM averages as approximately in the top 20,000 largest US websites.