Description
This Coming February 2018, visit the ISEF in Indore to study Abroad !!!
Delegates from the universities and colleges across the Globe will be participating. Visit us with 3 copies of all your academic and/or work experience documents.

This large-scale International Students Education Fair(ISEF) will be held in 6 cities nationwide.
Hi there,
Getting Proper Job and High Paid Salary is one of the most important aspects that is expected by all students.
That's why Study Metro Inc has started helping students/Professionals for getting paid Internships Abroad.
Most of our students get a job on an average salary of $2000 to $3500 per month ie 16 Lacs to 28 Lacs package per annum.
Please also come for Spot Written Test and meet with Foreign Delegates on February 25th at "The Radisson Blu Hotel" Hotel in Indore.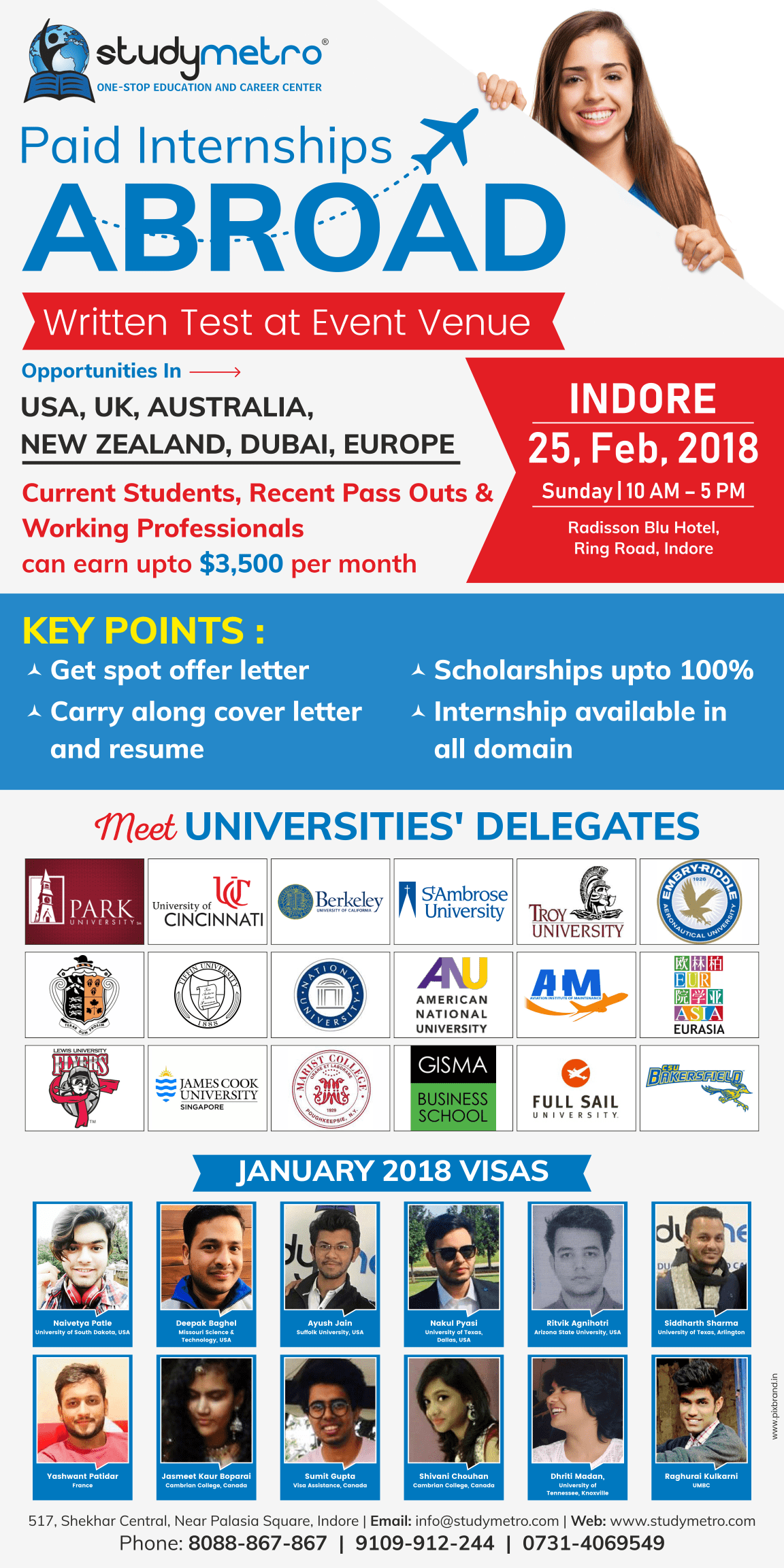 Get Unmatched Benefits:
• FREE Registration
• Meet Delegates from Top Colleges and Universities
• Get On Spot Assessment and Counseling
• Apply to the best Universities around the globe
• Seek expert advice on your visa application and education loans
• And much, much more…
Get Spot Registration for Internships

Meet with Employers & Foreign Delegates.

Earn minimum $2,500 USD - $3,500 USD per month

Paid Internships in abroad

Get Scholarships up to 70%

Work authorization opportunities (CPT and OPT)

Simplified and personalized admission with no IELTS or TOEFL

Fast track application process
watch our previous fair video here
USA Participating Universities & Institution
Full Sail University, USA|Lewis University, USA|St Ambrose University, USA|The University of Alabama, USA|Northeastern University, USA|Peninsula college, USA|Delaware County Community College (DCCC), USA|Embry-Riddle Aeronautical University|Park University|UC Berkeley|California State University Bakersfield|Tiffin University|AIM|Troy University|Marist College|University of Cincinnati||Northeastern University|NJIT|Duquesne University|UMBC|University of St Thomas|American National University|University of Redlands, USA
Singapore Participating Universities & Institution
James Cook University, Singapore
Germany Participating Universities & Institution
Macromedia University of Applied Sciences, GISMA, IEEE

France Participating Universities & Institution
College de Paris, La Rochelle
Switzerland Participating Universities & Institution
BHMS
Canada Participating Universities & Institution
Ridley College, St Lawrence college, Yukon College
Spain Participating Universities & Institution
UCAM
Questions concerning these positions can be answered by calling our customer care at +91-8088-867-867 or Chatting with our Artificial intelligence counselor at http://m.me/studymetro.abroad
Internship Video :

https://youtu.be/QOL6CmZ9ylM

Webinar:

http://page.studymetro.com/Paid-Internships-Webinar-Recording
Please also Pre-registration at http://page.studymetro.com/internships
For More Information Visit: www.studymetro.com/student-fair
For any queries write to us at info@studymetro.com
Call us at
Tel: +91-8088-867-867
Mob: +91-7722-867-867