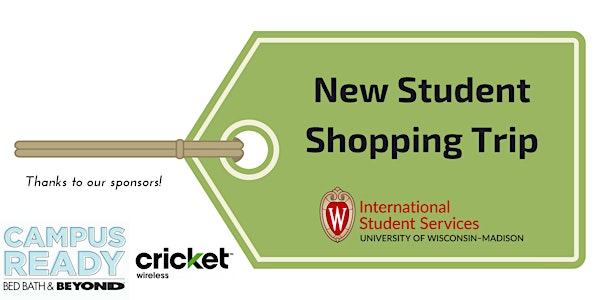 International Student Shopping Trip Fall 2018
When and where
Location
800 University Ave Buses Depart from the Chazen Museum of Art and Dejope Hall Madison, WI 53706
Description
Please join us to purchase household items for your room or apartmentand cellular phone service!
Destination:
215 Junction Road Madison, WI 53717
Buses will depart from the Chazen Museum of Art (800 University Avenue) at 12:00 p.m. and then stop at Dejope Hall (640 Elm Drive) at approximately 12:10 p.m. before leaving for Bed Bath and Beyond and Cricket Wireless. Afterwards, buses will shuttle between Bed Bath and Beyond/Cricket Wireless and campus (Chazen Museum and Dejope Hall) every 20-30 minutes (approximately).
Please note that this timeframe is approximate. Multiple buses have been reserved for this event but passenger space in each bus is limited. Unfortunately, individual stops at apartment buildings and additional residence halls cannot be made.