Event Information
Location
LUCID Lounge
5241 University Way Northeast
Seattle, WA 98105
Description
LIVE at LUCID Lounge | Cross Country Tour
The International String Trio was founded in 1999 by its musical director and guitarist, Slava Tolstoy. During the last 10 years the group has performed at more than 1000 venues across the USA and has gained national recognition for its distinct sound and stylistic diversity. The trio's repertoire includes classical, jazz, popular and world music (Italian, French, Russian, Jewish, Spanish, Latin American, Gipsy and Irish).
The International String Trio has developed a unique concert program that is both highly entertaining and educational, energetic and musically gratifying. The group plays up to 150 gigs a year at venues including: concert halls, jazz clubs, universities, schools and private homes. At our performances we enjoy leading our audiences on a cultural musical journey, as we perform music from countries around the world.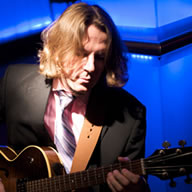 Slava Tolstoy Guitar, Musical Director

Slava's background includes studies of Composition and guitar performance at St.-Petersburg Jazz Conservatory, Russia. He received his Bachelor Degree in Contemporary Writing and Production from Boston's renowned Berklee College of Music, where he was a scholarship student. He founded the "International String Trio" in 1999 and developed a unique performance concept for the ensemble. In addition to being an accomplished performer he is also a songwriter and producer with several credits under his belt.
Ippei Ichimaru
Acoustic Bass
Ippei Ichimaru has been a professional bass player/arranger since 1991 in Australia and America. He does more than 250 performances a year and is one of the most active bass players in Boston. He has had the pleasure of playing with or arranging for many talented international musicians such as Gil Askey (ex-chief arranger of Motown label), Danilo Perez (Grammy Winner), Phil Wilson (Grammy nominee), George Garzone, etc. He is a member of a critically acclaimed Japanese ensemble ensemble "WaFoo"
Ben Powell
Violin
Ben was raised in England until moving to the USA for his college education at the age of 19. In 1998 he was invited to play at the Nagano 1998 Winter Olympics in Japan as part of an international Suzuki celebration. As a soloist Ben has given recitals in The Purcell Rooms in London's Queen Elizabeth Southbank complex. Ben is also an avid jazz violinist and has been experimenting with the style for the last seven years. In 2001 he was invited to play in a master class with jazz trumpeter Randy Brecker as part of the Cheltenham International Jazz festival. Currently Ben is finishing his studies at Berklee College of Music and performs on a regular basis with Boston Philharmonics.
Date and time
Location
LUCID Lounge
5241 University Way Northeast
Seattle, WA 98105