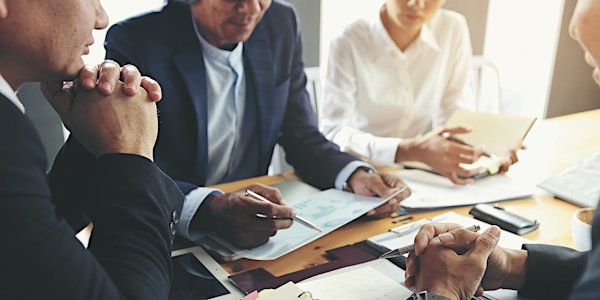 International Sales Training Series
Join VEDP-International Trade for a 3-part training series to enhance your international sales skills and strategy.
By Virginia Economic Development Partnership - International Trade
Date and time
February 28 · 10am - March 28 · 11:30am PST
About this event
How are you adapting your approach to sales, communicating your company's value proposition, and negotiating for success in the post COVID-19 era?
Join us for a 3-part webinar training series on sales and communications, designed to help you perfect your presentation, communication, sales and negotiation skills. This training will take place every two weeks on February 28, March 14, and 28, 2023. Upon completion of the training, each participant will receive a digital certificate of completion. To receive the certificate, participants must attend or watch a recording of two of the three training sessions.
Training Details
This training includes three virtual sessions, each 1.5 hours long, that will take place in February and March. The training will take place "live" on Zoom and is not pre-recorded.
All times listed are in the Eastern time zone. More details about each session can be found below.
Part 1: How to Effectively Present Yourself Virtually and In-Person | February 28, 2023 - 1:00 p.m. - 2:30 p.m.
Like an actor going from stage to screen, transitioning from in-person to virtual meetings and presentations with prospective customers requires a new skill set in order to be successful. In this session, Virtual Sales Presentation Expert Julie Hansen will show you how to successfully connect with prospects in a virtual world and share your solution and your expertise in a compelling and memorable way to grow your business.
You'll learn how to:
Organize your message for maximum impact and clarity
Keep your audience engaged from start to finish
Make a dynamic virtual first impression
Use the camera to build relationships
Read and respond to virtual body language
Bring your message to life with energy, body language and vocal variety
Increase virtual interaction with your prospects
Speaker: Julie Hansen - Julie Hansen is a virtual sales speaker, presentation expert and professional actor. She helps business professionals grow their business by building relationships, and communicating with confidence, credibility, and clarity in a virtual world.
Julie is the founder of Performance Sales and Training and the creator of the Selling On-Camera Master Class, which has helped thousands of sellers successfully transition from face-to-face to virtual selling.
Part 2: Value – Price – Profit: How Businesses Create Successful Growth | March 14, 2023 - 10:30 a.m. - 12:00 p.m.
Speaker: Colm Reilly - Dr. Colm Reilly is the Dublin Trade Director for OCO Global. He started his career with Fujistu before moving to Novartis and then Electrolux where he was responsible for Strategy, Acquisitions, and Investment. Over the past 10 years, Colm has worked with a range of government clients to support their economic development objectives by directly working with companies to develop and expand their footprints. These clients have included UK Trade & Investment (UKTI) where Dr. Reilly was Managing Director for eight years, the Japanese IPA JETRO, the Province of British Columbia and Department of Enterprise and Trade (Ireland) where he chaired the Economic Development Commission.
Part 3: Crash Course on International Negotiations | March 28, 2023 - 1:00 p.m. - 2:30 p.m.
Negotiations are complex and even more so when dealing with international and cross-cultural factors. However, fortunately there are a few core skills that can help you become a successful negotiator regardless of where in the world you are and who you negotiate with. In this session we will focus on two – preparation and probing. Preparation is the only aspect of a negotiation over which you have control. By utilizing a checklist, you can maximize your efficiency and effectiveness as you work through what might occur and build your confidence along the way. While many believe the best negotiators are smooth talkers, it's actually the opposite, the best negotiators are those that ask great questions and listen. Through an interactive simulation we will allow participants to self-discover their habits in this area and then provide you with a probing model that will allow you to better understand the other sides wants and needs, reach better outcomes, and develop stronger relationships along the way.
Speaker: Jeff Cochran, Shapiro Negotiations Institute
More Information
For more information, contact Amy Miller, International Training Manager at amiller@vedp.org or 804.584.3096.