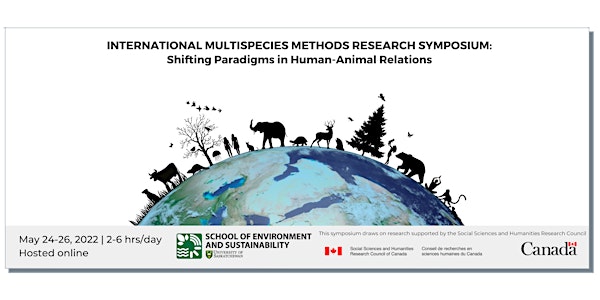 International Multispecies Methods Research Symposium
Have you ever wondered what an animal was trying to tell you?
Refund Policy
Contact the organizer to request a refund.
Eventbrite's fee is nonrefundable.
About this event
Join us for three days of knowledge sharing, idea generation and community building with scholars, Indigenous professionals and practitioners of intuitive interspecies communication (IIC). As this practice is a relatively new area of dedicated academic study, symposium organizers want attendees to know that this forum will neither prove nor disprove that interspecies communication is occurring. Rather, this is an opportunity for interested individuals, practitioners and academics to engage in thoughtful and productive dialogue about IIC.
AIMS
Scholarly exploration and deeper understanding of IIC as practiced by animal communicators (an emerging multispecies method).
Catalyze novel partnerships and grow an international network of IIC research.
Develop new research questions, directions, teams and discussion groups across diverse areas of inquiry and disciplines.
PROGRAM HIGHLIGHTS
Pre-viewing research on the practice of intuitive interspecies communication as practiced by professional animal communicators (including in-progress work)
Opening by Joseph Naytowhow, Plains/Woodland Cree (nehiyaw) singer/songwriter, storyteller and research collaborator
Keynote by Dr. Michael Yellow Bird, University of Manitoba
Keynote by Dr. Rosalyn Berne, University of Virginia
Keynote by Dr. Cara Gubbins, Professional Animal Communicator, California
Sample interspecies consultation with a professional animal communicator
Small group dialogues based on participant interest (e.g. ethics; intercultural implications; a particular research approach; a proposed study)
Networking opportunities with researchers, animal communicators and symposium participants
View the Symposium schedule here.
Please Note:
For simplicity of language, we use the word 'animal' to represent animals who are other-than-human.
The primary focus of this symposium is on practices of professional animal communicators. Throughout, we recognize and honour Indigenous approaches to interspecies relations and communication.
WHO IS THIS FOR?
This event will be of interest to those who are seeking to more deeply understand animals and are interested in learning more about intuitive interspecies communication and emerging research in this area.
For more information see symposium website: https://researchers.usask.ca/mj-barrett/mutispecies-research-symposium.php
This event is being streamed from Treaty 6 territory and the Homeland of the Métis.
IMPORTANT DATES:
Pre-reading/viewing begins: May 15th, 2022
Registration closes: May 19, 2022 11:59pm EDT (GMT-4)
Symposium starts: May 24, 2022 afternoon (See website for final published times)
Selected excerpts from the symposium events will be available for post-event viewing
For most up-to-date program information, see the event website: https://researchers.usask.ca/mj-barrett/mutispecies-research-symposium.php
PRICING*:
Scholars - $150 CAD
Students - $25 CAD
General Public - $30 CAD
*If the fee is a barrier to participation, please contact us at multispecies.symposium@usask.ca
REFUND POLICY:
Contact the organizer to request a refund.