International Multicultural Festival (IMfest 2019) (Free with RSVP)
Description
The fifth annual Austin International Multicultural Festival (IMfest) takes place this Saturday, August 24 at the Sahara Lounge, 1413 Webberville Rd. This family-friendly event will celebrate people and their cultures through performances, music, arts, meetups, fashion, and more.

Saturday Afternoon of Vibrant Activities from Around the World. Below activities are some of what is anticipated to to take place in the festival:-
1:00-2:00 Interactive Multicultural Fashion showcasing African, Middle Eastern, Polynesian, Asian, Turkish, and Indian styles.

2:00-2:30 Hawaiian Drums of Tahiti Revue — Tropical Productions entertainment and fashion

2:30-3:00 Lee Young Korean — performance and fashion showcase

3:00-3:40 Son de Rey — Latin Alternative music

4:00-4:40 Austin Taiko — Japanese drumming

5:00-5:40 The Presidents - Filipino reggae band

6:00 Jason Facey – Jamaican hip hop dancer and musician

IMfest is organized by International Multicultural Community and This project is supported in part by The Cultural Arts Division of the City of Austin Economic Development Department and Austin Creative Alliance. Other notable supporters include Club Bantu, Pon Di Beat, Shavanthe-Bring The World to Your Closet, Autosol, Austin Polish Society, Raindrop Turkish Foundation of Austin, ABASA, Curly Executive, Swift Passage Trading, 4TheLoveofItProductions and more.
International Multicultural Community is dedicated to the idea that all human beings are different and unique, yet the same inside. However different our appearance, languages, practices, and beliefs, deep inside we are united by our shared humanity.
Get your tickets and let us meet Saturday at the Sahara Lounge.
www.imfest.net
www.instagram.com/imfestglobal
www.facebook.com/internationalmulticulturalfestival
www.instagram.com/internationalmulticultural
Join Us www.meetup.com/internationalmulticulturalcommunity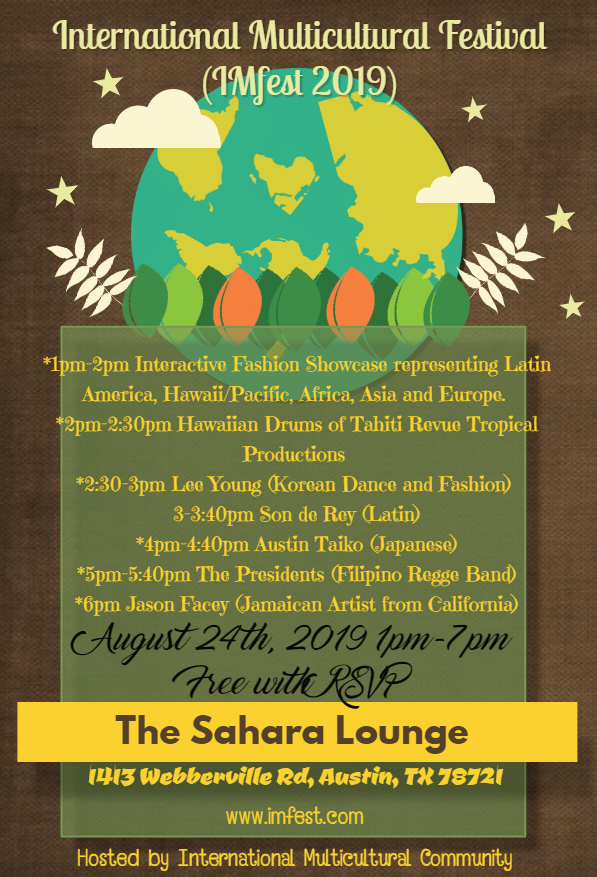 Any questions? Please contact office@imfest.net.


Organizer of International Multicultural Festival (IMfest 2019) (Free with RSVP)
International Multicultural Community
Since 2013, International Multicultural Community has been creating opportunities for the people of Austin to share, learn, explore, and celebrate their love of all our diverse cultures at the annual International Multicultural Festival as well as frequent social gatherings around the city. International Multicultural Community fosters engagement in international and multicultural issues that affect our community, such as art, crafts, immigration, teaching and preservation of languages, international travel, tourism, education, global business, and more, all while promoting unity and civic pride among the people of Austin. This group thrive on the collaboration and partnership with those with similar focus. Future plans include an International Multicultural Marketplace, International Multicultural media platform and much more. We hope to collaborate with many other multicultural organization in and outside the city.
www.imfest.net