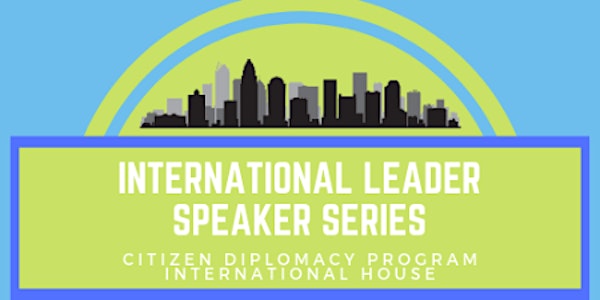 International Leader Speaker Series-Global Leadership in Corporate Social R...
Location
Northeastern University–Charlotte
101 North Tryon Street
Suite #1100 Commerce Room
Charlotte, NC 28246
Description
The Citizen Diplomacy Department at International House launches International Leader Speaker Series!
For over 30 years International House has brought delegations from around the globe to Charlotte for professional networking and exchange of knowledge. This prestigious US Department of State run exchange program now boasts over 500 current and former heads of State as alumni. Join us as we look at what Corporate Social Responsibility looks like around the world and discuss the most practical and efficacious ways for companies to give back to the community. Our esteemed panel will feature leaders and executives from Finland, Kazakhstan, Morocco and local executives from leading Charlotte corporations. Network with Corporate Social Responsibility executives from ten countries in 4 different continents. RSVP now for what ought to be an engaging and unique panel to kick off our speaker series!
International House partners with the U.S. Department of State's International Visitor Leadership Program (IVLP) to bring delegations of foreign leaders to the U.S. to experience and learn from American corporate and social systems. Our visiting delegations learn from Charlotte leaders, while our community members get an opportunity to also learn from our guests.
Use code "CSR2019" to receive a $5 discount on the general admission tickets!