Description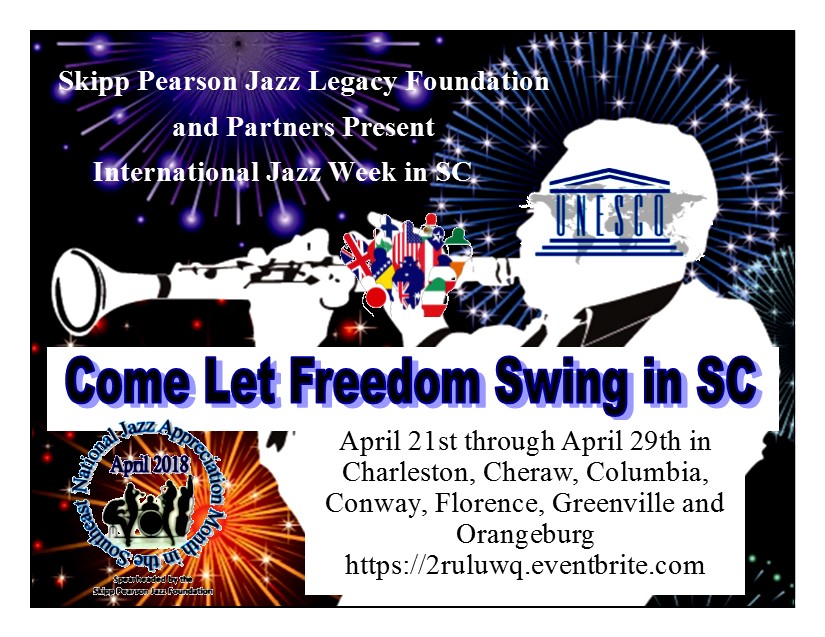 Beginning Saturday April 21 through Monday April 30th 2018 the entire State of South Carolina (SC) is invited to begin the celebration of the first annual International Jazz Week (IJW) in honor of the endearing virtues of Jazz Music as an "educational tool, force for peace, instrument for intercultural dialogue and global cooperation."
This inaugural initiative is a consolidated effort between the new Skipp Pearson Jazz Legacy Foundation (the Legacy Foundation), Coastal Carolina University (CCU), and the Charleston Jazz Club (CJC), as well as other partners.
All of the benefits of organizing a week of pre-event live music performances in SC to get the world ready can be attributed to the tireless efforts made over a period of sixty-five years by the late Skipp Pearson. What has been designed by his Foundation as a statewide endeavor exists to support the United Nations Educational Scientific Cultural Organization's (UNESCO) 7th annual worldwide effort to celebrate Jazz music on Monday April 30th, the last day of National Jazz Appreciation in America.
It is estimated that over one hundred and ninety-two countries around the globe are scheduled to participate in their own unique one day tribute to Jazz music.
Come Let Freedom Swing, the music theme for IJW first year will allow SC residents the opportunity to experience Big Band SWING music from the 1930's and the 1940's through the delightful sounds of the Carl Payne Big Band and the Coastal Carolina University Big Band.
For SC the annual tribute to Jazz music generally hosted by the Legacy Foundation during the month of April just got a whole lot better. Now there are two very important projects: National Jazz Appreciation Month and International Jazz Week being offered.
Live performances for IJW 2018 will be held in the cities of Charleston, Cheraw, Columbia, Conway, Florence, Greenville, and Orangeburg, SC (see full schedule below).
Schedule of Performances:
Saturday April 21st 7PM until 10PM
Opening Performance in Historic Conway SC
Artists: Carl Payne Big SWING Band and the Coastal Carolina University Big Band
Site: Wheelwright Auditorium, 108 Spadoni Park Circle, Conway SC 29526
Sunday April 22nd 4PM until 8PM
The Charleston Jazz Club / Dennis and Elaine Fassuliotis, Directors
Special programming for the 4th Annual Charleston Jazz Jam and Mayor's Charity Choice Award
House Band: Chris Williams on Sax, Noah Jones on Keys, Wayne Mitchum on Bass, JT Rollerson on Drums and Jimmy Ward on Guitar
Special Guest Appearance by the honorable John J. Tecklenburg, Mayor of the Holy City
Site: Republic Garden and Lounge, 462 King Street, Charleston, SC 29403
Monday April 23rd 7PM
Artists: The Carl Payne Big Band
Site: Historic Kress Corner, 117 West Evans Street, Florence, SC 29501
Tuesday April 24th 7PM
Artists: The Carl Payne Big Band
Site: Expressions Gallery, 125 Second Street, Cheraw, SC 2950
Wednesday April 25th 7PM
Artists: The Carl Payne Big Band
Hyatt Regency Downtown Greenville, 220 North Main Street, Greenville, SC 29601
Thursday April 26th 7PM
Artists: The Carl Payne Big Band
Special Programming: The Launch of the Skipp Pearson Scholarship Fund
at Claflin University, 400 Magnolia Street, Orangeburg, SC 29115
Please note that while the Legacy Foundation is providing these events free of ticket admission we ask that all members of the public make a minimum monetary contribution of $20 per person in support this project.
Thank you in-advance.
Finis