Description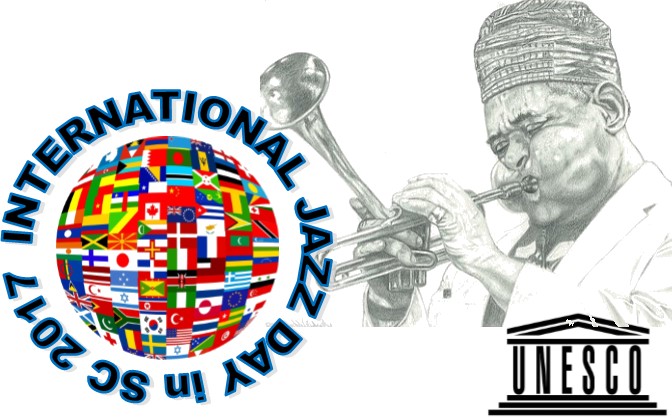 Beginning Saturday April 29th through Sunday April 30th the entire State of South Carolina is invited to celebrate International Jazz Day (IJD) in South Carolina and to share the rich art, and endearing virtues of Jazz Music as an "educational tool, force for peace, instrument for intercultural dialogue and global cooperation."
IJD 2017 is taking place in South Carolina as a consolidated effort by the Skipp Pearson Jazz Foundation (the Foundation) and a host of Lead Partners in support of the United Nations Educational Scientific Cultural Organization (UNESCO). The Foundation was asked to take the lead and to organize a project in support of the worldwide celebration scheduled to take place in over one hundred and ninety (190) countries around the world.
As this weekend will also mark the last two days of National Jazz Appreciation Month (NJAM), South Carolina residents and visitors alike will have the opportunity to attend any of the twenty activities and Jazz Jams being offered. From Greenville to Charleston, Jazz Lovers will be able to enjoy some of the best live jazz music anywhere.
IJD 2017 in South Carolina on Saturday April 29th will begin with the sounds of Bebop in the City of CHeraw offering a salute to South Carolina's first ambassador of Jazz, Dizzy Gillespie. Throughout the weekend Jazz Artists, Lead Partners, and Municipalities across the State will help share seventy years of live Jazz Music performances.
You will have the opportunity to attend a Jazz Jam in:
Aiken, Augusta, Cheraw, Charleston (3 events), Columbia (5 events), Conway/Myrtle Beach, Folly Beach, Florence, Hilton Head, Greenville, Lake City, Orangeburg, Spartanburg, Sumter. More cities are signing so check this site often.
Make sure to get your FREE admission passports (see below).
While we have your attention please remember to make a minimum monetary contribution of $20 per person before your leave the ticket master site.
We must all support the ART of Jazz Music.
"Put a little Jazz in Your LIfe"