INTERNATIONAL JAZZ APPRECIATION DAY @ KEEP THE MUSIC PLAYING! 45 JAZZ GREATS AND SHEILA ANDERSON (WBGO fm ) ; WYCLIFFE GORDON, LOUIS HAYES, BOBBY SANABRIA AND MORE - See the FULL LINE-UP BELOW

Monday, April 30, 2018 from 6:30 PM to 9:30 PM (EDT)
Event Details
THANK YOU FOR SUPPORT
ONLINE TICKET SALES HAVE CLOSED
TICKETS ON SALE MONDAY
5:00 - 8:00PM
FIRST CORINTHIAN BAPTIST CHURCH
1912 ADAM CLAYTON POWELL, JR. BLVD
@ WEST 116TH STREET
NO ADMISSION WITHOUT A TICKET
Thanks, Jazzy!


INTERNATIONAL JAZZ DAY WITH

jazzmobile 

and NOW 43 JAZZ GREATS AT A

ONE NIGHT ONLY ALL-STAR CONCERT

APRIL 30th in HARLEM, NY!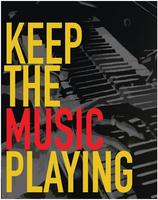 Please purchase your tickets today, and or make a Donation, now!  
APRIL 30th  "OH WHAT A NIGHT THIS WILL BE!"
Come and enjoy an evening of what JAZZMOBILE is known for:
Great Perormances by
Great Artists and
Audiences that know how to have a GOOD TIME!
TICKET PRICES


$20 General Seating  GROUP Tickets (10+) 
NOW - April 28
$30 General Seating  Tickets                               
NOW - April 28
$50 VIP Seating Tickets                                  
NOW - April 28
NOW!! GENERAL SEATING GROUP PRICES OF 10 OR MORE @ 30% DISCOUNT!
AT THE BOX OFFICE: DISCOUNT TICKETS AVAILABLE - Starting April 9th 
For Seniors showing Valid ID and
Students currently enrolled in school showing a Valid Student ID
Tickets at all prices will be available at the Box Office 
KTMP Box Office Hours:
205 West 119th Street

Monday:
2:00-7:00 pm
Tuesday:
Noon - 7:00 pm
Wednesday:
Noon- 7:00 pm

Thursday:
Noon - 6:00 pm
On INTERNATIONAL JAZZ DAY, Monday April 30th many of the most talented Jazz artists playing today are donating their performance for a One Night Only concert that promises to have everyone in the house on their feet and calling for encore after encore!
SHEILA ANDERSON, WBGO JAZZ 88 fm on-air WEEKEND HOST - Emcee

WINARD HARPER, Music Director, will be joined by dozens of artists in the Sanctuary of Harlem's First Corinthian Baptist Church, including: (in alphabetical order | line-up, subject to change!)
AKIKO TSURUGA, Organ
ALEXIS COLE, Vocals
ALYSON WILLIAMS, Vocals

ANDREA BRACHFIELD, Flute
ANTOINETTE MONTAGUE, Vocals
BOBBY SANABRIA, Percussion | Drums
BRIANNA THOMAS, Vocals
BRUCE EDWARDS, Guitar
CHIP JACKSON, Bass
CRAIG HARRIS, Trombone
CYNTHIA SCOTT, Vocals
DANNY MIXON, Piano | Organ
DAVID F. GIBSON, Drums
DARNELL "JAY" STARKES, Bass
DERRICK BARKER, Vibes
GENE GHEE, Saxophone
GHANNIYYA GREEN, Vocals
JAMES ZOLLAR, Trumpet
JAY HOGGARD, Vibes
KAHLIL KWAME BELL, Percussion 
KIANI ZAWADIE, Trombone
"KING" SOLOMON HICKS, Guitar
LAFAYETTE HARRIS, Piano
LISLE ATKINSON, Bass
LOUIS HAYES, Drums
LUQUES CURTUS, Bass
LYNETTE WASHINGTON, Vocals
MARCUS PERSIANI, Piano
MARION COWINGS, Vocals
MIMI JONES, Bass
NAT ADDERLEY, JR., Piano
PATIENCE HIGGINS, Sax
PHILLIP HARPER, Trumpet
RAY MANTILLA, Percussion
ROLAND GUERERRO, Percussion
RONNIE BURRAGE, Drums
T.K. BLUE, Sax
WARREN SMITH, Drums
WYCLIFFE GORDON, Trombone
YUNIOR TERRY, Bass
ZACCAI CURTIS, Piano
 LINE -UP IS SUBJECT TO CHANGE; MORE ARTISTS TO BE ANNOUNCED!!
 The entrance to FCBC and the Sanctuary (orchestra seating) are street level.
FCBC does not have elevators or ramps to the balcony seating level.
Have questions about INTERNATIONAL JAZZ APPRECIATION DAY @ KEEP THE MUSIC PLAYING! 45 JAZZ GREATS AND SHEILA ANDERSON (WBGO fm ) ; WYCLIFFE GORDON, LOUIS HAYES, BOBBY SANABRIA AND MORE - See the FULL LINE-UP BELOW?
Contact JAZZMOBILE, INC.
When & Where

The Sanctuary at First Corinthian Baptist Church
1912 Adam Clayton Powell Junior Boulevard
New York, NY 10026


Monday, April 30, 2018 from 6:30 PM to 9:30 PM (EDT)
Add to my calendar
Organizer
Founded in 1964 by National Endowment for the Arts (NEA)  Jazz Master, Dr. Billy Taylor, arts administrator and philanthropist Daphne Arnstein with NEA Jazz Master Jimmy Heath - JZM's mission is to present, preserve, promote and propagate America's classical music, Jazz.
CORE PROGRAMS: Saturday Jazz Workshop, Jazz in the First Person - Lecture Demonstrations: panel discussions, symposia; and SUMMERFEST - Jazzmobile's Free summer mobile concert series, continues to be New York City's longest running Jazz festival.  In 2018 JZM presents SUMMERFEST for the 55th year!