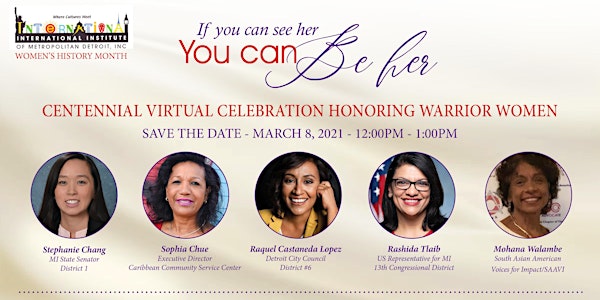 International Institute of Metropolitan Detroit's Virtual Celebration
Join the IIMD's virtual Centennial and Women's Day celebration on March 8th to celebrate our local warrior women and our anniversary!
About this event
On Monday, March 8, 2021 the International Institute of Metropolitan Detroit (IIMD) will host its FREE virtual Zoom centennial celebration from 12:00pm – 1:00pm. This year's theme is "If You Can See Her You Can Be Her" ! We will be honoring 5 influential and progressive women of immigrant descent who have been selected for their work with IIMD, in their dedication to equity in activist movements and beyond. The 2021 awardees are:
Senator Stephanie Chang - MI State Senator for District #1
Ms. Sophia Chue - Caribbean Community Service Center
Councilwoman Raquel Castaneda Lopez – Detroit City Council District #6
Congresswoman Rashida Tlaib - US Representative for MI 13th Congressional District
Ms. Mohana Walambe – South Asian American Voices for Impact/SAAVI
This past year was a landmark year of historical celebrations and devastating national challenges. This year's centennial celebration and fundraiser will support IIMD's important programming initiatives supporting immigration legal services and updating their outdated case management system. Whether you'd like to donate a small amount or become a corporate sponsor please contact Events@iimd.org or via cell phone at 248-217-3026 no later than Friday, February 27, 2021. More information is available at iimd.org.
With your support, IIMD can continue to provide uninterrupted service for the next 100 Years to over 2 Million People representing 180 Cultures speaking 200 World Languages!