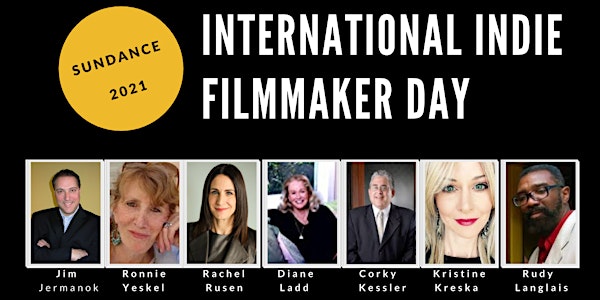 International Indie Filmmaker Day and Pitch Competition during Sundance
Join us for an incredible chance to hear from top actors and filmmakers in the independent film industry and to get your questions answered.
Refund Policy
Contact the organizer to request a refund.
Eventbrite's fee is nonrefundable.
About this event
International Indie Filmmaker Day will be held live via Zoom on Saturday, January 30th followed by a exclusive invitation only virtual live pajama party. On January 31st, it's time for "Pitch Fest" where well over $35,000 of needed in-kind services will be awarded.
We are excited to host this event during Sundance to specifically move independent filmmakers around the world forward in their career. Content is needed right now with the addition of so many more avenues, and we are here to help you create and sell that content.
Topics important to the needs of independent filmmakers will be addressed with your questions answered in topics from funding, producing, screenwriting, casting, elevating your film with the right music, distributing, and handling post-production.
Top Filmmaker and Actor Panels with Live Q&A, Saturday, January 30th
10AM - 5:30 PM
Film Funding 10-11 AM CST
Corky Kessler - Mr. Kessler has extensive entertainment law, corporate and entertainment industry experience. He regularly speaks on the business and legal aspects of feature film development and tax incentives in connection with the entertainment industry. Corky is actively involved in film fund transactions and counseling, and film funding source development in North America, and is expanding his practice internationally.
Dave Conlon - Mr. Conlon is the co-founder of Eggplant Picture and Sound. and Eggplant Collective, known industry-wide for having the talent and experience to provide an integral and dynamic start through post production for their clients. With award winning projects in major film festivals, they are leaders in their lane. Filmmakers and television producers benefit from all the advantages of a truly integrated and optimized workflow.
Ted Reilly - Executive Director of the Chicago Media Angels, whose mission is to organize, educate and accelerate savvy media investors in Chicago. He is also the co-founder of SRH Partners where he leverages his passion for creativity and extensive experience in finance to help creative talent organize and flourish. With CMA, Ted has financed and/or executive produced over 30 films since 2016. Before launching his own company to focus on content as an asset class, Ted worked in the investment management division of Goldman Sachs and received his BBA in Finance from the University of Notre Dame.
Ali Aksu - Ali M. Aksu is an international film producer, director and entrepreneur. He is the executive producer of several groundbreaking projects, including "Laid in America" the first-ever feature film to cast YouTube celebrities and directors, that was distributed by Universal Studios. He is the founder of FilmCapital.io, a community focused Hollywood crowdfunding platform that was incubated at Singularity University to empower independent filmmakers. Ali is the Southern California Young Professionals Ambassador at the United Nations Association of America. He is an MBA candidate at Chicago Booth School of Business. He holds a B.A. in Economics, with a minor in film, TV and digital media from UCLA, and earned executive-level degrees from MIT, Wharton and Singularity University.
Rachel Rusen - CEO & Manitoba Film Commissioner for Manitoba Film & Music, Rachel Rusen leads the province's crown corporation charged with driving Manitoba's dynamic film industry. Prior to joining Manitoba Film & Music, Rachel was a partner with MLT Aikins LLP and practiced law since 1997. She was selected by the Government of Canada to the Judicial Advisory Committee, appointing judges to the Manitoba Court of Appeal, Court of Queen's Bench, and Federal Court of Canada. Specializing in the area of entertainment law, Rachel served provincial and national clients in film, television, music, new media, and book publishing while achieving a notable career in mergers and acquisitions, corporate finance and secured lending, and general corporate and commercial law.
Jim Jermanok - Mr. Jermanok is an award-winning writer, director and producer, consultant and speaker based in NY. He is currently directing and producing AN ACTOR'S ACTOR, a feature documentary about the life and art of Oscar-winning actor Martin Landau featuring interviews by Chris Rock, Dianne Ladd, Jon Voight, Woody Allen and Ellen Burstyn, among many others. Jim wrote and produced the highly acclaimed romantic comedy, "Passionada," which was released by Columbia Tri Star in over 150 countries. His film "Em" won the Grand Jury Prize at the Seattle International Film Festival and the Criterion International Inspiration Award. Jim also wrote and directed "Homophonia," a political comedy film on gay marriage rights that has appeared at over 50 film festivals while winning several of them. His revolutionary web series "LIFEADVICE.TV" has drawn tremendous praise since going live globally in 2016. Mr. Jermanok is a former ICM Agent who helped to represent Arthur Miller, Shirley MacLaine, John Chancellor, Ben Kingsley, Dudley Moore, Helen Hayes, Alan Arkin and General H. Norman Schwarzkopf, among others. Jim also speaks and conducts workshops worldwide on the subject of his 2018 bestseller, BEYOND THE CRAFT: What You Need to Know to Make A Living Creatively; Making Your Projects Happen: Successful Film/TV Producing and Financing as well as The Art and Business of Screenwriting.
Film Distribution 11-12 Noon CST
Tamara Bell - As Vice President of Koan, Ms. Bell oversees the acquisition and development of feature films, documentaries, series, and animation in genres ranging from sci-fi and action to romantic comedy and faith-based for an ever-growing worldwide audience.
Michael Slifkin - Award winning Producer and Filmmaker with over 30 years of hands-on-experience and more than 100 feature film and television credits as Producer, Executive Producer, Writer and Distributor/Sales company. Mr. Slifkin has an extensive background in virtually every aspect of content creation and completion including: development/packaging, talent acquisition, physical production, post production, financing, worldwide sales and distribution, and the development of multiple corporate strategic alliances and business partners/ventures.
Strathford Hamilton - Mr. Hamilton is a principal in the production and distribution company TriCoast Worldwide, which distributes feature films and television shows internationally.
Kristine Kreska - Ms. Kreska has been working in entertainment for two decades. She began her entertainment career at Winstar Communications (formerly known as Fox Lorber, Winstar Home Video, and Wellspring Media). In 2004, Ms. Kreska joined the key art award-winning entertainment creative agency B.D. Fox & Friends, Inc. where she launched the company's film sales division as Vice President overseeing all aspects of acquisition, key art, movie trailers, and international sales. After the retirement of B.D. Fox in 2007, Ms. Kreska switched her focus to consulting for independent film development and sales as a producer's rep and buyer's rep.
Advancing Your Career Through Film Festivals 12-12:45 PM CST
Jon Fitzgerald - Mr. Fitzgerald has directed many film festivals, including Slamdance, AFI, Santa Barbara, Abu Dhabi, Hollywood and Naples. He has guided countless directors on their festival journeys, with custom Festival Strategy packages, as well as introductions to talent managers, studio executives and distributors. He has been instrumental in numerous sales to companies, such as Netflix, HBO and Gravitas.
Justin Giddings - Mr. Giddings is an award-winning actor, writer, and director. The empowerment of a filmmaker to totally control their creative expression in the world continues to drive Justin's coaching and educational work. He is the CEO of The Kickstarter Guy with a 97% success rate having raised $6 million dollars .
Tony Armer -Tony Armer is the Film Commissioner for St. Petersburg Clearwater, Florida. He is an Award Winning Filmmaker and the Founder of the internationally acclaimed Sunscreen Film Festival. He works with hundreds of productions each year. Tony led the Film Commission to its best year and best 5 year period ever in the 28 year history of the organization. Tony led the Sunscreen Film Festival from its inception in 2005 to an annual event in St. Petersburg, FL each Spring and Los Angeles, CA each fall. Sunscreen is consistently ranked as one of the Top 100 reviewed festivals on Film Freeway out of over 9000 film festivals. Sunscreen was voted one of the "25 Coolest Film Festivals in the Country" by Movie Maker Magazine, and "Best Film Festival" by Tampa Bay Magazine. It is one of only 23 fests in the country to be sponsored by the Academy of Motion Picture Arts and Sciences (the Oscars) for 2013-2014. Tony works closely with film distributors and sales agents attending markets like Cannes, Sundance, Toronto, AFM and more.
Natasha Marburger - Ms. Marberger is a London-based producer whose most recent feature "We Too" premiered at Cannes. She serves as the Festival Director for the London Independent Film Festival as well as Festival Director for the Los Angeles International Film Festival.
Producing Your Film 1:00 – 2 PM CST
Diane Ladd - The amazingly gifted Diane Ladd received immense praise for her dramatic efforts throughout the course of her electric and unique seventy-year career. Nominated an Academy Award for Best Supporting Actress, she won the BAFTA Film Award, same category, for her account of a wiseacre roadside diner waitress in Alice Doesn't Live Here Anymore. She received additional Academy Award nominations for Wild at Heart, in which she delivered a spellbinding characterization of a diabolical mother sending her daughter into hedonistic rebellion, and for her performance as a loving and principled southern family woman in Rambling Rose. All of which she appeared alongside daughter-actress, Laura Dern. Diane's timeless offbeat charm and beauty reminiscent of a lamented Hollywood Golden Era actress gleam in the most understated roles and continue to make her a sought-after unconventional performer.
Rudy Langlais – Mr. Langlais is an acclaimed producer of Oscar-nominated, "The Hurricane" starring Denzel Washington and "Sugar Hill" starring Wesley Snipes.
Bill Straus – Mr. Straus is a top producer serving as Executive Producer of the box office smash "Straight Outta Compton" and as Co-Producer of "The Man" starring Samuel L. Jackson and Eugene Levy.
Carol Shine – Ms. Shine is an award-winning producer who has produced over 50 titles for film and television. Highlights from her long list of credits include "Blackbird" starring Academy Award winner Mo'Nique, and "I Am Legend" starring Academy Award nominee, Will Smith.
Liliana Kawase -She is a business partner at Titanio Films, a production company based in Miami where she has produced several TV series, documentaries, shorts and feature films. For the past few years she has been a jury and curator for film festivals like Jaipur International Film Festival and Inffinito Film Festival. Liliana was born in Salvador, grew up in Rio de Janeiro and now lives in Miami. Liliana is an Electrical Engineer by formation with a Master and a PhD degree in the area, and a cinematographer executive producer by passion.
Suzanne Lyons - In 1999 Ms. Lyons launched Snowfall Films and to date has produced/executive produced twelve features with top actors like Naomi Watts, Christopher Walken, Susan Sarandon, James Caan and many more. Suzanne is in soft prep with producing partner Simon Brooks on a Mark Rosman family film IN MY LIFE. They have attached Kevin Pollak, Janeane Garofalo, Wyatt Oleff and are in talks with Tom Hughes to play John Lennon in the film. She has partnered with Rob Deege, on her Mark L. Smith ("The Revenant") suspense thriller HARDCOURT. Suzanne and film partner Anne Marie Gillen have optioned the novel, DRAWING FROM MEMORY by Ronnie Berman and they are working on the limited series treatment with writer Donna Jason. Suzanne is working with producers Joanne Bloem and Jason Piette on a film project based on Gayle Lynds' novel, MOSAIC to be directed by Sean McNamara. Suzanne is a member of the Producers Guild of America. She has published her book "Indie Film Producing: The Craft of Low Budget Filmmaking" through Focal Press.
Music: A Crucial Element of Film 2:00 – 3:00 PM CST
Richard Orga - Mr. Orga is a Grammy award winner for Best Country Song "It's Five O-Clock Somewhere and an ACM Best Country Song award winner for "I'm Movin' On". He currently serves as the CEO for I-Prop Management in Nashville, an independent broker for the sale and acquisition of Intellectual Properties, including sound design and music catalogs.
Caron Nightingale - Ms. Nightingale has been involved in almost every area of the music business for more than 35 years. Starting as a touring artist, she went on to write and produce commercial songs, jingles and film music, winning numerous awards along the way. In 1992 Caron founded the internationally recognized and respected, Nightingale Music, which represents indie artists and produces and publishes music and sound effects for licensing. Nightingale Music can be heard in just about every country and network in the world. Caron has spoken on many industry panels including Sundance and the Toronto Film Festival in 2018. In 2012, Caron opened the Canadian office of APM Music, a production and creative house co-owned by Universal Music Group and EMI, where she currently holds the position of Director of Sales, Canada. APM offers the most comprehensive collection of music available for licensing to entertainment and media producers, providing U.S. and Canada-based production clients with access to over 800,000 tracks of every style of music produced specifically for use in film, television, radio and new media.
Cristina 'Trinity' Velez-Justo - Ms. Cristina "Trinity" Vélez-Justo is a public speaker and educator, and an award-winning composer for film and media through her business ReelScoring, LLC in Charlotte, North Carolina. She relocated from Los Angeles in 2018 after finishing the Television Academy Foundation Internship in Music and working as an assistant to renowned film and television composers. Through film festivals, Trinity educates filmmakers on the psychology and significance of music in film and how to successfully work with a composer. Trinity also speaks internationally about diversity and inclusion in the industry and in the creative classroom. She is an instructor at the University of North Carolina School of the Arts in the MFA Film Music Composition program, and an active member of the Charlotte film community. Trinity will be starting her PhD in Music Theory with a specialization in Cognitive and Behavioral sciences in Fall 2021. Her research will focus on music in media, and how it influences and may potentially change viewers' perceptions on national issues particularly regarding gender and race.
Heather Gardner - Ms. Gardner is Head of Music Supervision and Licensing at Vapor Music. Heather lives and breathes music. With professional training in piano performance and arts management, her ears intimately understand the relationship between song and picture, and how to harmoniously capture that magic within any budget parameters. Heather balances her right brain creativity with extensive left brain attention to detail, allowing for a seamless licensing process from concept to contract to cue sheet.Her credits include work on television series 'Vacations of the Brave' (Amazon Prime), 'Hello Goodbye' (CBC), 'Shoot The Messenger' (CBC/ITV/WGN America), 'Rookie Blue' (ABC/Global)), feature films, video games and advertising campaigns that have been seen worldwide. She was awarded the prize for Best Sync - Commercial at the first Canadian Sync Awards (2018) for her work on #EatTogether for President's Choice, where she licensed the world renowned Burt Bacharach classic "What The World Needs Now", which was reimagined by the Vapor Music team featuring Walk Off The Earth's Sarah Blackwood on vocals.
Darice G. - Darice is the CEO and founder of Synapse Publishing & Entertainment, LLC . Darice has been an actor, ballroom dancer, innovator, musician, international speaker, marketer, award winning author, software developer and serial entrepreneur having founded multiple corporations in several industries. She has been a requested speaker, moderator, coach, sponsor, and contributor to expert panels for film and music festivals including TIFF, Cannes, Sundance, Springboard, FIIFF and others. From serving on theatre boards, to raising money for not-for-profit organizations to managing touring artists and providing original musical content and supervision for various media and films She is currently a member of BMI, TWIFM, WIFT, BMI, NSA, AIMP, MMF, and other professional organizations and brings a 'joie de vivre' to every Synapse Publishing & Entertainment prides itself on not only its development and support of talent, but on its publishing catalog, music supervision, easy sync licensing and artist management. Its unique expert level roster of award-winning music composers both in the US and internationally have created music for films, television, gaming, and ad industry. In addition – Darice is addicted to competitive Scrabble and is a devoted new grandmother to Owen.
Documentaries: Story to Screen 3-3:30 PM CST
Noemi Weis - Ms. Weis is an award winning Producer that has spent over 20-years telling stories on the big and small screens, from her worldwide advertising projects to her award winning documentaries. Director/Producer Noemi has built an exceptional documentary portfolio. Her tangible skills are guided by moral integrity and a keen sense of balance. Noemi is an articulate and sensitive filmmaker with purpose. Born in Buenos Aries and educated in Argentina and Canada, Noemi brings her skills and love for humanity to every project. Noemi just completed and realized her new documentary Connecting the Dots, the first of its kind to bring forward the global voices of young people openly talking about mental health. She is fluent in English, French, Italian and Spanish.
Bridget Cook-Burch - Ms. Cook-Burch is a New York Times and Wall Street Journal bestselling author whose books have enjoyed Oprah/Dateline/2020/GMA/Dr. Phil/History Channel status, as well as being translated into multiple languages. She has worked with extraordinary stories, from reformed skinheads, the daughter of the Happy Face serial killer, to the 19th wife of 65 women who helped bring down polygamous cult leader, Warren Jeffs. In addition to teaching hundreds of students a year who often become the focus of documentaries and film, she is currently working stories with huge, international impact. Ms. Cook-Burch has been working with women overcoming trauma from domestic violence, sexual assault, human trafficking and war. She has been working with vulnerable populations of women to use story to change their lives and become positive family and community leaders instead of victims. Ms. Cook-Burch is focused on how the power of story does indeed, change the world. It is her greatest passion to disseminate vital technical information to hungry artists while being inspirational about their careers and influence as storytellers at the same time. Ms. Cook-Burch is the founder and CEO of YourInspiredStory.com
Erin Kenway - Ms. Kenway was a writer and producer on the award-winning documentary, "The Prison Within". She holds a Juris Doctorate degree from Seattle University School of Law, is admitted to the National Order of the Barristers, and is a certified mediator. Prior to shifting careers to focus full-time on independent filmmaking, she practiced law for over a decade and was also a Global Campaign Manager for broadcast, print, digital, and social advertising campaigns for Amazon's award-winning Brand / Mass Advertising team. She recently co-founded Tarina Productions, which is currently in development on multiple feature documentaries aimed at tackling social justice issues.
Screenplay and Beyond 3:30-4:30 PM CST
Ronnie Yeskel - Ms. Yeskel has had a prolific career casting film and television since 1989. Projects of note are Pulp Fiction (1994), Bean (1997), Hope Floats (1998), Atlas Shrugged: Part 1 (2011), and The Sessions (2012), which won the Audience Award at Sundance in 2012. This merely scratches the surface of her extensive resume. Ronnie's many awards over the years include 2 CSA Artios award wins and 7 nominations, an Emmy nomination and a Method Fest Heart of Performance Award win.
Lisa Arnold - A veteran of the film industry, Lisa is an award winning director, writer, and producer with over twenty five years experience in Film, Television and Stage. An advocate of female, family, positive, and purpose-driven projects, Lisa strives to create stories that will entertain and inspire audiences through her visionary storytelling. Her projects include One Nation Under God, Kid Combat, Caged No More, Camp Cool Kids, Because of Gracia, Beautifully Broken, God's Not Dead, This Is Our Time, Letting Go, Flywheel, and Christmas Angel, among others. Lisa is currently developing a slate of film projects with industry leaders including four powerful stories based on true events. Lisa is also collaborating on the development of three, unique and captivating television series. She was honored by ICFF and KIFF as the recipient of the OUTSTANDING WOMEN IN FILM award. Her latest film has captured 35 film awards and speaks vividly to the times that we are in. Lisa is the Executive Director of Check The Gate Productions in Louisiana. She continues to mentor individuals in the film industry, assist her colleagues to reach excellence with their projects, and make a difference through the art of filmmaking. We can be the voice for the voiceless. We can entertain while touching lives and spread inspiration.
Robyn Van Arx - Ms. Von Arx is well-established in the film industry as not only an accomplished actor, but also as a writer, director and producer. As a small child, Robyn was painfully shy. Her mother got her into acting, just for fun, to help bring her out of her shell. Being on stage, as a child, imbued Robyn with a desire to write and direct. She spent years learning how to direct and finding her voice as a filmmaker. (All the while acting whenever she could.) She attended Vassar College for her BA and the MFA film directing program at NYU/Tisch. She also traveled the world, studying and making little films. (She enriched her perspective and worldview by living and going to school in Spain, France, Brazil, China, and Ecuador.) After writing a couple of feature scripts and having a successful stint with her first short on the festival circuit, (Moving Pictures magazine named her short film the best animated short of 2007.), Robyn realized how much she missed acting full time. She immersed herself in top notch actor training (with private coaches and classes) and improv training at the Upright Citizens Brigade Theater (Certificate of Completion), and Improv Olympic West (She is an alumnus, Certificate of Completion). She has been working full time as an actor ever since. The life experience she gained by pursuing validation as a writer and director enriched her acting ten fold.
Bruce Fleming - Bruce Fleming is Partner, Business Development and Audio Lead of Eggplant Picture & Sound, which is a full service post facility catering to all genres of television, film, commercial and music production. Bruce has over 30 years experience in the audio industry. Starting out in the music industry, Bruce worked with many internationally acclaimed artists. He expanded his skills into post production (film, and television) as a sound designer and mixer and has been involved in many award-winning projects. Bruce has worked for many top studios in Toronto as well as running his own studio for 10 years before joining Eggplant in 2017.
Jim Pasternak - Jim Pasternak is a master teacher who has taught film directing, screenwriting, and producing for 40 years. He has taught at Hofstra University, Rutgers University, The School of Visual Arts, and the Los Angeles Film School. He founded and administered the Feature Film Production Program at The New School For Social Research (New School University) in New York City. He is currently Senior Directing Instructor at the New York Film Academy, Burbank, California. Studios and producers hire Jim to help new directors prepare their feature films. He travels the world empowering people to write, produce and direct movies. Two of his directors, Christine Lahti and Ray McKinnon, have won Oscars. Jim directed the feature films: "Bonaparte, Private Investigator," "One Helluva Guy," starring Rob Lowe, and "Certifiably Jonathan," starring Jonathan Winters and Robin Williams. He directed the shorts, "In A Train Station" and "The Wayfarer," from short stories by Robert Coover, and the documentary, "The Casting." He wrote the final production draft of "Cousins," directed by Joel Schumacher, for Paramount. His western, "Lightning Bender," was developed at the writer-director lab at the Sundance Institute. To the delight of his children, he wrote a "Gummi Bears" animation episode for Disney. He began his career as Assistant to Otto Preminger and as a producer on the Emmy-Award winning ABC documentary series, "The Saga Of Western Man." He has published interviews with Jean Renoir, Abraham Lincoln Polonsky, Joseph Strick, and Boris Kaufmann. He holds a Masters Degree in Film from UCLA .
Live With Renowned Talent Managers Michael Adler, Sherry D' Agostino and Tina Treadwell, Top Hollywood Acting Coach Kaley Hummel, and Actors Uriah Shelton of "Freaky", "Girl Meets World", "Blue", and "The Glades" and Shawn-Caulin Young of "Camp Cool Kids", "Caged No More", "Elle: A Cinderella Tale", and "Grey's Anatomy"
4:45-5:30 PM CST
Michael Adler - Mr. Adler is a talent manager at Luber Roklin Entertainment. Adler started his career in New York working for groundbreaking independent production companies such as The Shooting Gallery and Redeemable Features. Lakeshore Entertainment hired Adler which brought him back to his native Los Angeles. Under the guidance of Gary Lucchesi, Adler transitioned into talent representation and worked at United Talent Agency (UTA) and Mike Ovitz and Rick Yorn's seminal company Artist Management Group (AMG). Adler spend the next few years outside the industry and focused on real estate, philanthropy, and other endeavors before being lured back into talent management where he dedicates himself to helping others live lives they love.
Sherry D' Agostino- Ms. D' Agostino brings a lifetime of experience to this panel. She has held positions at CBS radio, SOS records, and other Chicago based entertainment companies. She mastered her specialty as a disc jockey in the clubs and on radio segments in the 1990's all over Chicago. Sherry has worked with legends in the entertainment and music industry. She often worked along side special talents on their climb to the top such as the Dixie Chicks, and JoDee Messina. Her persistence and dedication has landed her work with legends such as The Four Tops, Ronnie McNeir, Jermaine Jackson, Marlon Jackson, and numerous others. In 2015, after leaving CBS Radio, Sherry was recruited by Media Artists Group, one of the top 9 talent agencies in Los Angeles. Sherry has since gone on to co-produce and form Artists Management Agency. At AMA she holds the executive position as President where she oversees all projects in development at this full service production agency. She maintains client relations with amazing talents such as ICE-T, Coco, Chanel, Anthony Criss 'Treach'from Naughty by Nature, Taheim Bryan the producer-director of 'Equal Standard', Harry Lennix from the Blacklist as well as many other A-listers. Since the break of COVID, Sherry spends the majority of her time in the Chicago office.
Tina Treadwell - As president of Treadwell Entertainment Group, Ms Treadwell develops and manages the careers of groundbreaking talent through the management arm of her company. Recognized for her work as a talent executive (who helped launch the careers of young stars on Disney), she travels both internationally and domestically speaking about careers in film and TV. She also develops and produces film, tv and theatrical projects for her clients through collaborations with leading directors and producers.She produced and cast the world premiere of Les Wieder's Sojourner: The story of US abolitionist and early Women's Rights Advocate Sojourner Truth. It received 7 NAACP Theatre award nominations and won best ensemble. Ms Treadwell was nominated for best producer and music director. She also produced (along with actor / producer Douglas Sills) Oliver Goldstick's critically acclaimed musical, Dinah Was (starring Yvette Freeman of ER fame). She shared a nomination for both an Ovation Award and an NAACP Award for Best Musical. Dinah Was continued Off-Broadway to rave reviews. She served as executive producer and casting director for "ELLE: A Modern Cinderella Tale" starring Sterling Knight (Disney's "So Random"), Kiely Williams (star of Cheetah Girls), Thomas Calabro (Melrose Place) and Ashlee Hewitt (Nashville Star). As a consultant, she worked as casting liaison to director Andrew Davis on the Disney / Touchstone feature film The Guardian (starring Kevin Costner and Ashton Kutcher). She music supervised and co-executive produced (with Jay Landers and Darren Higman) the soundtrack album for Disney's original animated series Kim Possible. Treadwell was also included in VH1's documentary series Driven, acknowledged for her contribution in launching the career of 'NSYNC. As an independent casting director, she cast The Scream Team (starring Kathy Najimy, Tommy Davidson, Kat Dennings and Eric Idle) as well as You Wish! (staring Spencer Breslin, Lalaine and Tim Reid) for Disney Channel.During her tenure as an executive at Disney Channel, Ms Treadwell served as Vice President of Casting, Talent Development and Alternative Programming. She oversaw talent development, talent relations and casting as well as the development and production of music specials, reality series and documentaries.Treadwell oversaw the casting of all original movies including the critically acclaimed film, Northern Lights (with Diane Keaton), the Emmy Award winning film The Color of Friendship (directed by Kevin Hooks) and was involved in the development on the first Cheetah Girls movie with producer Debra Martin Chase. She also oversaw series casting for Lizzie McGuire, Even Stevens, The Famous Jett Jackson (through which she helped launch the careers of Shia LaBeouf, Hillary Duff and Lee Thompson Young) Mitchell Kriegman's Bear in the Big Blue House, Douglas Love's Out of The Box and Evolution's Bug Juice. Also at Disney, she developed and was the creative executive in charge of production for the network's In Concert Series. She spearheaded 14 music specials for artists such as Britney Spears, Jessica Simpson, LeAnn Rimes, Backstreet Boys, Aaron Carter and most notably 'NSYNC. Ms Treadwell was recently invited to become an Arts Emissary for the US Embassies in Singapore, Malaysia and Jakarta along with her client Erinn Westbrook. Together with Ms Westbrook, she traveled to all three countries, August of 2014, to speak to students and diplomats about their experiences in the film and television industry. She earned her degree in English Literature from Princeton University. She is an equestrian, a sprint triathlete and an avid tennis fan. She is developing two feature films and working on a book about her parents, George and Faye Treadwell, managers of The Drifters and trailblazers in the music business.
Kaley Hummel - Ms. Hummel is a private Acting Coach whose clients include television series regulars and guest stars on all networks, feature film leads, supporting roles, Broadway plays and voiceovers. Television shows include: E.R., Grey's Anatomy, CSL That 70's Show, Twins, Joan of Arcadia, NCIS, House,Big Love, Six Feet Under, Desperate Housewives, Full House, Growing Pains, Will and Grace, Friends, Malcolm in the Middle, Darcy's Wildlife, Invasion, Lost, Phil of the Future, Hannah Montanna, Ned's Declassified, Odd Man Out, The Savages, Christy, Jumangi, Family Guy, Ally McBeal, 29 Down, Touched by an Angel, Lizzie McGuire, Commander in Chief, Brink, War at Home, Jack and Bobby, Alias, Frasier, The Suite Life, The Practice, Medium, Smallville, Hairspray, several pilots and MOW's. Theatre productions including Broadway and Mark Taper Forum. Feature Films include: An Unfinished Life, What Women Want, Napolean Dynamite, Aquamarine, Leave It to Beaver, Princess Diaries, Cheaper by the Dozen, Yours, Mine and Ours, United States of Leland, Star Trek, Night at the Golden Eagle, Kicking and Screaming, The Blues Brothers, Mercury Rising, Zeus and Roxanne, Annie, Honey I Shrank the Kids, and Sleepless in Seattle.
Virtual Pajama Party with Music from Grammy Nominees Yvette Landry and Beverly Davis
7:30 PM - 10:00 PM CST
Included with your ticket to the panels, all attendees and panelists are invited to enjoy some live music and further connections with each other.
Rapid fire Pitchfest, Sunday January 31st, 12 Noon - 4 PM CST
Perfect Your Pitching & Networking 12 Noon - 12:45 PM CST
Nan Puetz - Ms. Puetz is a producer and writer in addition to serving as a board member of Women in Film & Television International (WIFTI) and President of Tennessee Women in Film & Media (TWIFM). She is also the Founder/Executive Director of Franklin International Indie Film Festival (FIIFF).
Claire Bleasedale - Ms. Bleasedale has been part of the creative world since training as an actor at Manchester School of Theatre (1999-2002) she went on to work professionally in theatre, film, television and radio before moving into casting. As a casting assistant she worked on the teams for Film, BBC Drama and at Lime Pictures on various productions. Then going on to work with a number of casting directors and United Agents in London. Claire has been working as a casting director in film, theatre and commercials for five years, with her first film credit being the short film 'Break' by Nick Moss (starring John Hurt) which won Best Short at Manchester Film Festival 2015. Other films include 'Lambing Season' for Creative England ishorts and 'Cowboy Dave' which won Best Short film at BAFTAS 2018. In 2019 Claire worked with established theatre director Matthew Dunster's on his film directorial debut 'Judy'. As well as casting two of the projects involved with 2020's The Uncertain Kingdom.Currently casting two features due to shoot in the UK summer 2021. In Television,Claire has cast two series of 'Meet the Richardsons' a UK Comedy docudrama and worked across many commercials and music videos. Her Theatre Credits include working on the past two Manchester International Festivals with 'Party Skills for the End of the World' 2017 and 'Dystopia 987' with Skepta in 2019 and more recently casting 'Gypsy' the musical for the Royal Exchange Theatre. Claire also works within the visual arts, including with the Turner Prize winning artist Mark Leckey and his exhibition for the Tate Britain 'O Magic Power of Bleakness'. Claire has been working with a number of drama and film schools across the country. In the role of industry advisor. Giving the new acting and film talent a clear insight of how casting works within the industry.
Jenna Suru - Ms. Suru established Belle Époque Films in January 2015. Her experience in film production started in Los Angeles, where she was Production Assistant on Dahn and Alimi Ballard's (Numb3rs, CSI, Castle) TV show "The Experiment with Dahn and Ali". With her company Belle Époque Films, she produced the highly-praised, sold out LA Premiere of "Happy", published by Samuel French and written by Robert Caisley. She Executive Produced two UK shorts. The first, "Spitball", was funded by the Northern Ireland Screen, and the second, "Bigger Picture", starred Rosie Day (Outlander) and BAFTA-nominated Robert Sheehan (Misfits). She directed and produced her debut feature film "L'Âge d'Or" with an international cast, 35 exceptional locations and an outstanding soundtrack, featuring songs from the Rolling Stones, Chuck Berry and Jimmy Reed. She's a reputable Line Producer in France and her company Belle Époque Films has now become an official French feature film company, organizing shoots for multiple foreign productions shooting across Paris and rest of France. Jenna has worked for Canneseries (Cannes Series Festival) since very first edition in 2018 and her multiple talents enable her to give the best of herself on any project, from development to distribution stage.
Rapid Fire Pitchfest
Each filmmaker is given three minutes to pitch their idea followed by two minutes of follow-up questions/comments from the judges.
Prizes valued between $35K and 45K include:
$5000 towards Development Services from Koan, Inc.
$5000 towards Funding Effort Services from Film Capital
$5000 towards Screenplay to Production Consulting Services from KP Films
50% off of Accounting Services from Todd J. Hein, CPA
50% off of legal fees/investor documents from the Law Office of Hal 'Corky' Kessler

Pitch Judges:
Hal 'Corky' Kessler - Mr. Kessler has assembled and built winning teams for more than 30 entertainment and other business ventures. Corky has developed, packaged, and executive produced over 20 feature films including The Sum of Us starring Russell Crowe, which won the Australian Academy Award for Best Film, Human Capital starring Marisa Tomei and Live Schreiber, and Certifiably Jonathan starring Jonathan Winters, Robin Williams, Howie Mandel, Rob Reiner, Jim Carey, Sara Silverman, and others.
Patti Price - Patti Price is an award-winning producer, owner of KP Films, a full film and music production studio in Monroe, North Carolina, and co-President of NC WiFT. She works to connect and empower independent filmmakers and to encourage young filmmakers through her 501c3, Teens in Film, a full scholarship film camp. She currently has several features in various stages as well as a TV series. Ms. Price is a strong supporter of bringing the world together through film and giving everyone an opportunity to fulfill their potential. As an independent filmmaker, she has filled roles, but her favorite role is mentoring filmmakers and discovering that script that 'has to be made' and becoming the screenwriter's biggest supporter and fan.
Tamara Bell - As Vice President of Koan, Tamara Bell directs acquisitions of theatrical and television products for the domestic and worldwide markets. With over twenty years in the entertainment industry her experience ranges from the acquisition of large feature film catalogues to the sale of numerous award-winning documentaries. Tamara currently oversees Koan's extensive catalogue of feature films in genres ranging from sci-fi and action to comedy and religious. Her expertise lies in building long-term relationships with talented filmmakers and finding a home for their productions, whatever the size of the screen and audience. She is also heavily involved in digital media and business development for independent films.
Ali Aksu - Ali is an international film producer and entrepreneur. He is an executive producer to feature films distributed by Universal Studios and Netflix. He is also the founder of FilmCapital.io - a cutting-edge fundraising technology for independent filmmakers. Ali is also founder of the new Auteur Academy, the first Hollywood Accelerator designed to take the best of Silicon Valley to empower Independent Filmmakers.
Nan Puetz - Ms. Puetz is a producer and writer in addition to serving as a board member of Women in Film & Television International (WIFTI) and President of Tennessee Women in Film & Media (TWIFM). She is also the Founder/Executive Director of Franklin International Indie Film Festival (FIIFF).