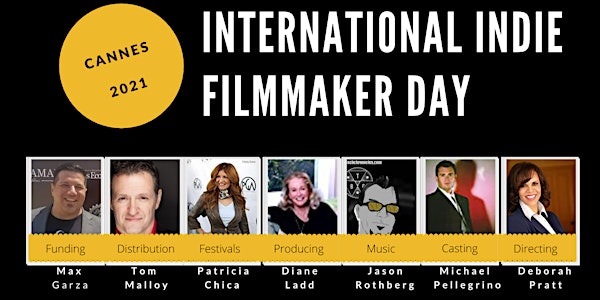 International Indie Filmmaker Day and Pitch Competition During Cannes
Join us for an incredible chance to hear from top filmmakers in the independent film industry and to get your questions answered.
About this event
International Indie Filmmaker Day will be held live via Zoom on Saturday, July 10th followed by an exclusive invitation only virtual live pajama party. On July 11th, it's time for "Pitch Fest" where well over $35,000 of needed in-kind services will be awarded.
We are excited to host this event during Cannes to specifically move independent filmmakers around the world forward in their career. Content is needed right now with the addition of so many more avenues, and we are here to help you create and sell that content.
Topics important to the needs of independent filmmakers will be addressed with your questions answered in topics from funding, producing, screenwriting, casting, elevating your film with the right music, distributing, and handling post-production. Additionally, we will have top filmmakers to address popular specialty topics of documentaries and animation.
Top Filmmaker Panels with Live Q&A, Saturday, July 10th
10AM - 5:30 PM
Film Funding 10-11 AM CST
Corky Kessler - Mr. Kessler has extensive entertainment law, corporate and entertainment industry experience. He regularly speaks on the business and legal aspects of feature film development and tax incentives in connection with the entertainment industry. Corky is actively involved in film fund transactions and counseling, and film funding source development in North America, and is expanding his practice internationally. He is an advocate for film investing, improved legislation to encourage film investing, and job growth as a result of filming. As such, he has been instrumental on the application of and extensions for Section 181 of the American Jobs Creation Act, 2004 which provides incentives for films and television.
Max Garza - Co-Founder Blockchain Research & Development LLP. Max Garza III is a Founder/ Venture Capitalist/Innovative Disruptor/ Early Stage Investor / Venture & Mutual Funds. The Chief Operations Officer for Tachyon Studios is a blockchain investor, trainer and STO/ICO advisor. Co-founder and managing partner for Tachyon Labs, AAI Global Solutions, Tachyon NFTs, Global Ledger and Ares Smart Chain. He is the lead ICO and Blockchain R&D Advisor for Dragon Coin, which raised over 420 Million during their ICO. Hollywood Blockchain Advisor and Executive Producer for MAD Acting Studio in Los Angeles, California. Max has provided 20+ years of commercial technology and financial services for international clients.
Dave Conlon - Mr. Conlon is the co-founder of Eggplant Picture and Sound. and Eggplant Collective, known industry-wide for having the talent and experience to provide an integral and dynamic start through post production for their clients. With award winning projects in major film festivals, they are leaders in their lane. Filmmakers and television producers benefit from all the advantages of a truly integrated and optimized workflow.
Ali Aksu - Ali M. Aksu is an international film producer, director and entrepreneur. He is the executive producer of several groundbreaking projects, including "Laid in America" the first-ever feature film to cast YouTube celebrities and directors, that was distributed by Universal Studios. He is the founder of FilmCapital.io, a community focused Hollywood crowdfunding platform that was incubated at Singularity University to empower independent filmmakers. Ali is the Southern California Young Professionals Ambassador at the United Nations Association of America. He is an MBA candidate at Chicago Booth School of Business. He holds a B.A. in Economics, with a minor in film, TV and digital media from UCLA, and earned executive-level degrees from MIT, Wharton and Singularity University.
Rachel Rusen - CEO & Manitoba Film Commissioner for Manitoba Film & Music, Rachel Rusen leads the province's crown corporation charged with driving Manitoba's dynamic film industry. Prior to joining Manitoba Film & Music, Rachel was a partner with MLT Aikins LLP and practiced law since 1997. She was selected by the Government of Canada to the Judicial Advisory Committee, appointing judges to the Manitoba Court of Appeal, Court of Queen's Bench, and Federal Court of Canada. Specializing in the area of entertainment law, Rachel served provincial and national clients in film, television, music, new media, and book publishing while achieving a notable career in mergers and acquisitions, corporate finance and secured lending, and general corporate and commercial law.
Film Accounting 11-11:30 AM CST
Todd Hein - Independent CPA with 30 years of experience in entertainment matters, real estate transactions, and general business and individual taxation. Strong tax and accounting professional with a Master of Science (MS) focused in Taxation from Golden Gate University. Todd speaks to film industry professionals on tax and accounting matters related to the film and television industries at the Sundance, Cannes, and Toronto film festivals. He has clients in 20 states.
Film Distribution 11:30-12:30 PM CST
Tom Malloy –Tom Malloy has been involved in almost every aspect of film production for 20 years. He co-founded Glass House Distribution in 2015 as a fully transparent film sales and distribution company. In 2005, he founded Trick Candle Productions, his production company. Trick Candle has most recently produced TRAUMA THERAPY, starring Brian Krause (Charmed) and Chase Coleman (The Originals), which is now on VOD everywhere through Viva Pictures. The roster of films written and/or produced by Tom Malloy over the years include 2020's LANSKY, starring Harvey Keitel, Sam Worthington, and Minka Kelly (from the same Producers of The Hurt Locker and Dallas Buyers Club), LOVE N' DANCING, which was directed by Rob Iscove (She's All That), and stars Amy Smart, Malloy, Billy Zane, Rachel Dratch, and Betty White; the psychological thriller THE ALPHABET KILLER, directed by Rob Schmidt (Wrong Turn, Crime & Punishment in Suburbia) and stars Eliza Dushku, Cary Elwes, Malloy, Timothy Hutton, Michael Ironside, and Oscar Winner Melissa Leo; and a thriller directed by Mary Lambert (Pet Sematary) called THE ATTIC, starring John Savage, Malloy, and Elisabeth Moss. Malloy's best-selling book about independent film financing, BANKROLL, has been converted into an online filmmaking course membership site FILMMAKINGSTUFFHQ, which teaches producing and financing films from the ground up.
Michael Slifkin - Award winning Producer and Filmmaker with over 30 years of hands-on-experience and more than 100 feature film and television credits as Producer, Executive Producer, Writer and Distributor/Sales company. Mr. Slifkin has an extensive background in virtually every aspect of content creation and completion including: development/packaging, talent acquisition, physical production, post production, financing, worldwide sales and distribution, and the development of multiple corporate strategic alliances and business partners/ventures.
Strathford Hamilton - Strathford Hamilton, an Emmy and DGA nominated director of prestige films and television shows. He is well known throughout the entertainment industry as the director of the team that created the "Mighty Morphin Power Rangers" for Saban Entertainment, the most successful children's show of all time. Mr. Hamilton has directed 10 feature films and several TV movies. Strathford Hamilton's first film, "Blueberry Hill" starring Academy Award winners Carrie Snodgress and Margaret Avery, was shot in 12 days for $500,000 and sold to MGM for theatrical distribution. Most recently Mr. Hamilton Executive Produced the films "Almost Sharkproof", "The Bunker", "Smitty" and "Treasure of the Black Jaguar". He also produced and co-directed the Paris Hilton Film "National Lampoon's Pledge This!". Over the last 25 years, Mr. Hamilton has managed and produced films and TV shows for both the studios and independents, with combined budgets of over $100,000,000. Motion pictures and TV shows directed by Strathford Hamilton, have been honored with many awards including Directors Guild of America awards, Emmy, Humanitas and film festival awards. His reputation for creating quality, critically acclaimed motion pictures has afforded him access to the entertainment industry's top actors, screenwriters and directors, many of whom he counts among his closest personal relationships. Mr Hamilton is a principal in the production and distribution company TriCoast Worldwide, which distributes feature films and television shows internationally. Recent releases include "The Dead" which is one of Anchor Bay's highest grossing films of 2012 and "Smitty" starring Academy Award winners Mira Sorvino, Lou Gossett JR and Academy Award nominee Peter Fonda. Mr. Hamilton also supervises the production slate for TriCoast Worldwide, and is one of the owners of the state-of-the-art digital post production facility, TriCoast Studios.
Kristine Kreska - Ms. Kreska has been working in entertainment for two decades. She began her entertainment career at Winstar Communications (formerly known as Fox Lorber, Winstar Home Video, and Wellspring Media) as a Regional Recruiter supporting the sales, management, and syndications divisions for Southern California and Arizona in 2000. Winstar was sold to IDT Telecommunications in 2001 and Ms. Kreska joined Bank of the West, a BNP company, as an Assistant Vice President responsible for executive staffing within business banking divisions during the mergers of Sanwa Bank, United California Bank, UFJ, and BNP Paribas. In 2004, Ms. Kreska joined the key art award-winning entertainment creative agency B.D. Fox & Friends, Inc. where she launched the company's film sales division as Vice President overseeing all aspects of acquisition, key art, movie trailers, and international sales. After the retirement of B.D. Fox in 2007, Ms. Kreska switched her focus to consulting for independent film development and sales as a producer's rep and buyer's rep. Ms. Kristine is a voting member of The National Academy of Television Arts & Sciences and a past Board Member of UXPA Los Angeles.
Break for Lunch 12:30-1:00 PM CST
Advancing Your Career Through Film Festivals 1-1:45 PM CST
Jenna Suru – Founder and Director of the Paris International Film Festival, Jenna Suru established Belle Époque Films in January 2015. Her experience in film production started in Los Angeles, where she was Production Assistant on Dahn and Alimi Ballard's (Numb3rs, CSI, Castle) TV show "The Experiment with Dahn and Ali". With her company Belle Époque Films, she produced the highly-praised, sold out LA Premiere of "Happy", published by Samuel French and written by Robert Caisley. She Executive Produced two UK shorts. The first, "Spitball", was funded by the Northern Ireland Screen, and the second, "Bigger Picture", starred Rosie Day (Outlander) and BAFTA-nominated Robert Sheehan (Misfits). She directed and produced her debut feature film "L'Âge d'Or" with an international cast, 35 exceptional locations and an outstanding soundtrack, featuring songs from the Rolling Stones, Chuck Berry and Jimmy Reed. She's a reputable Line Producer in France and her company Belle Époque Films has now become an official French feature film company, organizing shoots for multiple foreign productions shooting across Paris and rest of France. Jenna has worked for Canneseries (Cannes Series Festival) since very first edition in 2018 and her multiple talents enable her to give the best of herself on any project, from development to distribution stage.
Patricia Chica - Patricia Chica is the co-host of the FILM FESTIVALS CREATIVE CONNECTORS weekly talk on Clubhouse. She has been navigating the film festival circuit for over two decades as a filmmaker, publicist, judge, panelist and guest curator. Every year, she attends the top international film festivals and markets from Cannes to Sundance, TIFF to AFM and everything in between. Her debut feature film MONTRÉAL GIRLS was incubated through the TIFF Filmmaker Lab and is slated to have a Canadian theatrical release in 2021. She an advocate of conscious practices in the film and TV industries. Since 2014, Chica divides her time between Montreal and Los Angeles.
Nan Puetz – Ms. Puetz is currently in development with the feature Documentary films "Welcome to the Skies", "Just Plain Bobbi" and in pre - production with "The Allotment" and "The Weight of Money." A production consultant with the feature narrative, "Visibly Struck" and others, Ms. Puetz has produced a number of independent documentary film projects and award winning narrative short films. She has enjoyed many opportunities to work with the national and international filmmakers she admires. In 2014, she co-founded Holophrase Films for which she serves as a producer. Nan is also on the Women in Film and Television International board, serves as Tennessee Women in Film and Media. She is the founder and director of the Franklin International Indie Film Festival.
Producing Your Film 1:45 – 2:45 PM CST
Diane Ladd - The amazingly gifted Diane Ladd received immense praise for her dramatic efforts throughout the course of her electric and unique seventy-year career. Nominated an Academy Award for Best Supporting Actress, she won the BAFTA Film Award, same category, for her account of a wiseacre roadside diner waitress in Alice Doesn't Live Here Anymore. She received additional Academy Award nominations for Wild at Heart, in which she delivered a spellbinding characterization of a diabolical mother sending her daughter into hedonistic rebellion, and for her performance as a loving and principled southern family woman in Rambling Rose. All of which she appeared alongside daughter-actress, Laura Dern. Diane's timeless offbeat charm and beauty reminiscent of a lamented Hollywood Golden Era actress gleam in the most understated roles and continue to make her a sought-after unconventional performer.
Rudy Langlais – Mr. Langlais is an acclaimed producer of Oscar-nominated, "The Hurricane" starring Denzel Washington and "Sugar Hill" starring Wesley Snipes.
Carol Shine – Ms. Shine is an award-winning producer who has produced over 50 titles for film and television. Highlights from her long list of credits include "Blackbird" starring Academy Award winner Mo'Nique, and "I Am Legend" starring Academy Award nominee, Will Smith.
Patti Price – Ms. Price is a testament to it's never too late to do what you love. In what seems like a past life, she was in corporate management and in academia (psychology), before fully enjoying life as a producer. She is owner of KP Films and of the KP Films studio in North Carolina. She recently produced a comedic Christmas feature and has a slate of features moving forward including action, horror, family friendly (another Christmas movie), and a heart-warming dramedy about reincarnation. She is co-President of NC Women in Film and Television and founder of Teens in Film (a 501c3).
Suzanne Lyons - In 1999. Ms. Lyons launched Snowfall Films and to date has produced/executive produced twelve movies including a BAFTA award-winning British comedy Suzanne is a member of the Producers Guild of America. Prior to her work as a film producer, Ms. Lyons was VP of Marketing for a Canadian Television station and Network where she also created, produced and directed news and series. She worked in Philadelphia as a sales agent selling film and TV for international distribution. When she moved to Los Angeles she designed, launched and ran a film school, Flash Forward Institute, for people of all facets of the industry. She's done speaking engagements at over seventy entertainment industry events, festivals, organizations, guilds and film schools. In 2012 she published her book through Focal Press titled Indie Film Producing: The Craft of Low Budget Filmmaking and recently launched her Indie Film Producing Masterclass. She's also hosted 130 informational videos for the industry. Suzanne is a member of the Producers Guild of America.
2:45 – 3 Short Break
Music: A Crucial Element of Film 3:00 – 3:45 PM CST
Richard Orga - Mr. Orga is a Grammy award winner for Best Country Song "It's Five O-Clock Somewhere and an ACM Best Country Song award winner for "I'm Movin' On". He currently serves as the CEO for I-Prop Management in Nashville, an independent broker for the sale and acquisition of Intellectual Properties, including sound design and music catalogs.
Caron Nightingale - Ms. Nightingale has been involved in almost every area of the music business for more than 35 years. Starting as a touring artist, she went on to write and produce commercial songs, jingles and film music, winning numerous awards along the way. In 1992 Caron founded the internationally recognized and respected, Nightingale Music, which represents indie artists and produces and publishes music and sound effects for licensing. Nightingale Music can be heard in just about every country and network in the world. Caron has spoken on many industry panels including Sundance and the Toronto Film Festival in 2018. In 2012, Caron opened the Canadian office of APM Music, a production and creative house co-owned by Universal Music Group and EMI, where she currently holds the position of Director of Sales, Canada. APM offers the most comprehensive collection of music available for licensing to entertainment and media producers, providing U.S. and Canada-based production clients with access to over 800,000 tracks of every style of music produced specifically for use in film, television, radio and new media.
Colin Aguiar - Colin Aguiar is an award-winning, Indian-Canadian composer and is known for his left-field approach to film scoring, and a specialization in unique scores and world music. He grew up living across parts of India, the Middle East, Europe and Canada studying the music of various cultures before writing music for musicals, theatre and film. His music has won awards the world over in New York, London, Italy, Barcelona, Venezuela, Calcutta, Nairobi and on almost every continent. He is the protégé of Oscar-winning composer, Mychael Danna.
Jason Rothberg - Rothberg's early start in the entertainment industry came via Binder Entertainment. Working under TV producer/directors, Steve Binder and comic actor George McGrath, on a show for Nickelodeon, Rothberg learned many aspects of TV production – both in front of and behind the camera. Rothberg subsequently expanded his production prowess to include a number of film shorts, documentaries, live TV events, PSA's, and radio broadcasts. However, it was first love – live event production – that became the catalyst for Rothberg's next creative pivot. The event in question was the Ben Sherman 40th Anniversary Party in London, which he produced alongside Ska icon and original Rude Boy, Neville Staple (The Specials) and Jerry Dammers (The Specials) – in tandem with a BBC radio special, entitled The Ben Sherman Radio Hour. The symbiotic nature of music and fashion motivated Rothberg to collaborate with Staple, and UK fashion mogul David Gold, to create Rude Wear. 1997 saw Rothberg use his relationships within the music industry to help place songs in Joe Eszterhas's Burn Hollywood Burn as Co-Executive Producer for the Priority Records soundtrack from the film. Subsequent film-related work came in many forms, including executive producing 2004's Rude Boy Returns DVD. This Staple special saw Rothberg coordinate such talent as Don Letts, BBC Radio DJ/ television host Mark Lamarr, Donovan, Roddy Radiation (The Specials), Ranking Rogers (English Beat), Chaz Smash (Madness) and members of the Selector and Bad Manners. In 2008, as part of Rothberg's Sounds of Our Times endeavours, he coordinated and produced and executive produced several interviews with well-known figures, including Archbishop Tutu and Moby. In addition to producing a bonus segment of Donovan's documentary, Rothberg is currently Music Supervisor at Irish film production company Fairytale. Here, he's co-produced the film and music supervised for Irish music alumni such as Aslan, The Waterboys, Paddy Casey, and many more.
Animation and Merchandising 3:45 – 4:30 PM CST
Debra Wootten – Debra is the CEO of Webra Group based at Pinewood Studios U.K. She has served as an executive board member of Animated Women UK (AWUK). Debra is currently running a mentor program with Disney UK.
Andy Doodles Baker - Born in a cave and raised by meerkats, Andy started drawing at a very early age. After years of doodling on the walls of their cave, his parents (now quite old in meerkat years) sent him off to school with his own kind in the hope that he would stop messing around with his pencil and become a doctor or something. Sadly his parents hopes were dashed and career in the arts beckoned. In 2002 Andy's talent secured him a place on Stripsearch, a UK-based program designed to find and nurture young comic book illustrating talent. during this course he was mentored by comic book talents such as John McCrea, Hunt Emerson and Jimmy Broxton. It's with Jimmy that Andy went on to create and run the British International Comic Show - which was the largest UK comic convention at the time attracting over 3000 visitors! His talents have been used by the likes of IBM, Sky, Disney UK, and many more. He's caricatured his way through bars, clubs, weddings and bar-mitzvah's. He draws comics and storyboards, designs zany characters and teaches kids, big and small, how to draw!
Ricardo Gomez – Mr. Gomez served as Creative Director for Coca-Cola before founding Imagination Films in Mexico.
Charlie Breakiron –BREAKIRON Animation & Design has its roots in Charlie Breakiron's extensive experience as a freelancer and an instructor serving the industry in Los Angeles, Dallas, Minneapolis, Phoenix, and Koblenz, Germany. For a number of years, BREAKIRON operated through Charlie's participation onsite at major animation studios. After locating in Raleigh, North Carolina, he began assembling a group of top- shelf talent to handle large, complex projects for BREAKIRON clients. Charlie's experience in the industry enables him to quickly recognize superior creative talent and team potential. Versatility, an enhanced skill set, speed and efficiency are just a few of the benefits. Today, the BREAKIRON team's flexibility and agility enable it to quickly adapt to needs as markets and audiences change. The company has successfully completed projects with teams of multiple remote members engaged at once. The team structure allows for expansion as needed.
Documentaries: Story to Screen 4:30-5:30 PM CST
Lesa Babb – Lesa is the producer and creator of GUDRUN. She has worked on narratives, documentaries, and unscripted projects with Netflix, HGTV, Discovery, ID, and many more. She is currently working on three documentaries from the US to Australia to the UK as well as two narratives. She moonlights as a geopolitical forecaster, likes big books, and data mining.
Noemi Weis - Ms. Weis is an award winning Producer that has spent over 20-years telling stories on the big and small screens, from her worldwide advertising projects to her award winning documentaries. Ms. Weis is a proud member of the Unesco, Team Canada's Trade Missions and a Business Ambassador of Ontario, promoting the merits of Canadian production abroad. In this capacity, she participates in trade missions and has been honoured with the nomination of "Woman Entrepreneur of the Year" for three years in a row, the last one by Export Development Canada. Born in Buenos Aries and educated in Argentina and Canada, Noemi brings her skills and love for humanity to every project. She continues to create and develop films to promote human rights and social justice.
Bridget Cook-Burch - Ms. Cook-Burch's books have enjoyed Oprah/Dateline/2020/GMA/Dr. Phil/History Channel status and NYTimes and Wall Street Journal bestseller status, as well as being translated into multiple languages. She is focused on how the power of story does change the world. It is her greatest passion to disseminate vital technical information to hungry artists and being inspirational at the same time. Ms. Cook-Burch is the founder and CEO of YourInspiredStory.com
Erin Kenway - After almost a decade of practicing law, Erin became a Global Campaign Manager for broadcast, print, digital, and social advertising campaigns for Amazon's award-winning Brand and Mass Advertising team. This was the springboard for her pivot to independent filmmaking full-time. She became an award-winning producer when her first two documentaries accumulated over a dozen international awards and accolades. Her first film "The Prison Within", was the inspiration for a new interdisciplinary course at Seattle University School of Law. Her most recent documentary "Bastards' Road", was the #1 documentary on iTunes the first week of June 2021. Since founding Tarina Productions, she has four films in development and one camera ready. Erin is also an Adjunct Professor at Seattle University School of Law.
Casting Great Talent: 5:30-6:15 PM CST
Rose Rosen – Rose Rosen CSA, consistently rated among Florida's most distinguished casting directors, provides talent for both episodic and unscripted TV shows, movies, commercials and print campaigns nationwide. "Not Alone" won best thriller/suspense film for best young actor, Trevor Dolden at Cannes World festival. Ms. Rosen's 25-year track record earned her membership in the prestigious Casting Society of America and the respect of countless aspiring actors for furthering their careers. Ms. Rosen credits her work casting Edward Scissorhands for advancing her own industry credentials. Beyond the Tim Burton classic, additional credits include Not Alone, Extreme Weight Loss, Cowboy U, Bridezillas and numerous other television commercials for clients such as Century 21, Canon, Nationwide Insurance, Publisher's Clearing House and Corona Beer, to name a few. Known as having a keen eye for culling talent from varied sources, Ms. Rosen is also noted for utilizing advanced casting software enabling her to showcase candidates from all over the US in a single link. Rosen takes great pride in her tireless work ethic, vast personal connections and remarkable ability to bring her client's vision to life.
Mike Gerard - Coming from a business background in entertainment advertising and marketing and with a desire to help others Mike has what it takes to lead a successful, progressive talent agency. Mike has worked alongside many of today's respected leaders and companies in business and entertainment including: Icon Productions, Warner Bros., Barna Research Group, World Relief, The Makers Diet, Impact Productions, CBS, ABC, PAX, Twentieth Century Fox, Columbia Pictures, Fox Searchlight and Regal Entertainment. Led brand, marketing and development efforts for Mel Gibson's "The Passion of the Christ", George Barna's "Barna Films", Tom Hanks "Polar Express" and Billy Ray Cyrus' DOC to name a few. Mike has embraced every aspect of Hollywood working casting at Fox, producing, directing and the most recent years as a talent agent and now senior agent at Esprit Talent Agency. He previously produced and directed several television pilots, shorts, music videos and feature films. When Sterling Crown Studios needed a director for their action-adventure snowboarding film they turned to Mike for his expert guidance which paid off when the feature won the International Family Film Festival in Hollywood.
Michael Pellegrino - Before forming and co-founding Artists Management Agency, Michael Pellegrino has been in the entertainment industry most of his life… As a young teenager Michael appeared in the Marva Collins Story staring Cicely Tyson and Morgan Freeman. Michael has continued concurrently throughout to do his first love, which is writing and developing movies and TV shows. In the span of time from 2014 to 2018, Michael was named Vice President of Film and Television at Media Artists Group. Also in 2015 Michael started his own production company called Relentless Entertainment. The company develops everything from reality TV, drama, comedy, to animation. In 2016 Michael was responsible for giving the world the best commercial featuring his close friend and client ICE-T. Who doesn't remember ICE-T selling lemonade with a bunch of children. Michael's production company was named Relentless Entertainment because he never gives up, and to do that you must also be persuasive. Michael's gifts took light in his creativity, drive, and leadership for his A-list clients like Jermaine Jackson and Marlon Jackson of the Jackson 5, Larry Braggs of the Temptations, ICE-T, Coco, Anthony Cris, Hulk Hogan, Brooke Hogan, Nick Hogan, and many others. Michael is a voting member of the Recording Academy, a member of the Writers Guild of America, the Screen Actors Guild, and the Author's Guild. Michael is a highly rated speaker at Toronto International Film Festival, Sundance, and Dubuque Iowa Film Festival on industry related topics.
Virtual Pajama Party
7:30 PM - 10:00 PM CST
Included with your ticket to the panels, all attendees and panelists are invited to enjoy some great conversation and further connections with each other.
Sunday July 10th, 10 AM - End of Pitchfest CST
Screenplay and Beyond 10:00-11:00 AM CST
Lisa Arnold - As a veteran of the film industry, Ms. Arnold is an award- winning Director, Writer, and Producer with over 25 years of experience in film, television, and stage. An advocate for family and purpose-driven films, Lisa strives to create stories that will entertain and inspire audiences through her visionary ability of storytelling.
Bruce Fleming - Bruce Fleming is Partner, Business Development and Audio Lead of Eggplant Picture & Sound, which is a full service post facility catering to all genres of television, film, commercial and music production. Bruce has over 30 years experience in the audio industry. Starting out in the music industry, Bruce worked with many internationally acclaimed artists. He expanded his skills into post production (film, and television) as a sound designer and mixer and has been involved in many award-winning projects. Bruce has worked for many top studios in Toronto as well as running his own studio for 10 years before joining Eggplant in 2017.
Jason Scoggins - Jason Scoggins is an entrepreneur and senior executive who has founded and led companies in the entertainment industry for nearly 20 years. He is Executive Vice President and Head of Business Development of Slated, the independent film marketplace. In the five years prior to joining Slated in 2014, Mr. Scoggins co-founded four entertainment industry data-related start-ups, including two acquired by Slated that provide key components of its film project scoring system (Spec Scout, Inc., and Slate Metrics, Inc.). Mr. Scoggins got his start in the entertainment business in 1995 as an agent trainee at ICM (now ICM Partners). He moved to The Gersh Agency three years later to become a TV Literary agent, then switched his focus to entrepreneurial pursuits in 2000. A graduate of UCLA, he resides in Los Angeles with his wife and daughter.
Deborah Pratt – Deborah M. Pratt is an American Director, Writer, Producer, Singer, Dancer, and Actress. After graduating from Webster University with a degree in Psychology and Theatre, she won a nationwide talent search and came to Hollywood under contract to NBC. She wrote songs and sang on multiple albums, started acting, writing and producing. After starring in multiple pilots and writing for the shows she had been reoccurring on, she co-Created, worked her way through the ranks and became Executive producer and head writer on the iconic series "Quantum Leap" for NBC for which she penned 25 episodes and co-wrote an additional 15. She Executive Produced and worked as the head writer for "Tequila and Bonetti" for CBS. Ms. Pratt co-Created for television and Executive Produced "The Net" for USA network. She wrote for multiple television series. As a writer, Ms. Pratt sold features to Warner Brothers and 20th Century Fox animation. She is a proud, award-winning graduate of the American Film Institute's Directing Workshop for Women and made her directorial debut with "Cora Unashamed" was for the BBC, PBS, and Masterpiece Theatre's The American Collection. Deborah is a five-time Emmy nominee, a Golden Globe nominee, and recipient of The Lillian Gish Award from Women in Film, The Angel Award, The Golden Block Award, and Five Black Emmy Nominees Awards. She has written to direct multiple feature films including the biographic screenplay for her epic, 17th century love story "Chevalier & Antoinette" and "Heartswear" about Black, Chicago attorney Mattie Tatum who returns to Baton Rouge, Louisiana to defend and save her White, childhood best friend Nadine Palmer for the murder of her abusive husband. Deborah a published novelist, she breaks the mold of science fiction and creates a genre of science fantasy with the soul bending tale of a new earth and the key to human empowerment. The books are intricately layered with scientific fact and imaginative fantasy. "The Vision Quest" (TheVisionQuest.com) is an exhilarating journey into the future of our world. The story begins in a unified, utopian society and, thanks to the biological machines we created, becomes a dystopian world at war with our mechanical creations for the salvation of humanity. Ms. Pratt is a pioneer in trans-media entertainment and is developing the Vision Quest world she's created in her books across multiple entertainment platforms. Her latest book series is "Age of Eve" and The Tempting; Seducing the Nephilim is in stores. Deborah was on the Board of Directors of the Writers Guild of America and is an active member of the DGA, SAG, PGA, WGA and the Academy of Television Arts and Sciences. She lives in Los Angeles, fights for women and minority rights in the entertainment industry and has two children; Actress, Troian Bellisario, and Computer Engineer, Nicholas-Dante Bellisario.
Aryn Conrad – Aryn Conrad has been practicing employment-based immigration since 2017. Many of her clients are in creative fields ranging from the visual arts to music to publishing. However, the bulk of her creative clients are in the entertainment industry, especially motion pictures. She represents talent both above and below the line, and loves helping people from all over the world come together in the United States to tell stories through film. She is a member of a small boutique firm located in West Hollywood called Warren and Bowen, but she will be launching her own firm later in 2021. She is based out of Carrboro, North Carolina and holds a license in that state and in New York. She also obtains visas and green cards for professionals and entrepreneurs. She prides herself on her extensive knowledge of various immigration methods and strives to always find the best solution for a client to meet their immigration goals.
Shaan Sharma - Shaan Sharma is a working actor, SAG-AFTRA union leader, acting educator, writer, and casting professional. Shaan is currently acting on the TV show "The Chosen" playing Shmuel, Founder of The Storytellers Conservatory, an on-camera acting studio, a proud member of SOLIDARITY, a grassroots SAG-AFTRA education group, and spent more than a decade working as a casting session director with over 45 of the top commercial casting directors in Los Angeles. Shaan is also the author of the book and audiobook, "Commercial Acting in LA: A Session Director's Guide."
Screenwriting and Successful Pitching 11:00 AM - Noon CST
Jim Pasternak - Jim Pasternak is a master teacher who has taught film directing, screenwriting, and producing for 40 years. He has taught at Hofstra University, Rutgers University, The School of Visual Arts, and the Los Angeles Film School. He founded and administered the Feature Film Production Program at The New School For Social Research (New School University) in New York City. He is currently Senior Directing Instructor at the New York Film Academy, Burbank, California. Studios and producers hire Jim to help new directors prepare their feature films. He travels the world empowering people to write, produce and direct movies. Two of his directors, Christine Lahti and Ray McKinnon, have won Oscars. Jim directed the feature films: "Bonaparte, Private Investigator," "One Helluva Guy," starring Rob Lowe, and "Certifiably Jonathan," starring Jonathan Winters and Robin Williams. He directed the shorts, "In A Train Station" and "The Wayfarer," from short stories by Robert Coover, and the documentary, "The Casting." He wrote the final production draft of "Cousins," directed by Joel Schumacher, for Paramount. His western, "Lightning Bender," was developed at the writer-director lab at the Sundance Institute. To the delight of his children, he wrote a "Gummi Bears" animation episode for Disney. He began his career as Assistant to Otto Preminger and as a producer on the Emmy-Award winning ABC documentary series, "The Saga Of Western Man." He has published interviews with Jean Renoir, Abraham Lincoln Polonsky, Joseph Strick, and Boris Kaufmann. He holds a Masters Degree in Film from UCLA .
Jeff Arch – Jeff Arch grew up in Harrisburg, Pennsylvania, where he spent two of his high school years at a boarding school much like the one depicted in Attachments. In the '70s, he studied film/tv/theater production at Emerson College in Boston and then moved to Los Angeles, where he worked as a concert lighting designer and toured the country with national rock and reggae acts while teaching himself to write screenplays on the side. Years later, married and with a young family, he was teaching high school English and running a martial arts school when heard the call to write again; in 1989, he sold the school he'd built, rented a small office, and gave himself one year to write three screenplays. The second of those—a quirky romantic comedy where the two lovers don't even meet until the very last page—sold almost immediately, and Sleepless in Seattle became a surprise megahit worldwide. For his screenplay, Jeff was nominated for an Oscar, as well as for Writers Guild and BAFTA awards, among others. His other credits include the Disney adventure film Iron Will, New Line's romantic comedy Sealed With a Kiss, and the independent comedy Dave Barry's Complete Guide to Guys. His script for Saving Milly, based on Mort Kondracke's searing memoir, earned the 2005 Humanitas Nomination, an honor Jeff treasures. Jeff is a father, stepfather, father-in-law, and grandfather. Attachments is Jeff 's first novel.
Rodney Stringfellow – Rodney is an educator and screenwriter who has written episodes of children's series for Nickelodeon, Nick Jr., PBS Kids, Disney Channel, BBC, Peach Blossom Media - Singapore, and Sesame Workshop. In 2012, he was honored with two Daytime Emmy nominations for Outstanding Writing/Animation and Outstanding Writing in a Children's Series. Rodney served as Director of Development for Dorado Entertainment, a NYC-based television production company. Rodney currently teaches courses in screenwriting, film history and video production at UNC Charlotte. He received the College of Liberal Arts Part-time Lecturer Award for Teaching Excellence in 2014. Previously, Rodney taught screenwriting at Sarah Lawrence College, Bronxville, NY.
Greg Houghton – As a boy, Gregory Houghton lived a few blocks from a dollar theater. He would mow lawns around the neighborhood for "movie money", then hit the dollar theater where he would watch as many films as possible that passed through-often spending entire days there, watching the same film over and over in a six-hour period. In high school, Gregory and his best friend would make short films-editing them from VCR to VCR-and showing them to friends on the weekend. College is when it happened. After coming very near to finishing a major in Philosophy, he left for Berlin to pursue and opportunity to work in the German film and TV industry. It was there he wrote his first screenplay. After discovering a passion for screenwriting, he returned to set up shop in LA, taking up a series of positions along the way: assistant at Red Hour, script reader for Industry Entertainment, script doctor, script analyst, and, well... bartender. Gregory has won numerous awards and contests for both film and TV. In 2021, he went 4 for 4 in the Chicago Screenplay Awards, having two pilots and two features place as semifinalist or better, with his pilot Trailer Park Alli taking Top 10 Finalist (following a Finalist placement in the Los Angeles Screenplay awards). Gregory has optioned and sold a number of scripts, as well as developed scripts for companies such as Atlas Entertainment, Giant Pictures, Vincent Newman Ent., Image Nation and more. He is the original creator and co-writer of the award-winning movie Growing Up Smith, which garnered numerous festival wins and accolades before hitting theaters in 2017. Most important fact of all: Gregory prefers a spoon over a folk and believes all things can be eaten with a bowl and spoon.
Linda Cowgill - Linda J. Cowgill, author of Writing Short Films and Secrets of Screenplay Structure, currently heads the screenwriting department at the Los Angeles Film School. She has written for film and television, and taught at the American Film Institute, Loyola Marymount University, and the Boston Film Institute. She has presented The Art of Plotting seminar in Los Angeles, New York, and Miami.
Rapid Fire Pitchfest 12 Noon CST
Each filmmaker is given three minutes to pitch their idea followed by two minutes of follow-up questions/comments from the judges. Services worth over $35,000 will be awarded to the winner. Our judging panel is made up of distributors, financiers, and producers. The number of pitches is limited, so early registration is highly recommended.
Our judges are Max Garza, Ali Aksu, Corky Kessler, and Patti Price, plus one surprise judge.