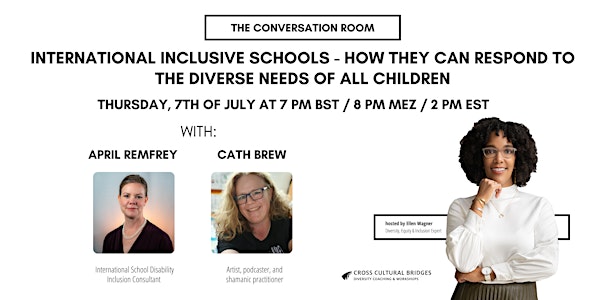 International Inclusive Schools: How react to the diverse needs of children
Sales Have Ended
Registrations are closed
Der Verkauf für diese Veranstaltung ist beendet, aber schauen Sie sich unbedingt unsere anderen Veranstaltungen an. Sales have ended for this event, but be sure to check out our other upcoming sessions.
The Conversation Room is a talk format by cross cultural bridges, hosted by Ellen Wagner.
About this event
In this Conversation Room, we will talk about how International Schools should be more inclusive. This topic will strive for Neurodivergence, a concept that describes individuality and uniqueness in cognitive functioning, and about disabilities. We will deep dive into learning support services at international schools and why implementing LGBTQIA* training and advocacy, especially within the global mobility community, is so important. In this panel, we also clarify why it is so essential never to assume someone's sexuality or gender identity and which impact this can have on LGBTQIA* people and our children.
Our guests are April Remfrey (she/her)- an International School Disability Inclusion Consultant and Cath Brew (she/her) - Artist, podcaster, and shamanic practitioner.
In the "Conversation Room", we want to let people have their say who are often underrepresented and offer a space for exchange. I will be speaking with different experts on each topic. Depending on who is invited, the talks will take place either in English or in German. There is always room for your questions at the end.
All events can be followed either via the live formats of the LinkedIn, YouTube, or Facebook platforms.