"HUMAN RIGHTS vs XXI CENTURY CHALLENGES" international virtual conference held in celebration of the International Human Rights Day
About this event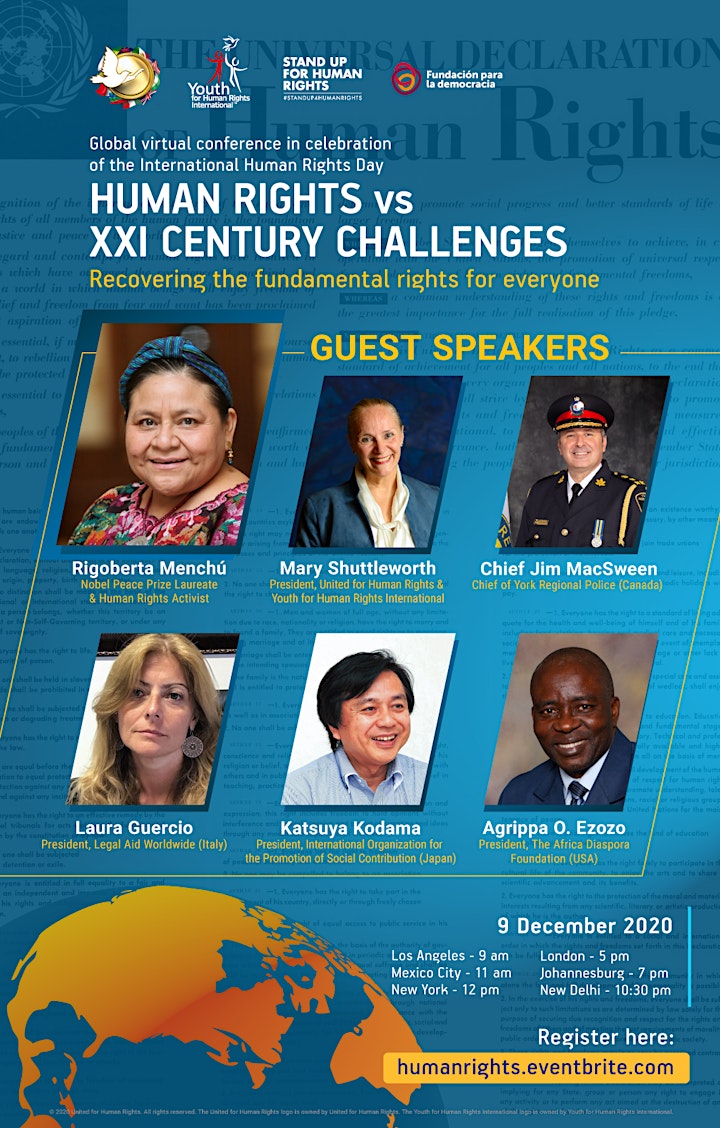 United for Human Rights is holding a global virtual conference in celebration of the International Human Rights Day.
Join our event on Wednesday, December 9, 2020:
9 a.m. in Los Angeles
11 a.m. in Mexico City
Noon in New York
2 p.m. in São Paulo
5 p.m. in London
6 p.m. in Central European Time zone
7 p.m. in Johannesburg
10:30 p.m. in New Delhi
And any time zone in between.
The theme of the conference is "Human Rights vs. XXI Century Challenges: Recovering the Fundamental Rights for Everyone."
You will hear from leading humanitarians and activists from around the world. They will answer questions from those attending Facebook Live and YouTube Live.
Learn about the work of internationally renowned human rights icons including:
Rigoberta Menchú Tum, Nobel Peace Prize Laureate and Human Rights Activist
Chief Jim MacSween, Chief of York Regional Police (Canada)
Laura Guercio, President, Legal Aid Worldwide (Italy)
Mary Shuttleworth, President, United for Human Rights and Youth for Human Rights International
Katsuya Kodama, President, International Organization for the Promotion of Social Contribution (Japan)
Agrippa O. Ezozo, President, The Africa Diaspora Foundation (USA)
Learn about online human rights tools United for Human Rights has developed and makes available to anyone free of charge in 17 languages.
The event will be simultaneously translated into Spanish, French, Portuguese and Italian.
The meeting link will be sent upon registration.
To find out more about the International Human Rights Day visit: https://www.un.org/en/observances/human-rights-day