Location
San Diego Chinese Historical Museum (Annex)
541 2nd Avenue
San Diego, CA 92101
Description
Just in time for Halloween, the San Diego Chinese Historical Museum and Silk Road Productions present a night of international horror films at the Chinese Museum's Second Avenue location.

On this night of thrills and chills, we will be featuring acclaimed horror films from Asia, for a special scarey night with a horrific double feature that will get you in the Halloween mood!

Sit in for one or both features and stay afterward for our special post-horror film reception!
Special low drink prices including $3 sake shots and $6 beers to enjoy with the movies!

One low price of $5 for BOTH films, or come after to the reception for FREE! Tickets WILL be available at the door, as well, at $7.


Feature 1: THREE EXTREMES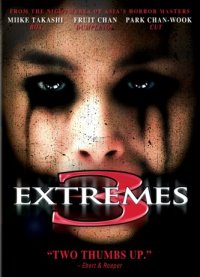 Three Asian directors, from Hong Kong, Korea, and Japan, join forces to create an omnibus horror film, Three...Extremes.
In Fruit Chan's "Dumplings," Mrs. Li (Miriam Yeung), a thirtysomething former actress with a philandering husband (Tony Leung) goes to visit Aunt Mei (Bai Ling), who sells the most expensive dumplings in Hong Kong. Mrs. Li knows about their rejuvenating powers, and she also knows about their unpleasant main ingredient, but after some initial nausea, she digs right in.
In Park Chan-wook's "Cut," a successful filmmaker (Lee Byung-hun of Joint Security Area) arrives home to find that a disgruntled extra (Lim Won-hee) has taken over his home, and fastened his pianist wife (Kang Hye-jun of Oldboy) to the grand piano. The madman threatens to cut off the wife's fingers, one by one, unless the director strangles the helpless child he's tied to the couch.
Takashi Miike directs the last segment, "Box," about a young author and former circus performer, Kyoko (Kyoko Hasegawa), seemingly haunted by the ghost of her twin sister, who died a mysterious and horrible death while practicing their act. Adding to Kyoko's trauma, her editor (Atsuro Watabe) is a dead ringer for her old stepfather/ringmaster, who may have perished in the same "accident" that took her sister's life.
Run time: 2 hours 5 minutes
Feature 2: RIGOR MORTIS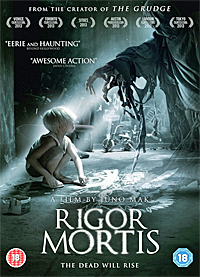 In this eerie and chilling, contemporary, action/special effects laden homage to the classic Chinese vampire movies of the 1980's, writer-director-producer, Juno Mak makes his feature directorial debut. Co-produced by J-Horror icon Takashi Shimizu, and reuniting some of the original cast members of the classic Mr. Vampire series, RIGOR MORTIS is set in a creepy and moody Hong Kong public housing tower whose occupants we soon discover, run the gamut from the living to the dead, to the undead, along with ghosts, vampires and zombies.
Run time: 1 hr 43 minutes
Films begin at 5:30pm and reception starts right after the second feature, at approximately 9:30pm.
Proceeds benefit the San Diego Chinese Historical Museum. Learn more about them at www.sdchm.org