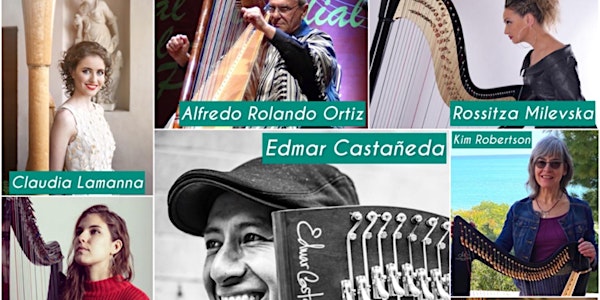 International Harp Music Festival in Old Town Pasadena Sheraton Hotel
Immerse yourself in jazz, latin, latin-jazz, pop, celtic & classical harp music at our International Harp Music Festival! November 4-6, 2022
When and where
Location
Sheraton Pasadena Hotel 303 Cordova Street Pasadena, CA 91101
Refund Policy
Contact the organizer to request a refund.
About this event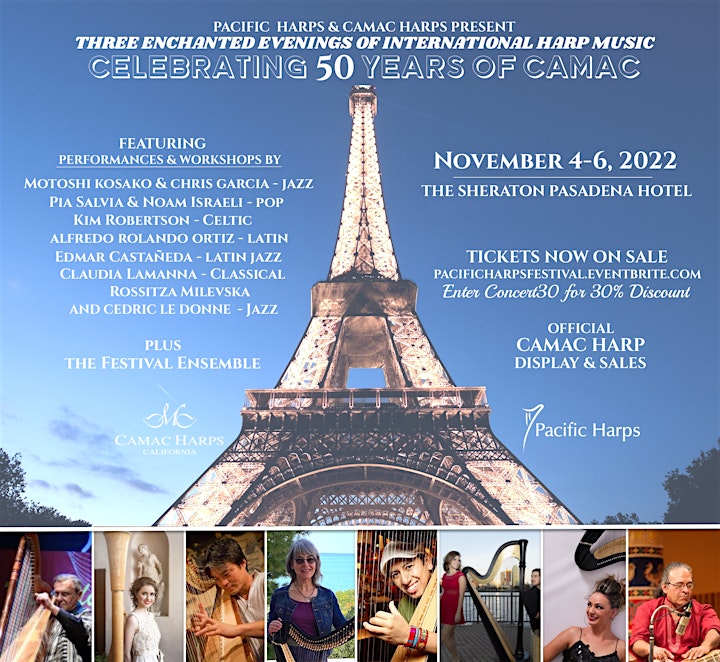 Pacific Harps of Pasadena and Camac Harps France welcome you to come experience the enchanting and versatile music of the harp at our International Harp Festival being held on November 4-6, 2022 in Old Town Pasadena at the Pasadena Sheraton Hotel!
Almost everyone has heard beautiful celtic or classical harp music yet we invite you to come and immerse yourself in jazz, latin, latin-jazz, pop and of course celtic and classical harp music. The line-up of artists are internationally known and award winning: Claudia Lamanna, Motoshi Kosako with Christopher Garcia on drums, Pia Salvia with Noam Israeli on drums, Alfredo Rolando Ortiz, Kim Robertson, Rossitza Milevska and Cedric Le Donne on drums, and Edmar Castaneda. We will also have a group of local harpists performing in our Festival Ensemble.
A Classical harp masterclass is being offered by award-winning Claudia Lamanna.
Harp workshops are being offered by most of the artists. In addition, those who already own a Camac harp will be able to get it regulated by the amazing Liza Jensen (by appointment)and Liza is also offering a general harp maintenance workshop.
Camac harps will be on display and available for purchase all weekend. Come and learn about this extraordinary instrument!
Purchase tickets for afternoon or evening performances and workshops on Friday, Saturday and Sunday. Or, purchase a full-festival pass for all three days (includes all concerts and workshops). Masterclass tickets sold separately.*
See the pricing below and enter Concert30 for a 30% discount!
See you there!
Join us and follow @pacificharps.
*Cancellation policy: We will fully refund your ticket(s) if you, unfortunately, get Covid-19. Just send us a copy of your positive test results and we'll give you a full refund.
Festival Ticket breakdown:
Full Festival $150
Concerts $30
Workshops $15
Masterclass: Participation $20 / Audit $15
Contact Info:
626-791-6262
carolyn@pacificharps.com
www.pacificatlanticharps.com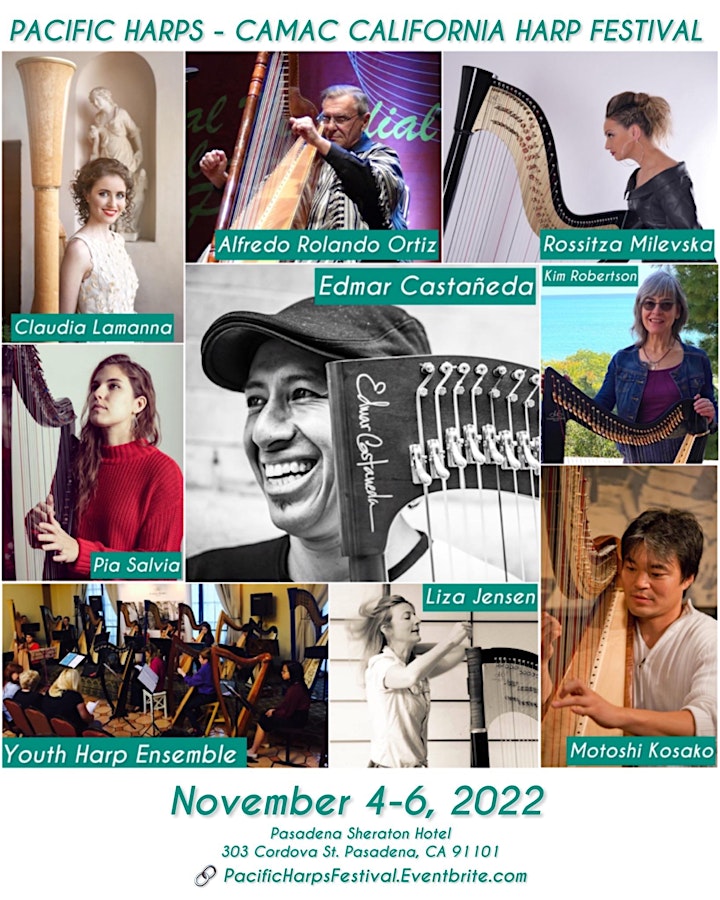 Proposed Schedule:
Friday, November 4, 2022: Classical
2:00 pm - Exhibits and registration open
4:00-5:30 pm – Workshop: Harp Maintenance with Liza Jensen
6:30 pm - Concert: Youth Harp Ensemble
7:10 pm – Intermission
7:30– 9:00 pm - Classical Concert: Claudia Lamanna
9:00 – 10:30 pm - Reception
Sunday – Pop and Latin Jazz
10:00 am - Exhibits open
10:00-11:00 am - Workshop: Celtic Harp with Kim Robertson
11:30 am – 12:30 pm - Workshop: Latin Harp with Alfredo Rolando Ortiz
12:30 pm - Exhibits/Break
2:00 -3:30 pm – Workshop: Pop Harp with Pia Salvia
3:30 pm - Exhibits
4:00 – 5:00 pm - Pop Concert: Pia Salvia
5:15 – 6.30pm - Latin Jazz Concert: Edmar Castañeda
6:30 pm - End of Festival
(Program subject to change)