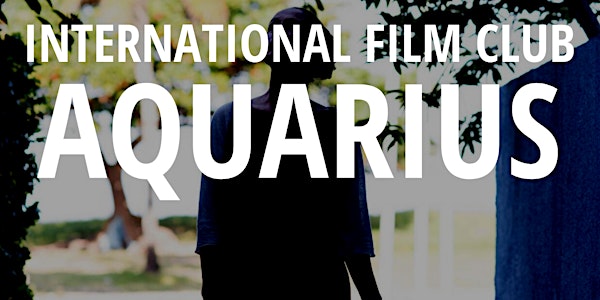 International Film Club: Aquarius
For our next 2021 Film Club, we will be discussing the 2016 Brazilian–French drama film Aquarius.
By International Relations Council
Date and time
Tuesday, March 2, 2021 · 5 - 6pm PST
Refund Policy
Contact the organizer to request a refund.
Eventbrite's fee is nonrefundable.
About this event
About the Film
Clara, a 65 year old widow and retired music critic, was born into a wealthy and traditional family in Recife, Brazil. She is the last resident of the Aquarius, an original two-story building, built in the 1940s, in the upper-class, seaside Boa Viagem Avenue, Recife. All the neighboring apartments have already been acquired by a company which has other plans for that plot. Clara has pledged to only leave her place upon her death, and will engage in a cold war of sorts with the company. This tension both disturbs Clara and gives her that edge on her daily routine. It also gets her thinking about her loved ones, her past and her future.
Relevant Articles
1. Review
3. Academic Papers on Recent Political Phenomena in Brazil
About the Discussion Leader
Luciano Tosta is Acting Director of the Center for Global and International Studies and Associate Professor of Brazilian Literature and Culture at the University of Kansas. He has a PhD in Comparative Literature and MAs in Portuguese and Brazilian Studies and Comparative Literature from Brown University. Dr. Tosta has published widely on Brazilian and Brazilian American literature, cinema, and music in the U.S., Brazil, Canada, and Europe. He is the author of Confluence Narratives: Ethnicity, History, and Nation Making in the Americas (Bucknell University Press, 2016) and co-editor of Luso-American Literature: Writings by Portuguese Speaking Authors in North America (Rutgers UP, 2011) and Brazil (ABC-CLIO, 2015). Before KU, Prof. Tosta taught at the University of Illinois Champaign-Urbana, and at Harvard, Boston University, and Rhode Island College while in graduate school. He was the recipient of the Fulbright Fellowship.
Where to Watch
About International Film Club
The arts, and particularly film, have a special ability to transport us to other places, times, and realities and give us insight into the ways and the whys of the world. The International Relations Council is proud to introduce a new effort to explore international realities and global issues using films of the world and about the world. The IRC's International Film Club will meet monthly to discuss an award-winning film and the international topics, themes, and issues it raises. Subject-matter experts will guide our experience, preparing us with questions and other context before viewing the film and leading the conversation during our monthly meeting. Films, with subtitles if needed, will be readily available on common streaming services. Individuals of all backgrounds, interests, and perspectives are welcome – we just ask that you bring an open mind, thoughtful questions, and common courtesy. Registration is free but helps us with planning.
About the organizer
Our Mission & Vision
The International Relations Council strengthens Kansas City's global perspective by maintaining an active dialogue around world events, global issues, and their impact on our community. As a nonpartisan, educational nonprofit organization, the IRC values informed civil discourse, accessibility, and substance as we work to sharpen our community's 21st-century global acumen. Our vision is a globally informed, engaged, and active Kansas City community that welcomes diverse perspectives and connects through a sincere desire to contribute to our shared future.