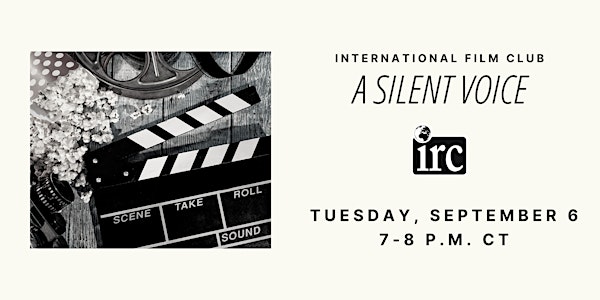 International Film Club: A Silent Voice (Japan)
On September 6, we will be discussing the 2016 Japanese animated film, A Silent Voice, as part of our International Film Club.
Refund Policy
Contact the organizer to request a refund.
Eventbrite's fee is nonrefundable.
About this event
About the Film
The story revolves around Shôko Nishimiya, a grade school student who has impaired hearing. She transfers into a new school, where she is bullied by her classmates, especially Shôya Ishida. It gets to the point where she transfers to another school and as a result, Shôya is ostracized and bullied himself, with no friends to speak to and no plans for the future. Years later, he epicly sets himself on a path to redemption.
Where to Watch
International Film Club
The arts, and particularly film, have a special ability to transport us to other places, times, and realities and give us insight into the ways and the whys of the world. The International Relations Council's International Film Club explores international realities and global issues using films of the world and about the world. The group meets monthly to discuss an award-winning film and the international topics, themes, and issues it raises. Subject-matter experts guide our experience, preparing us with questions and other context before viewing the film and leading the conversation during our monthly meeting. Films, with subtitles if needed, are readily available on common streaming services. Individuals of all backgrounds, interests, and perspectives are welcome – we just ask that you bring an open mind, thoughtful questions, and common courtesy. Registration is free but helps us with planning.