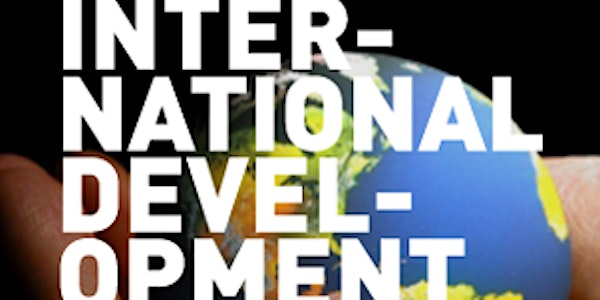 International Development, Affairs and NGOs Happy Hour
International Affairs, Development and NGOs!
When and where
Location
Johnny Pistolas 2333 18th St. NW Washington, DC 20009
About this event
This Happy Hour is devoted to professionals in the International Affairs and Development community, to grow, interact, and learn from each other. It is designed to provide a professional environment to meet other International Affairs professionals to broaden one's career. It is also for those interested in International Affairs and Development careers and are studying or intend to enter the dynamic world of global development.
HOW IT WORKS : We will try to assign tables for each represented INDUSTRIES/SECTORS/SPECIALIZATIONS and will direct attendees to their respective tables accordingly. All are welcome! However we don't guarantee the availability of a partner in that particular field you would like to exchange experience. Space is limited and advance ticket purchase is required.
Ticket price includes a Taco AND House Margarita/House Wine/House Beer. Cash Bar afterwards (which means you pay as you go). Our signature drink Mer-Tini will be featured too:) Ask your bartenders.
Ticket Price : $15 (will increase soon)
As we all know, the bars and restaurant industry is the most affected by this pandemic and we would like to contribute our share and help out the industry. Portion of the fund will go to that purpose. Also, be generous to bartenders.
As per DC Government guidelines, this is a sit down dinning event. We have super limited space! Get your tickets soon.
Rules to abide :
1. Event is 21+ (bring ID).
2. Be respectful to your counterparts and give them a chance to exchange with others as well.
3. We all specialize in one or two fields and be willing to engage others and try to accommodate as much as possible.
4. If you don't specialize in the other person's required discipline, LEAVE THEM ALONE.
5. Rude or aggressive members are removed from the group at an organizers discretion.
6. This is a face-to-face event. DO NOT try to arrange an online meeting, by using the comment box or direct message.
7. Most of our members complained about people writing in the comment box. Since it sends notification to all attendees. If you have any questions, send a message to the organizers. Don't write in the comment box.
8. We have ZERO TOLERANCE for solicitation. We don't allow anyone to run their own agenda at the Event. If you are interested to promote/sponsor/collaborate; contact us via (info@merevents.com).
9. When you get there, we greet you and take you to your respective group.
10. Don't be shy of your specializations. We have diplomates assigned to different countries, who would love to learn more from your experience.
Payment Instructions :
1. You should login from a PC to see the 'Pay Now' button, after RSVPing. Then hit the button.
2. Verify correct dollar amount for number of people you're paying for.
3. If you don't have a Paypal account, click "Pay with a Debit or Credit Card".
4. If you have a Paypal account, simply log in, and pay as you normally would via Paypal.
How to Unblock the Pop-up Blocker on Your Phone
Many of our patrons advised us that they have a Pop-up Blocker on their iPhones and it hinders them from buying tickets. To unblock, please follow the following steps :
For Safari Users :
1. Go to Settings.
2. Scroll down to Safari and click on it.
3. Select Block Pop-ups and turn it off.
For Google Chrome Users :
1. Open Google Chrome.
2. Click on the three dots and you will see many options.
3. Click on Settings.
4. Scroll down to content settings.
5. Select Block Pop-ups and turn it off.
Refund and Ticket Resell Policy
All sales are final. We only refund the full amount, if the event is canceled. If it is rescheduled, we will send an email to ticket holders advising that. A full refund will be given to those that let us know within 2 calendar days of the update email, if you are unable to make it on the new date. No refunds will be given after that time.
However, you can sell your ticket to someone else if you are unable to attend. Please, feel free to post in the comment box for the event, that you have a ticket for sale. Work out payment between yourselves, and have the seller only send the organizer a message letting us know the full name of the person taking your spot. You must let us know two hours before the RSVP close time, on the day of the event.
METRO & PAKING INFO
The closest metro station is Woodley Park/Adams Morgan.
Street Parking might be a challenge. But if you plan to drive, try your luck on Champlain Street. Otherwise, there is a parking garage around. However, the event involves drinking and we highly recommend a shared ride or taxi service. DRINK RESPONSIBLY.