International Design Dare Reveal: Exhibition Extraordinaire
About this Event
Join us for Metropolitan Museum Design Detroit's third annual International Design Dare Reveal Fundraiser to be held at the Belle Isle Aquarium,
November 2, 2019, from 7 p.m. - 9 p.m.
Guests will enjoy:
A plethora of international accessory designers and Michigan designers showcase together for a local-to-global "Reveal." Revealing their newest accessory designs.
An interactive museum-style exhibition.
A meet and greet with designers.
Live model exhibition.
Networking opportunities with industry professionals.
Signature libations and culinary tastings.
Proceeds from the event will support the Metropolitan Museum Design Detroit's future programming that is inclusive to multi-generations for educational enrichment and mindful insight for the Design Industry. MM-O-DD offers opportunities that foster personal passions and professions each year. We believe design choices do impact people and the planet.
For further details email: info@MM-O-DD.org
Producer - Leslie Ann Pilling
Co-Producer - Shannon Lazovski
Sponsored by: Belle Isle Conservancy and Belle Isle Aquarium, Global Ties> Detroit, Pernod Ricard, jenesis Entertainment, Display Group
MM-O-DD is a Detroit, Michigan USA based non-profit EIN #4642995785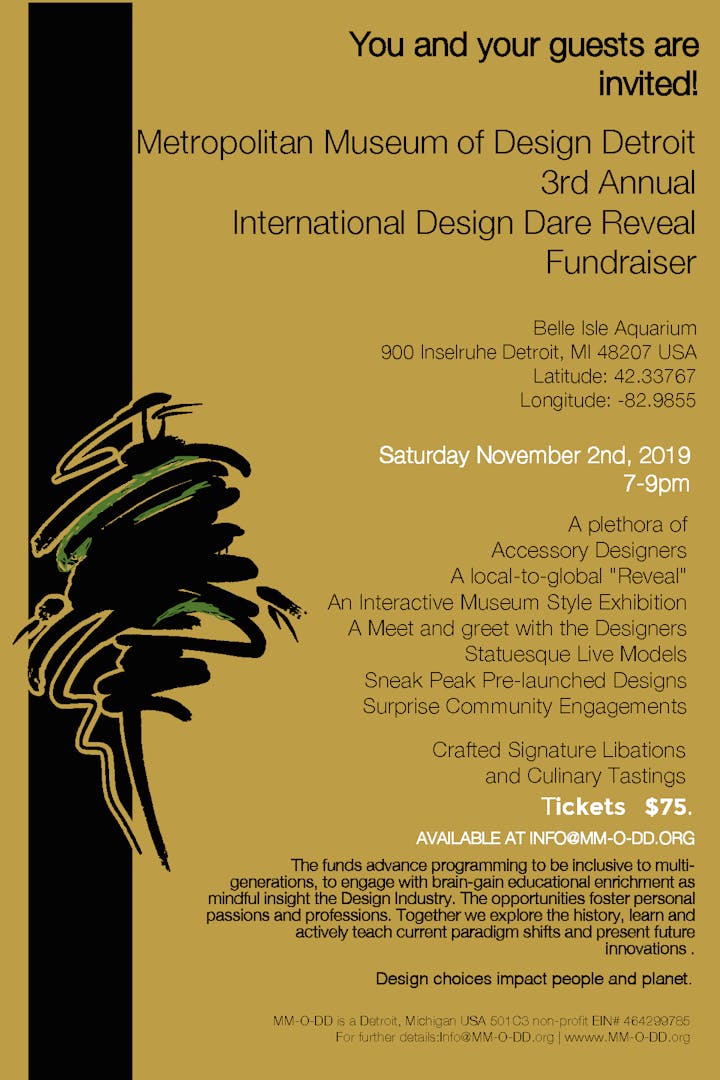 Together, lets encourage the next generation of Designers, while supporting current people in the Design Industry!
See you soon.
Kind regards,
Leslie Ann
Leslie Ann Pilling
Founder/President
Metropolitan Museum of Design Detroit