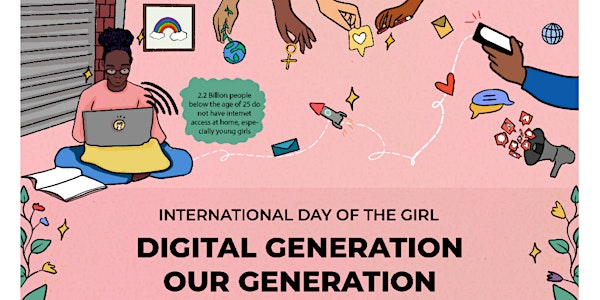 International Day of the Girl 2021 Girls Speak Out
A Girl-led roundtable discussion with UN Representatives and Partners on "Closing the Digital Divide to Accelerate Opportunity"
About this event
Girl activists and girl advocates will participate in a virtual roundtable designed to deliver unscripted and authentic dialogue between girl leaders, their partners, and other decision makers involved in addressing the digital divide. In a candid girl-led conversation among girl activists, UN agency representatives, leaders, and private sector stakeholders, girls will share how they are impacted by the digital divide and engage in meaningful dialogues around existing innovative solutions and additional resources they need to be able to fully engage in an ever-increasingly digital-dependent world. The discussion will also provide space for key stakeholders to share how they are using their influence to close the gender digital divide.
We will have child protection and safeguarding measures in place, and we also recommend all organizations to follow their own child safeguarding and protection measures and practices as well.