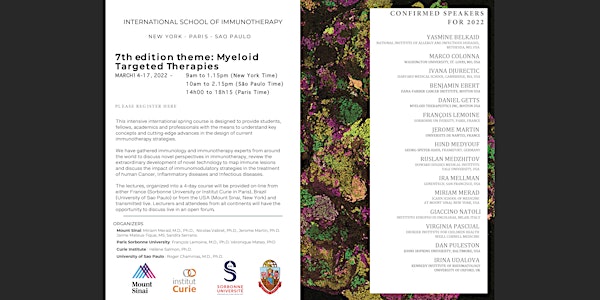 International Course of Immunotherapy March 14-17
Collaborative effort between Mount Sinai (NY), Sorbonne University, the Curie Institute (Paris), and the University of Sao Paolo (Brazil)
About this event
The main objective of the course is to educate trainees and junior faculty about the benefit of immunotherapeutics for the treatment of human diseases and the need to further expand immune targets and immunotherapy strategies to enhance clinical care.
The focus of the 7th annual International Course of Immunotherapy will be on "Myeloid targeted therapies".
The lectures, organized into a 4-day course will be provided on-line from either France, Brazil, or from the USA. Lecturers and attendees from all continents will have the opportunity to discuss live in an open forum.
March 14 to 17, 2022
9am to 1.15pm (NY time)
10am to 2.15pm (Sao Paulo time)
2pm to 6.15pm (Paris time)