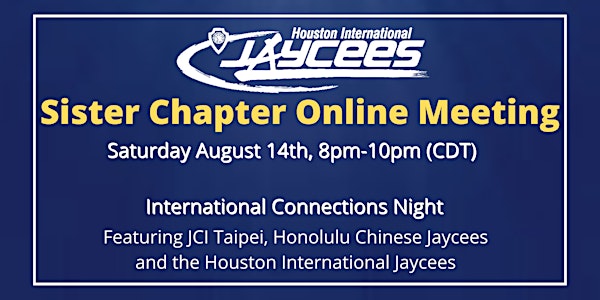 International Connection Night w/ JCI Taipei & Honolulu Chinese Jaycees
Join us for a global networking event with our 2 sisters chapters, JCI Taipei and Houston International Jaycees to make global connections!!
About this event
A true partnership that spans many time zones, please join the Houston International Jaycees for this international, networking event with our shared sister chapters JCI Taipei and Honolulu Chinese Jaycees. This is a great opportunity to connect with all members from our sister chapters from across the globe without having to the leave the comfort of your home! JCI is all about making friendships and partnerships with other organizations around the world. We are all part of JCI International!
Learn more about Honolulu Chinese Jaycees and JCI Taipei!!
Zoom information will be provide in emails to all registers.
If you have any questions, please email us at jcihoustonintl@gmail.com
The Houston International Jaycees are an award winning young professional organization that develops leadership through service to humanity. This organization won the 2020 Most Outstanding Local Chapter from the JCI USA and Americas and many more awards in 2020! Houston International Jaycees' goal is to help young professionals between the ages of 18 and 40 develop personal and leadership skills and give them the tools to build the bridges of success for themselves in the areas of business development, management skills, individual training, community service, and international connections.