International Conference on Teacher Training and Education | ICTTE 2017
Actions and Detail Panel
International Conference on Teacher Training and Education | ICTTE 2017
Sat, October 7, 2017, 7:00 AM – 8:00 PM WIB
Description
The 3rd ICTTE 2017 invites researchers, academicians, educators, practitioners, government agencies, and consultants around the world to attend and share their insights, perspectives and new trends of researches which relate to the theme of the conference, "Teacher Training and Education: Opportunity and challenges in fostering quality learning in open knowledge."
Full papers submitted to the conference will be peer reviewed. Upon acceptance, the paper that has been presented at the conference by one of the authors will be published in the conference proceedings of ICTTE 2017. The proceedings will be published by DEStech publication that will submit all the papers to be indexed in EI Compendex, Thomson Reuters Web of Science CPCI-S (ISTP indexing) and CNKI Scholar to worldwide online citation. Other papers will be published in International Journal of Pedagogy and Teacher Education (IJPTE). Excellent papers will be proposed to be submitted to Issues in Educational Research (Scopus Indexed). In the case of publications: The additional payment of publication will be taken and will be told at the time of acceptance.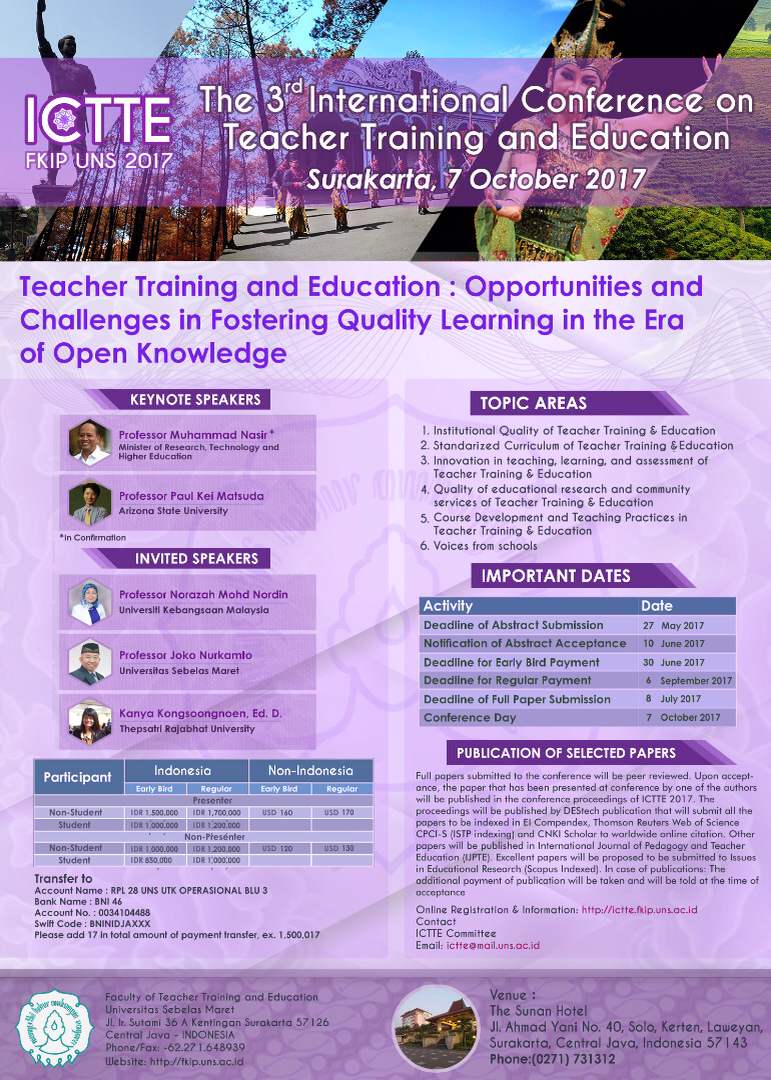 TOPIC AREA
The dimension of information and technology (IT) in supporting developmental component of teacher training and education is complex and various. It can be implemented into six main fields, which are: (1) institutional quality of teacher training & education, (2) curriculum of teacher training & education, (3) innovation in teaching, learning, and assessment of teacher training & education, (4) quality of educational research and community services of teacher training & education, and (5) course development and teaching practices in teacher training & education, (6) school-based practices. Based on these six fields, the topics of the 3rd ICTTE may include:
1. Institutional Quality of Teacher Training & Education

New Policy on Professional Development of Teacher
Quality Assurance and Accreditation of TTE Institution
Comparative on TTE policy and practices
Student Board and Activities
Trends in International Partnership (double degree, co-supervisor, etc)
Multicultural education
2. Standardized Curriculum of Teacher Training & Education

National Curriculum of TTE
Toward International and Regional Curriculum of TTE
Qualification of Teacher Candidate
Qualification of Learning Outcomes of TTE
3. Innovation in teaching, learning, and assessment of Teacher Training & Education

Inquiry-based learning
Collaborative learning
Trends in technology of teaching & learning
Modern instruction
Authentic Assessment
E-learning
4. Quality of educational research and community services of Teacher Training & Education

Trends in educational research
Community services, students internship
Action Research in TTE
5. Course Development and Teaching Practices in Teacher Training & Education

Mathematics & Science Education
Social Science Education
Sport Education
Language Education
Art and Music Education
Ethics/Moral, Civic, and Religious Education
School Counseling
Long life learning education
Educational for sustainable development
Vocational Education
Early Childhood Education
Primary Education
Secondary Education
Special Education
6. Voices from schools

Classroom Action research
Teachers' Learning Community
School Management & Reform
Clinical experiences from the school counseling
IMPORTANT DATE
Deadline for Abstract Submission: 27 May 2017
Deadline for Full Paper Submission: 8 July 2017
Conference Day: 7 October 2017
Workshop: 6 October 2017
VENUE
Sunan Hotel Surakarta
Jl. Ahmad Yani No. 40, Solo, Kerten, Laweyan, Surakarta
Central Java- INDONESIA
REGISTRATION
Submission Guide for Authors
To guarantee smooth administration, the whole submission process or the online registration as a presenter and non-presenter is done fully ONLINE and NOT by email through our Conference Management System by clicking this link. Here is the procedure:
Create new account (top menu "Register")
Check your email and activate your account
Log in to your account (top menu "Login")
Submit your abstracts (as many titles as you want)
Wait until the committee announce the abstract review result
After announcement of abstract acceptance, make the payment and upload the payment proof through our online system (NOT email)
After your payment is confirmed, upload your full paper
Wait until the committee announce the paper review result
Revise your paper according to the review, and upload it through our online system (NOT email)
Wait for the final announcement of paper acceptance for publication
REGISTRATION FEE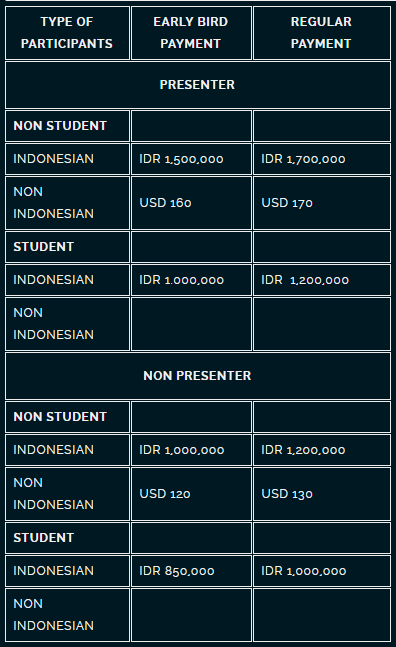 *Additional paper will be discounted 50 percent from the rate
*Cost for publication of selected papers in the Scopus-indexed Journal is not included.
Cancellations: The conference registration fees will not be refunded in case of cancellation, but substitutes will be accepted at any time provided that the conference secretariat is advised of the change.
All payment must be transferred to:
Account Name: RPL 028 UNS UTK OPERASIONAL BLU 3
Bank Name: BNI 46
Account No. : 0034104488
Swift Code: BNINIDJAXXX
Please add "17" in the total amount of payment that you transfer. Example: 1,500,017
We are looking forward to meeting you at the 3rd ICTTE 2017.
Best regards,
ICTTE 2017 Committee
Website: http://ictte.fkip.uns.ac.id/
Faculty of Teacher Training and Education, Sebelas Maret University