Description
International Conference on Skin Care & Aging
About Conference

Conference Series LLC Ltd, USA extend a warm welcome to the distinguished Nobel laureates, speakers, delegates, Skincare professionals, Dermatologist, Geriatricians, Gerontologists, Palliative care professionals, aging caregivers, anti-aging researchers and healthcare Industry leaders and speakers, from around the world for attending International Conference on Skincare & Aging during April 17-18, 2019 at Montreal, Quebec, Canada.

The international meeting is established as a high-level forum for in-depth presentations and discussions on the Skincare & Aging affecting this highly relevant and rapidly developing skin care and aging.

The general theme of the conference focusses on defining and maintaining healthy skin and safeguarding against premature skin aging. The effects of environmental insults, genetics and the benefits of active skin care products and nutrition will be discussed.

The meeting will give new insights into skin health, beauty, skin age prevention and treatment with active discussions with the Industry's top scientists and technologists.

AGENDA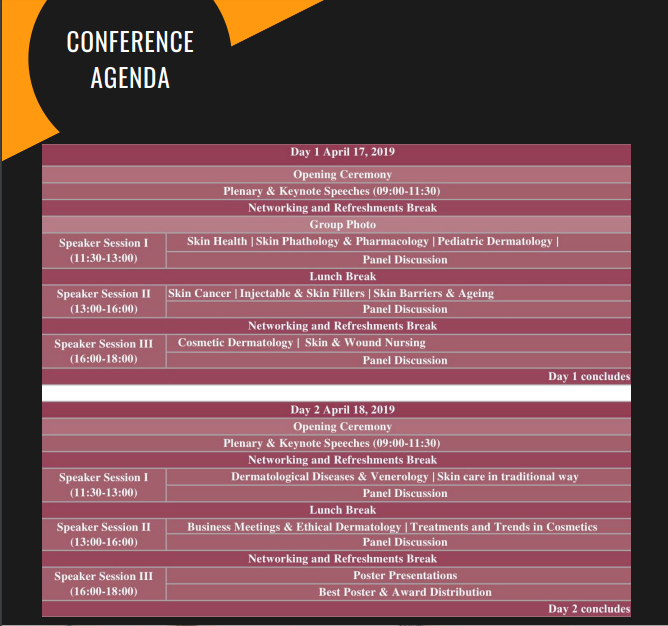 Please contact the event manager Marilyn (marilyn.b.turner(at)nyeventslist.com ) below for:
- Multiple participant discounts
- Price quotations or visa invitation letters
- Payment by alternate channels (PayPal, check, Western Union, wire transfers etc)
- Event sponsorship

NO REFUNDS ALLOWED ON REGISTRATIONS
Prices may go up any time. Service fees included in pricing.
-----------------------------------------------------------------
This event is brought to you by:
Conference Series - NewYorkEventsList
http://www.NyEventsList.com
http://www.BostonEventsList.com
http://www.SFBayEventsList.com
-----------------------------------------------------------------
VIO181108CRE