International Conference on Refugee Crisis in Europe and the Middle East: "Sharing Tools For Humanitarian Response"

Tuesday, November 1, 2016 at 4:00 PM

-

Thursday, November 3, 2016 at 6:00 PM (CET)
Event Details
Internationl Conference on

Refugee Crisis
in Europe and Middle East:"

"Sharing Tools For Humanitarian Response"

November 1-3, 2016  ~  Freiburg, Germany
REGISTRATION OPTIONS  (Registration is open up to dates of conference):
1) On-line: See detailed instructions below .
2) Email Registration form: If you wish an alternative way to register other than On-Line (or if you are using a discount not listed above) an Email Registration form is available at: www.cbiworld.org/home/conferences/rc/registration/  or  by request at: SOlweean@aol.com
Note: You can use this option and still pay by PayPal through the link on the same Conference Registration page ...

REGISTRATION  FEES: (see discount details below)
1)  3-Day Conference Program 
     $ 325  3-day Program: Nov. 1-3, 2016
Includes: Conference Program, social-cultural events, interpreters, materials, all site management and support services.

2)  1-Day Opening Conference Session on November 1 ONLY
     $ 100  3-day Program: Nov. 1, 2016

3) Farewell Dinner Party
     $ 30
 How to Register On-Line:
 1) Select type of registration from list above. Confirm your selected items, then click "Order Now" to move to the 2nd page and complete registration information (Note: A full, detailed summary of fees selected will also be provided by PayPal at the final stage of registration payment to print and retain).
 2) Complete and confirm information requested on 2nd page of this form, then confirm and click "Continue" to move on to PayPal website for payment. You will receive a confirmation from Eventbrite of your registration and selections. Please PRINT THE CONFIRMATION for your records and bring to conference check-in on-site.
 3) Process your payment through PayPal - by credit card or bank account withdrawl. At successful completion of payment PayPal will provide you with a receipt of your payment and items. Please PRINT THE RECEIPT for your records. 
 -- This will be your Fee Payment Receipt and Confirmation.
Please bring this printed receipt page to conference check-in on-site as verification in the event it is needed. 
Please submit a SEPARATE REGISTRATION for EACH PERSON. Also please include Email and phone information with registration in the event we need to contact you regarding your registration. 
Note: For your convenience, if you should experience any difficulties in processing payment through PayPal you can call their help line directly for assistance:1-888-221-1161
__________________________________________________
DISCOUNTS AVAILABLE (off Regular full cost 3-Day Conference Program Fee only):
 A) Early Registration Discount: $25 discount off full cost 3-Day Program fee by 9-25-16 (see above)
 B) Presenters: 20% discount off full cost 3-Day Program fee (excludes hotel & meals)
 C) Full-Time Students: receive $75 discount off above full cost 3-Day Program fee. Proof of current full-time status is required at registration and at on-site check-in.
 D) Group Discount: $20 discount each off above full cost 3-Day Program fee for groups of 3 or more registering together (must register at the same time).
 E) Discount for generating Additional Full Cost registrations:
    To assist in our efforts to subsidize attendance from economically impoverished societies, we offer a $30 discount off above full cost Program fee to individuals for each additional FULL COST Regular or Student 3-Day registration they generate (cannot be combined with group discount "D"). Registrants should list your name & address on their form. Rebates are given after all final payments received. 
Note: Contact Common Bond Institute for information on options D and E. 
_________________________________________________

◊ Tax Deductible Sponsorship of Key Participants to conference:
Through Tax Deductible Contributions to our Subsidy and Scholarship Fund:
The TT Conference is principally funded through registrations. To assist in promoting important inclusion, diversity, and accessibility we make every effort to include members of the refugee community, and low income students and colleagues from developing countries, by providing subsidies and scholarships when possible. To assist us in this we request and appreciate donations to our Subsidy and Scholarship fund. Organizations and groups are also encouraged to sponsor representatives and individuals to attend.
Contributions are tax deductible on USA taxes, and can be made by check, money order, cashier's check, PayPal, or wire transfer to the International Humanistic Psychology Association.a US 501(c)3 federal nonprofit. Contact Common Bond Institute directly for all details at: 1-269-665-9393 or SOlweean@aol.com
* A donation of: $295 allows 1 person from the above categories to fully participate in the 3 day program.
____________________________________________________________

◊ Cancellation Policy:
Refunds are given for cancellations received in writing by September 25, 2016, minus a $75 non-refundable administrative fee. After September 25 no refunds are possible.
◊ Assignments Are Possible:
You may also assign your registration to someone else at no charge (assignments must be made prior to the conference date by original registering participant and confirmed in writing directly to Common Bond Institute). Common Bond Institute 12170 S. Pine Ayr Drive, Climax, Michigan 49034 USA Ph/Fax: 269-665-9393 E-mail: SOlweean@aol.com Web site: www.cbiworld.org 
___________________________________________________________
ACCOMMODATIONS:
The conference HOTEL: Retaj Hotel in Freiburg, Germany.
* As a courtesy, the conference organizers will post a list of area accommodations that can be used to search of rooms. Participnats will need to research and arrange for their own accommodations. The conference is not involved in any such arragements or bookings. 
TRAVEL: Information on travel to Freiburg and a recommended travel agent is also available at www.cbiworld.org/home/conferences/rc/site/ .
___________________________________________________________
SITE:
More information on the conference program site and travel can be found at:
  www.cbiworld.org/home/conferences/rc/site/ 
___________________________________________________________
ADVERTIZE:  www.cbiworld.org/home/advertise/
    Order Forms For:
          - Program Brochure Ads
          - Participant Tote Bag ads
          - Display Table Rentals
 ________________________________________________________________________________________  
Conference Description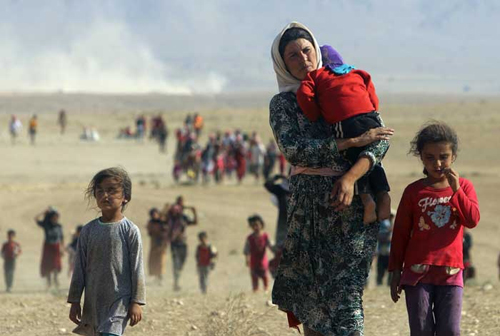 Internationl Conference on

Refugee Crisis in
Europe and Middle East

"Sharing Tools For Humanitarian Response"

November 1-3, 2016  ~  Freiburg, Germany

Conference Details at: 
http://cbiworld.org/home/conferences/rc/ 

Registration

* This conference is programmatically linked with
the 5th Annual International Conference on Transgenerational Trauma
held in Amman, Jordan immediately before.
JOIN US FOR:
A 3-day international working conference bringing together key stakeholders working with refugees to address:

Immediate psycho-social treatment needs

of

refugees arriving traumatized by the war, violence,

and exodus.




Support needs of communities and

societies and

receiving refugees.



Sharing practical, culturally sensitive service approaches and lessons learned

- what is working, what is not working, and what needs to be done.




Formulating fact-based recommendations and

guidelines

endorsed by the full conference

to provide public policy makers for increased effectiveness in responding to the multiple

needs of refugees

.




Networking to promote an international and cross-cultural

professional

network of humanitarian organizations and groups

addressing the refugee crisis in Europe and the Middle East for mutual support,

shared learning,

and cooperation.




Launching a German-Jordanian Cross-Training project

:

a bi-regional response and collaboration between German and Jordanian mental health professional groups to improve the effectiveness of culturally adapted psycho-social treatment services to the refugee population in each country.



Dynamics of trauma and displacement in the individual and community.
Held in conjunction with:

- Conducting the Social Health Care (SHC) training and treatment program - a model for building local capacity for healing communal trauma
- Conducting a Disaster health Care Field Clinic providing emeergency psychosocial, medical, and dental services to the refugee population in Jordan.

- The Global Network for the Study of Transgenerational Trauma -  a multi-cultural, multi-disciplinary professional network engaged in the study of inherited, unresolved communal trauma, and the implications for violence and war within and between communities
Sponsored by:
Common Bond Institute,
Michigan State University
Friends of Asylum in Freiburg
International Humanistic Psychology Association,

Endorsed by:
over 100 universities and professional organizations internationally
Official Partner of:
Charter For Compassion  &  Parliament of World's Religions
---
FORMAT and CONTENT:

November 1:     A public event- sharing the current status of needs and what is being
                               done to address them in Europe and the Middle East:
                               what is working, what is not working, what more needs to be done.
November 2-3:  A working conference for those engaged in working with refugees,
                                asylum seekers, and the communities receiving them to:
                                - share methods and approaches,
                                - explore and strategize action plans for more effective services
                                - form joint action plans to implement after the conference,
                                - develop recommendations and guidelines for policy makers
                                - establish an international network for continueds cooperation
                                   and mutual support.

---
Official Conference Languages:  English and German

                          
For DETAILS on Registration, Program, Accommodations,
Travel, and Advertizing CONTACT:
http://cbiworld.org/home/conferences/rc/    SOlweean@aol.com     1-269-665-9393   

Have questions about International Conference on Refugee Crisis in Europe and the Middle East: "Sharing Tools For Humanitarian Response"?
Contact Common Bond Institute
When & Where

The Merchants' Hall
Münsterplatz 24
Freiburg
Germany


Tuesday, November 1, 2016 at 4:00 PM

-

Thursday, November 3, 2016 at 6:00 PM (CET)
Add to my calendar
Organizer
Common Bond Institute
COMMON BOND INSTITUTE (CBI) is a US based Non-Government Organization that focuses on increasing local skills and services to promote conflict transformation and social healing, exploring human consciousness and relationship dynamics, and expanding public dialogue and awareness of critical issues. Since 1990 it organizes and operates numerous psycho-social treatment services and local capacity building professional training programs, international, inter-disciplinary conferences, and related research.
CBI provides consulting, coordination, and networking support to assist newly emerging human service and civil society organizations in developing countries, and like-purposed NGOs.
Cultivating the fundamental elements of a consciousness of peace and local capacity building are seen as natural, effective antidotes to hardship and suffering in the human condition, large group despair, and small group radical extremism.
To this end, enabling each society to effectively resolve and transform conflicts, satisfy core human needs within their communities, and construct effective, holistic mechanisms for self determination, self esteem, and fundamental human dignity and worth is the purpose of its work.
CBI is grounded in the application of humanistic psychology's principles in it's commitment to capacity building at both the grass roots and social institutional level; providing the individual in society with practical skills and visions for healing and transforming conflict in their daily lives. It is by design highly collaborative and works to actively form strategic alliances and partnerships with like-purposed organizations, groups, and individuals dedicated to nurturing relationships locally and globally in creating and promoting an authentic world culture of peace.
International Conference on Refugee Crisis in Europe and the Middle East: "Sharing Tools For Humanitarian Response"