Description
WELCOME,
International Conference on Learning Innovation and Quality Education (ICLIQE) is an annual meeting organized by The Faculty of Teacher Training and Education Sebelas Maret University INDONESIA. This second conference is held in Surakarta, Central Java, Indonesia and featured by speaker experts and authors in the field of education. Selected paper will be published International Reputable Journals (indexed in DOAJ or Scopus) and Proceeding.

SUBMITTING PAPER
The conference committee would like to invite authors to submit papers on the specific sub-themes and others that fall within the scope of the conference. Papers to be presented in this conference must have not been presented, accepted or published elsewhere. All submitted papers will be subjected to a strict review process. Authors are reminded to follow the formatting requirement of the paper. Please refer to ICLIQE 2017 Paper template for formatting requirements.
Take note : Your full paper maximum 8 pages
TOPIC AREA
1. Learning innovation and the quality special education
2. Learning innovation and quality early childhood education
3. Learning innovation and quality education in primary school
4. Professionalism in Educational Counseling
5. Learning Innovation and Education Technology
IMPORTANT DATES

REGISTRATION FEE/PAYMENT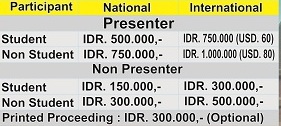 *
Cost for publication of selected papers in the DOAJ & Scopus-indexed Journal is not included. Cancellations: The conference registration fees will not be refunded in case of cancellation.
Account Name : RPL 028 UNS UNTUK OPERASIONAL BLU 19
Bank Name : Bank Mandiri
Account No. : 138 - 0019011035
Swift Code : BMRIIDJA854
REGISTRATION : Presenter & Non-Presenter

VENUE
UNS INN Solo (Pusdiklat)
Sebelas Maret Universty
Ir. Sutami No. 36A, Jebres, Solo, Central Java,Indonesia
We are looking forward to meeting you at the 2nd ICLIQE2017.
Best regards,
ICLIQE 2017 Committee
Website: http://icliqe-uns.pe.hu
Email : icliqe.uns@gmail.com
Contact :
Gunarhadi : +62817250481 (Indonesia)
Mokhtar Tahar : +60192143210 (Malaysia)
Faculty of Teacher Training and Education, Sebelas Maret University


Date and Time
Location
Refund Policy