INTERNATIONAL CONFERENCE ON DRUG DISCOVERY AND TRANSLATIONAL MEDICINE 2018...
Description
INTERNATIONAL CONFERENCE ON DRUG DISCOVERY AND TRANSLATIONAL MEDICINE 2018 (ICDDTM '18)
"Seizing opportunities and addressing challenges of precision medicine"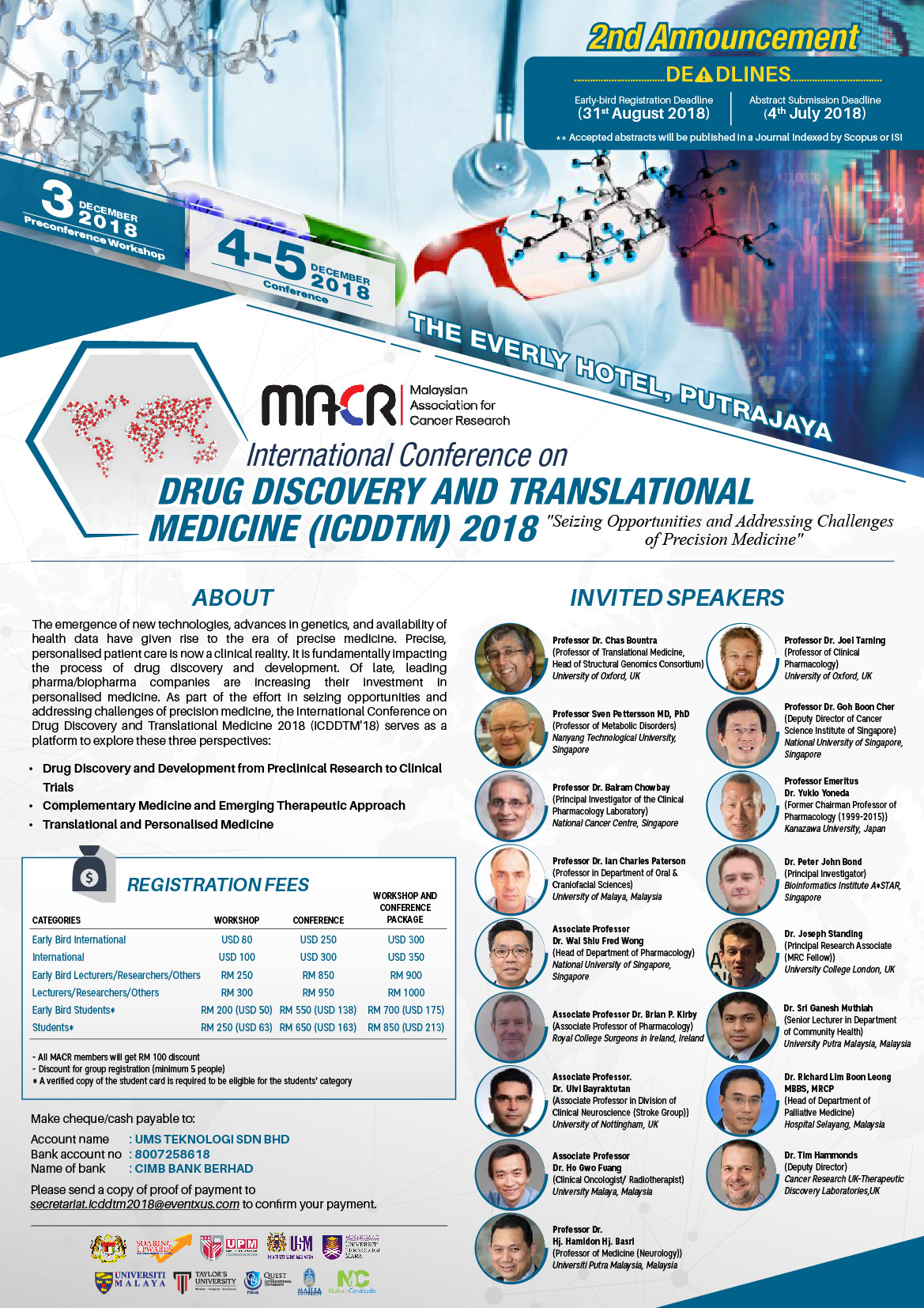 WEBSITE: https://macrofficial.wixsite.com/macr/icddtm2018
About
The emergence of new technologies, advances in genetics, and availability of health data have given rise to the era of precision medicine. Precise, personalised patient care is now a clinical reality. It is fundamentally impacting the process of drug discovery and development. Of late, leading pharma/biopharma companies are increasing their investment in personalised medicines. As part of the effort in seizing opportunities and addressing challenges of precision medicine, the International Conference on Drug Discovery and Translational Medicine (ICDDTM) serves as a platform to explore these three perspectives:
● Drug Discovery and Development from Preclinical Research to Clinical Trials
● Complementary Medicine and Emerging Therapeutic Approach
● Translational and Personalised Medicine
Venue
The Everly Putrajaya, Malaysia.
Date
Preconference Workshop: 3rd DECEMBER 2018
Conference: 4-5th DECEMBER 2018
RELEVANT RESEARCH FIELDS
● Bioinformatics
● Biologics
● Biotechnology,
● Cancer (Biology, Pharmacology & Therapeutics)
● Cancer care
● Clinical Pharmacy
● Computer-aided Drug Design (CADD)
● Immunology
● Medicine
● Medicinal Chemistry
● Microbiology (Microbiome & Antiinfectives)
● Nanotechnology/Nanomedicine
● Nutrition & Dietetics
● Neuroscience
● Pharmacology
● Pharmaceutics
● Structural Biology
● Immunopharmacolog
● Natural Products


Pre-conference Workshop
Multiplex & CRISPR Gene Editing

Pharmacometrics

Computer Aided Drug Design

Quantitative Pathology Solution


Important Announcement
● Early bird registration deadline - 31st August 2018
● Abstract submission deadline - 4th July 2018
● Accepted abstracts will be published in a journal indexed by Scopus or ISI
Main Organiser
Malaysian Association for Cancer Research (MACR)


Co-organisers
● Universiti Putra Malaysia (UPM)
● Universiti Sains Malaysia (USM)
● Universiti Teknologi MARA (UiTM)
● Universiti of Malaya (UM)
● Taylor's University
● MAHSA University

● Quest International University
● Natureceuticals Sdn. Bhd
Online Payment Method,
Make cheque/cash payable to:
Account name : UMS TEKNOLOGI SDN BHD
Bank account no : 8007258618
Name of bank : CIMB BANK BERHAD
Please key-in:
Recipient Reference: "Participant's Name"
Other payment details: "ICDDTM 2018"
​Please send a copy of proof of payment to icddtm18.secretariat@gmail.com ​to confirm your payment.