INTERNATIONAL CONFERENCE ON DRUG DISCOVERY AND TRANSLATIONAL MEDICINE 2018...
Description
INTERNATIONAL CONFERENCE ON DRUG DISCOVERY AND TRANSLATIONAL MEDICINE 2018 (ICDDTM '18)
"Seizing opportunities and addressing challenges of precision medicine"
RM180 only for both Mapping the Tissue Microenvironment through Quantitative Pathology Solutions and CRISPR Pre-Conference Workshop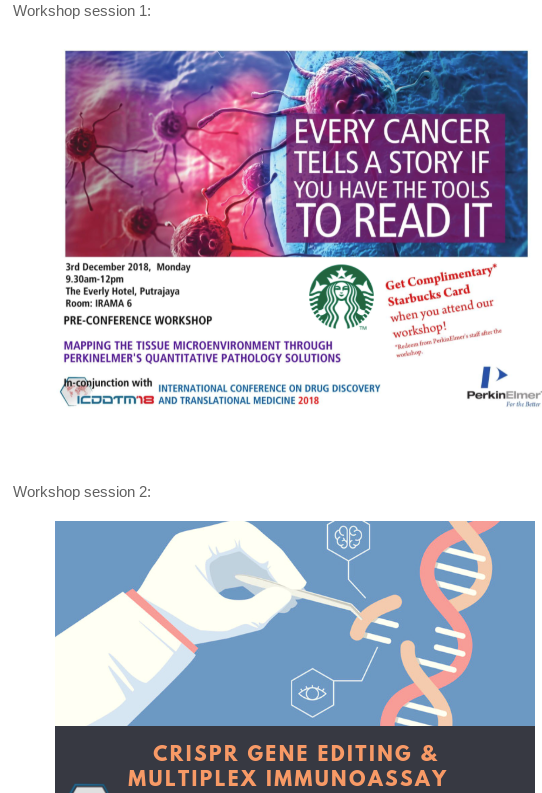 DISCOUNT RM150 with code: PRIMANEXUS150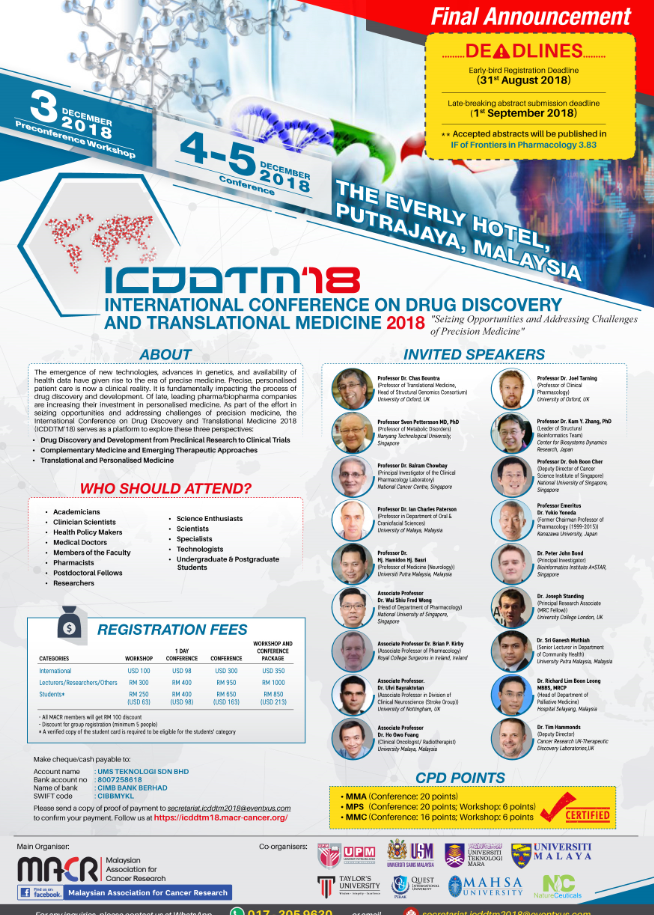 WEBSITE: https://icddtm18.macr-cancer.org/
What will you explore?
The emergence of new technologies, advances in genetics, and availability of health data have given rise to the era of precision medicine. Precise, personalised patient care is now a clinical reality. It is fundamentally impacting the process of drug discovery and development. Of late, leading pharma/biopharma companies are increasing their investment in personalised medicines. As part of the effort in seizing opportunities and addressing challenges of precision medicine, the International Conference on Drug Discovery and Translational Medicine (ICDDTM) serves as a platform to explore these three perspectives:
● Drug Discovery and Development from Preclinical Research to Clinical Trials
● Complementary Medicine and Emerging Therapeutic Approach
● Translational and Personalised Medicine
Venue
The Everly Putrajaya, Malaysia.
Date
Preconference Workshop: 3rd DECEMBER 2018
Conference: 4-5th DECEMBER 2018
Relevant Research Fields
● Bioinformatics
● Biologics
● Biotechnology,
● Cancer (Biology, Pharmacology & Therapeutics)
● Cancer care
● Clinical Pharmacy
● Computer-aided Drug Design (CADD)
● Immunology
● Medicine
● Medicinal Chemistry
● Microbiology (Microbiome & Antiinfectives)
● Nanotechnology/Nanomedicine
● Nutrition & Dietetics
● Neuroscience
● Pharmacology
● Pharmaceutics
● Structural Biology
● Immunopharmacolog
● Natural Products


Pre-conference Workshop
Workshop on Basic Molecular Docking (Limited to 30 Participants)

CRISPR Gene Editing & Xmap Bead Coupling

Pharmacometrics: Mathematical and Statistical Modelling for Drug Development and Personalised Medicine

Mapping the Tissue Microenvironment Through Quantitative Pathology Solutions

Biomarker Discovery and Translational Research: Challenges and Solutions in Drug Discovery
Important Announcement
● Early bird registration deadline - 31st August 2018


Call for Abstracts
● Late breaking of abstract submission deadline - 1st September 2018
● Accepted abstracts will be published in a Frontiers in Pharmacology (IF: 3.8, Q1)
Main Organiser
Malaysian Association for Cancer Research (MACR)


Co-organisers
● Universiti Putra Malaysia (UPM)
● Universiti Sains Malaysia (USM)
● Universiti Teknologi MARA (UiTM)
● Universiti of Malaya (UM)
● Taylor's University
● MAHSA University

● Quest International University
● Natureceuticals Sdn. Bhd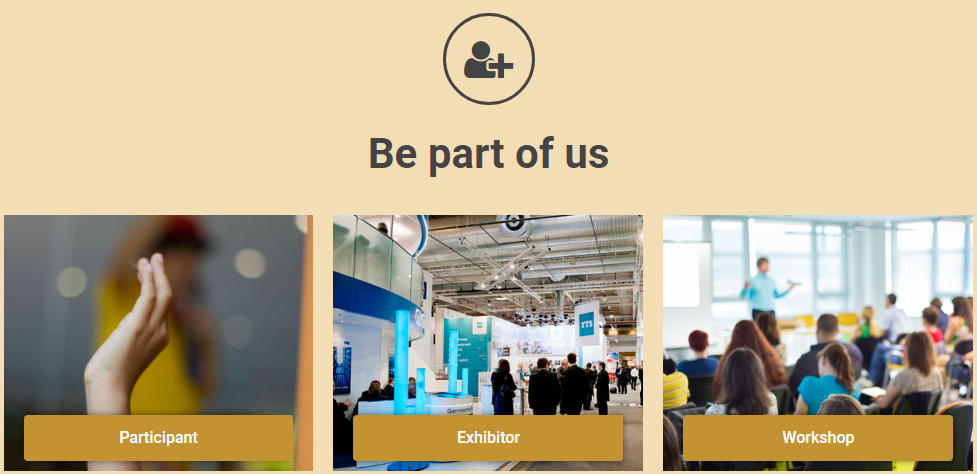 CPD POINTS
MMA (Conference: 20 points)

MPS (Conference: 20 points, Workshop: 6 point)

MMC (Conference: 16 points, Workshop: 6 points) *applies to all medical fields

*HRDF CLAIMABLE*


JOIN OUR GALA DINNER ON THE 4th DECEMBER 2018 AT THE EVERLY!
(RM100/person, ticketed event)

Online Payment Method,
Make cheque/cash payable to:
Account name : UMS TEKNOLOGI SDN BHD
Bank account no : 8007258618
Name of bank : CIMB BANK BERHAD
SWIFT code : CIBBMYKL
Please key-in:
Recipient Reference: "Participant's Name"
Other payment details: "ICDDTM 2018"
​Please send a copy of proof of payment to secretariat.icddtm2018@eventxus.com ​to confirm your payment.

For any inquiry, please contact us at secretariat.icddtm2018@eventxus.com / 017-305 9630 (Nura)
Organizer of INTERNATIONAL CONFERENCE ON DRUG DISCOVERY AND TRANSLATIONAL MEDICINE 2018 (ICDDTM '18)