International Conference of Arts and Health (ICAH): Sino European Summit
Event Information
Refund Policy
Refunds up to 30 days before event
Description
Art Education Committee/Chinese Adult Education Association and CAET journal are proud to announce its first International Conference of Arts and Health (ICAH) to be held in Amsterdam in 2018. The Sino-Europe Summit will also kick off within ICAH, highlighting the art and cultur exchange between China and Europe/The Netherlands in 2018. The rapid economic development and social transformation in China has been accompanied by the hugely increased need for art education in the country. The rethinking of the role arts play beyond performance helps us to consider the other functions of arts in different arenas, among them is health. Arts, as the creative activities of human beings, help us to reach and explore our unconscious and link our rational and emotional mind. Arts, like nature, are supposed to be healing for body and soul, facilitating personal growth and development, and thus promoting well being of the whole person. Current health and medical systems also call for more humanistic approaches, as Prince Charles advocated in his speech on Integrated Health and Post Modern Medicine in 2012.

The first ICAH will bring the experts and leaders from both China and Europe for a dialogue over the arts and health in modern society from different perspectives: Eastern and Western, Art and Science. Keynotes, workshops and special exhibitions will be presented and involve professionals and the public in this 3-day event.
ICAH will be held alternately between China and Europe or US. It is supported by Art Education Committee, Chinese Adult Education Association, Chinese Ministry of Education and the counterpart local government of the hosting country. The Netherlands with expertise in healthcare system and its tradition in art innovation will be the first country to host for ICAH. It will offer the participating guests from China and other countries great opportunity to integrate the experiences and knowledge from the West and East.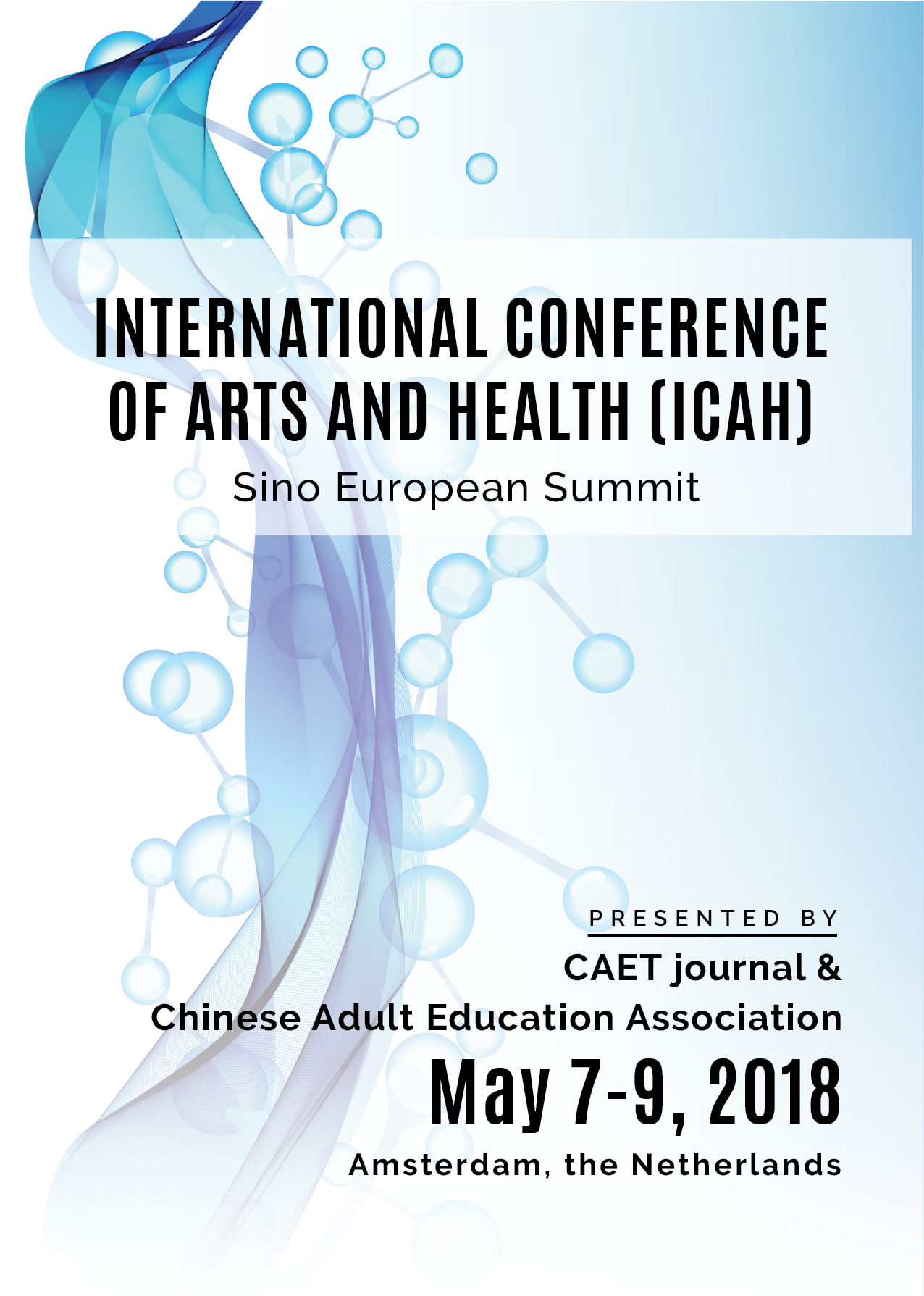 Why you should attend?
Meet high-profile Chinese delegation consisting of heads and policy makers of art colleagues and public health institutions seeking direct dialogue with Europe

Rich program consisting of keynote, panel discussion, poster, special exhibition, networking, gala and performance

Insight of latest development in art and health in both China and Europe

Art meets Science and Health, East meets West, Professionals meet Public

Demo and classes: Chinese music, folk dance, Taichi, martial arts by experts from China

Keynote speakers: Dick F. Swaab, MD, PhD, Prof. of Neurobiology, Netherlands Institute for Neuroscience, the Netherlands author of Dutch best seller We are our Brains; Sue Jennings, Derby University; Rainer Holm-Hadulla, Professor for Psychotherapeutic Medicine, Heidelberg University; Peggy Hackney, UC Berkeley, Integrated Movement Studies and other influential figures in the field.

Who should attend?
This event is primarily intended for scholars, practitioners, policy makers in the field of art performance, arts education, arts therapy, healthcare, psychology, psychotherapy, somatics who want to get involved in professional exchange and networking between China and West. Other participants from public domain etc. can attend.

Program

May 7: pre-conference workshop

May 8, ICAH Conference

May 9, ICAH Conference
Key presentations including:
Chinese arts university: when tradition meets innovation. Professor Zhou Xin, Beijing Normal University, China

Art and the Brain. Prof. D. F. Swaab, MD, PhD, Professor of Neurobiology, Netherlands Institute for Neuroscience, Amsterdam, the Netherlands

The Healing Effects of Music, Dance and Art. Rainer Holm-Hadulla, Professor for Psychotherapeutic Medicine, Heidelberg University, Germany

Neurobiology of Play: The Mess and the Monster, Sue Jennings, Derby University, UK

Making Connections: Space harmony - An Eastern and West Fusion. Peggy Hackney, UC Berkeley, Integrated Movement Studies, USA
Other presentations and workshops:
The Chinese and American dance education – a shared experience

Drama education and drama therapy – Interface among disciplines and cultures

Outsider art in China and Europe: In or Out?

Chinese Guqing music, Taichi demo & class

Teaching dance therapy across continents: China, Europe and US

Dance for Parkinson, dance for health, dance for everyone

Art therapy and environment

Chinese ancient poem: a healing art

Music therapy in China

From Mongolian grassland to urban, from Shaman to art therapist

When Chinese mind and tradition meet western psychology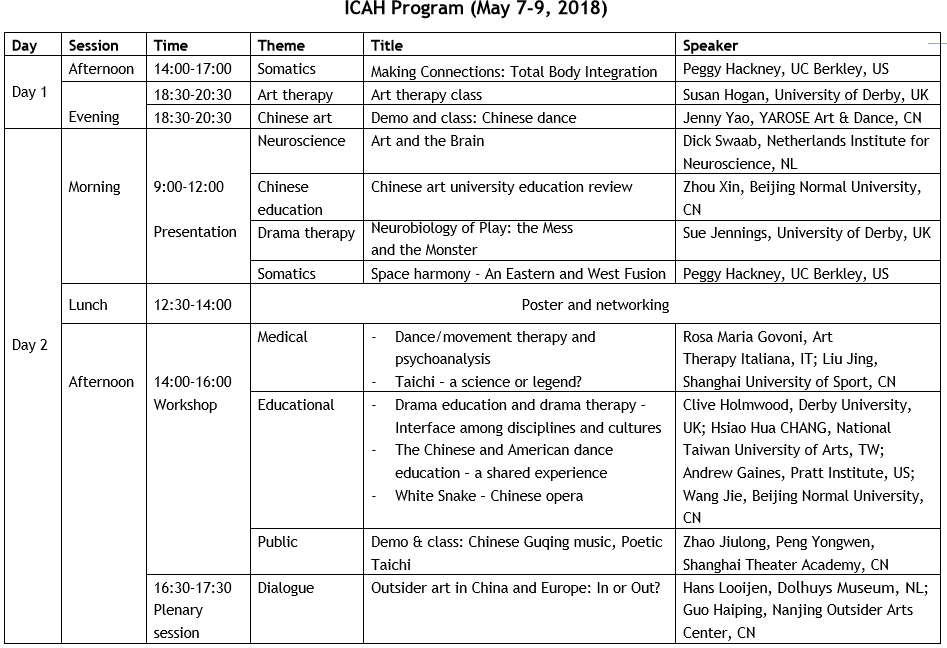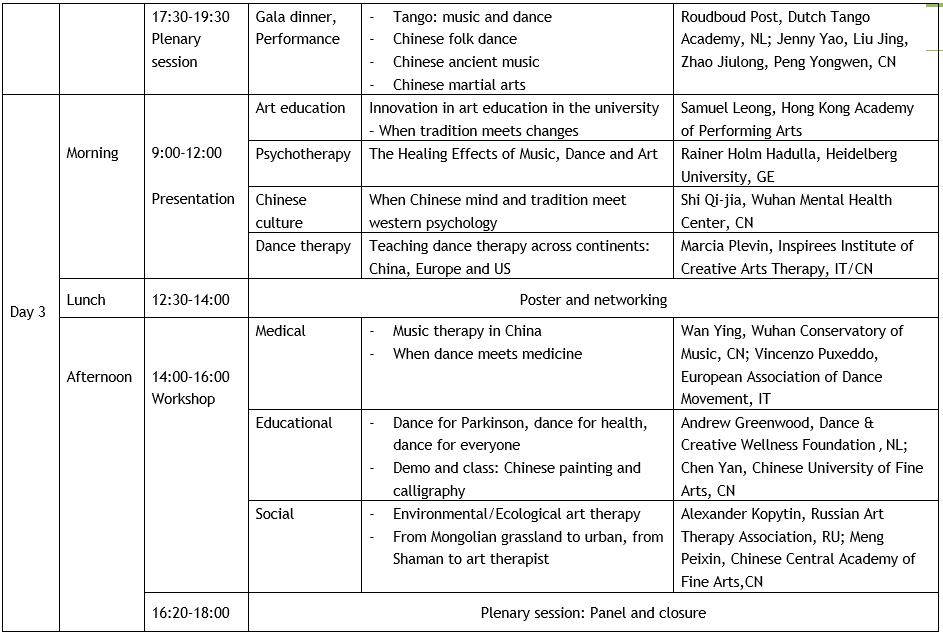 *Tentative program, subject to change
Costs
Pre-conference workshop (May 7): 220 EUR, early bird 180 EUR (valid before Nov 15, 2017)

Conference (May 8-9): 550 EUR, early bird 460 EUR (valid before Nov 15, 2017), lunch and gala included

Student package (May 7-9): 550 EUR (valid before Nov 15, 2017)
Prices above include tax and all other handling fees.


Register
Please register and buy your ticket at Evenbrite. Alternatively you can send email to icah@inspirees.com to ask for registeration form and payment route.

Apply for presentation, poster, exhibition and performance
Send your proposal (400 words description plus 100-200 bio of the presenters) to icah@inspirees.com. You work needs to have the link between China and West. Proposal submission deadline is October 1, 2017.
Organizing Committee
Event partners
Date and Time
Location
Refund Policy
Refunds up to 30 days before event