International Conference: Justice in the Genomic and Digital Era
Sales Have Ended
Registrations are closed
Thank you for registering for: International Conference: Justice in the Genomic and Digital Era
Sales Have Ended
Registrations are closed
Thank you for registering for: International Conference: Justice in the Genomic and Digital Era
About this Event

Context
We are 20 years into the genomic era. The unprecedented progress in genetics internationally has brought numerous legal and ethical implications for individuals and society. Genetic findings are already widely used in medicine and are increasingly applied to other spheres, such as crime prevention, and educational and career selection. To protect individuals and science, updates to relevant laws are essential. To date, little progress has been made in regulating use of genetic information. Genetic science is complex, with research involving private and state sectors globally. Therefore, multidisciplinary and international efforts are required to achieve effective protection. This conference aims to bring together specialist in genetics, law and other disciplines to raise awareness of legal and ethical concerns and to promote progress in updating the legal protection.
Conference page and organisers
www.tagc.world/events
http://www.icrhd.tsu.ru/
http://en.science.tsu.ru/units/laboratories/527/
FUNDING
The conference is organised with support of InLab, ICRHD and Law Grant RFBR 18-29-14071.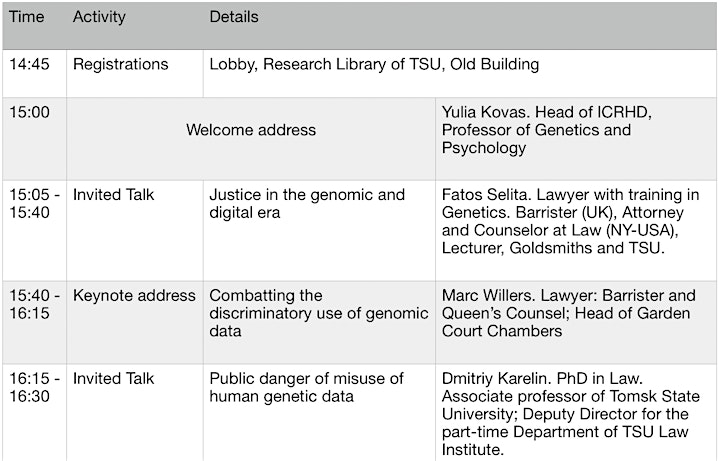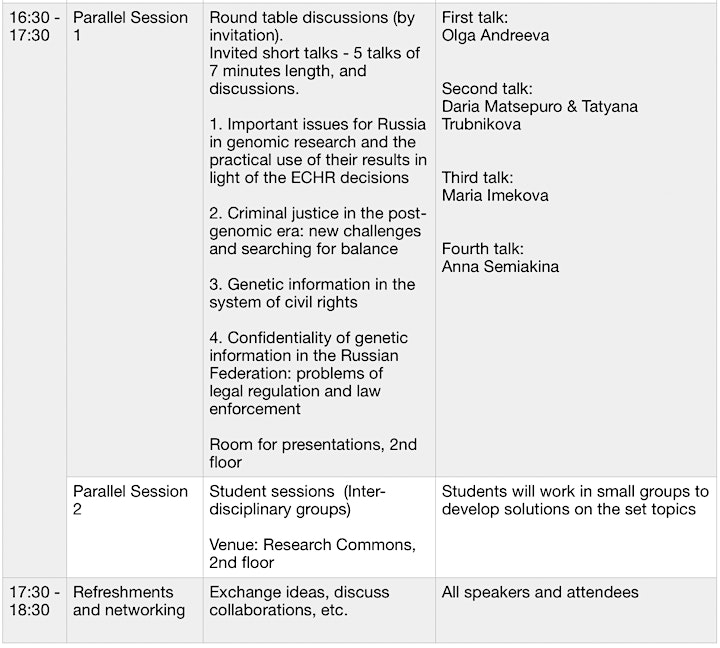 Speakers profiles
Yulia Kovas
Yulia Kovas is Professor of Genetics and Psychology at Goldsmiths, University of London, where she directs InLab – International Laboratory for Interdisciplinary Investigations into Individual Differences in Learning. She leads several large scale studies that explore individual differences and the complex interplay of genetic and environmental factors in development. This research combines different methods (quantitative and molecular genetics; experimental psychology; neuroscience) with carefully selected samples, including twin samples; a longitudinal cohort of families with children conceived through IVF; adolescents exhibiting extraordinary performance in different domains; populations with different educational environments. Yulia collaborates with research laboratories in the U.S., Canada, China, Indonesia, Japan, Russia, Kyrgyzia, and Europe. As an invited international scientist, she has established and directs the International Centre for Research in Human Development at Tomsk State University. She has published more than 100 peer-reviewed papers, with almost 5000 citations; contributed chapters and co-edited volumes on genetics and genomics in education and child development. She co-founded TAGC – the Accessible Genetics Consortium that aims to promote greater knowledge and beneficial use of etiological information.
Marc Willers
Marc is a Barrister of England and Wales and is also a member of the Irish Bar. He was appointed Queen's Counsel in 2014 and he is joint head of Garden Court Chambers in London, a leading human rights set of chambers. Marc is also a member of the Working Group on Legal and Ethical Implications of Genetics (LESIG). He was named the Legal Aid Lawyer of the Year in 2011; and was recognised as The Times Lawyer of the Week in 2019. Marc has also undertaken a significant amount of training and advisory work on behalf of the Council of Europe and the European Union, including training lawyers and providing expert advice and presentations on civil appeals procedure in an EU project to improve civil justice in Russia. Marc is also on the Board of the European Roma Rights Centre.
Fatos Selita
Fatos is a Barrister of England and Wales, and an Attorney and Counselor at Law of the State of New York, USA - with training in genetics and psychology. He is a lecturer at Goldsmiths, University of London and Tomsk State University, and a Visiting Lecturer at the Higher School of Economics and other universities. Fatos conducts research on legal and ethical implications of genetics, and directs courses in this area. He coordinates the Working Group on Legal and Ethical Implications of Genetics (LESIG), which operates in the UK and the Russian Federation. Fatos is also a co-developer of the MSc Human Development: Genetics, Neuroscience and Psychology at TSU and works with the International Centre for Research in Human Development (ICRHD).He delivers training internationally, including on influences on decision-making, public speaking and advocacy. His practice experience includes advising in international business law matters; representing an NGO at the United Nations Commission on International Trade Law (UNCITRAL) in areas of Arbitration and Secured Transactions; and International Commercial Finance at Goldberg Kohn, Chicago. Fatos is the Executive Publisher of Legal Issues Journal, and President of The UK Law and Society Association (UKLSA).
Dmitry V. Karelin
PhD in Law; Associate professor of Tomsk State University; Deputy Director for the part-time Department of TSU Law Institute.
The Chairman of Public Council of the Federal Bailiffs Service Directorate in Tomsk region. Also Dmitry is the member of Advisory Council at Children's Rights Ombudsman in Tomsk region
The sphere of scientific interests includes the criminal responsibility of juveniles; alternative measures to the criminal liability of juveniles; prevention of teenage сrime, and prevention of corruption.
Member of the Working Group on Legal, Ethical and Societal Implications of Genetics (LESIG).
Other speakers
There will be a number of short talks from experts in the relevant areas. Speakers will be announced soon.
Organising committee
Olga Bogdanova
Dmitry Karelin
Yulia Kovas
Daria Matsepuro
Fatos Selita
*Organisers
ICRHD International Centre for Research in Human Development
ILE Institute of Law and Ethics
TAGC The Accessible Genetics Consortium