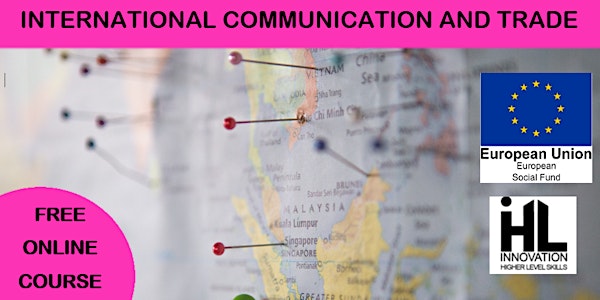 International Communication and Trade: Online Training Course
A training course for small to medium enterprises who interact with overseas markets, whether exporting, importing or exchanging services.
About this event
Delivered across four, two-hour sessions, this course is funded by the ESF Innnovation in Higher Level Skills project which aims to improve access and availability of higher level skills courses for small businesses in Cornwall and the Isles of Scilly.
The focus of the course is on effective communication across cultures and will give you an understanding of cultural expectations and the impact this can have on your business interactions abroad.
The course will be delivered by University of Exeter business academic and practitioner, Dr Bill Russell (Business School) and expert in cultural understanding, Dr Sonia Cunico (Department of Modern Languages).
The following topics will be explored across the course:
 Preparing for international meetings
 Negotiating in international markets
 Building international partnerships
 Managing a multilingual team
 Intercultural business communication
 Different languages, different cultures, different values
 English as a lingua franca - opportunities and challenges
The course is interactive, offering delegates the opportunity to put into practice the skills covered in real-life scenarios and to network with similar businesses in the local area.
The course will enable you to confidently develop strategies to generate revenue from international customers, to resolve issues arising in international business relationships and to communicate effectively internationally.
There will be opportunity throughout the course to provide feedback on the content covered and any gaps identified by your business in training provision in Cornwall and the Isles of Scilly.
Dates and times:
The course will be delivered fully online across a series of four, two-hour sessions. The first session will take place on Tuesday 19 May from 9am -11am. The remaining three sessions will be delivered every two weeks as follows:
Tuesday 2 June, 9am -11am
Tuesday 16 June, 9am - 11am
Tuesday 30 June, 9am - 11am
To ensure the success of each session and enhance the benefit to your business, please attend all of the sessions.
There will be an opportunity to network with other businesses at the beginning of each interactive session.
There is no cost to attend this course; it is fully funded by the European Social Fund. However, there are eligibility criteria in order to qualify for a free place. if we are unsure of your eligibility we will email to ask more questions and then to confirm your place. Your eligibility to attend the course free of charge is reliant on you attending all four sessions.
Data Protection and Privacy
To aid the organisation of this course, attendee information may be shared with relevant staff across Innovation in Higher Level Skills partners. We will store your information securely, so that we can communicate to you about the event (e.g. cancellation of event, changes to the itinerary, a satisfaction survey). For more information on Eventbrite's own privacy policy, please visit their pages.