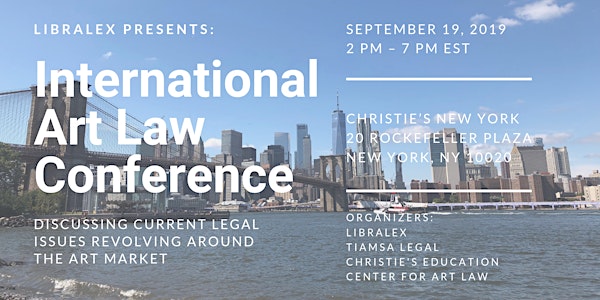 International Art Law Conference
When and where
Location
Christie's New York 20 Rockefeller Plaza New York, NY 10020
Description
LIBRALEX EEIG presents:
INTERNATIONAL ART LAW CONFERENCE
The International Art Law Conference will bring together a wide variety of participants such as art law and art market experts, collectors, auction houses, art dealers, museum professionals, business lawyers, and other interested participants to discuss current legal issues revolving around the art market. The objective of the conference is to gain behind-the-scenes insights into issues currently being discussed among experts in their respective fields and to enable the participants to discuss such issues from a legal angle.
---
PROGRAM
2:00 – 2:10 PM: Opening remarks
2:10 – 2:30 PM: Keynote
Jennifer Zatorski, President | Christie's North and South America
2:30 – 3:20 PM: Due Diligence Panel
Monica Dugot, International Director of Restitution | Christie's New York

Jennifer Mass, President | Scientific Analysis of Fine Art, LLC

Lynn Rother, Senior Provenance Specialist | The Museum of Modern Art

Moderated by Katharina Garbers-von Boehm, Partner | Büsing Müffelmann & Theye
3:20 – 4:10 PM: Estates Panel
Richard Benefield, Independent Consultant | Former Director of the David Hockney Foundation

Jack Flam, President and CEO | Dedalus Foundation

Donald Hamburg, Partner | Golenbock Eiseman Assor Bell & Peskoe LLP

Christine J. Vincent, Project Director | The Aspen Institute, Artist-Endowed Foundation Initiative (AEFI)

Moderated by Rebecca Attree, Mediator and Solicitor | Founder and Principal | Attree & Co, London
4:10 – 4:30 PM: Coffee Break
4:30 – 5:20 PM: Art & Tech Panel
Julie Gratz, digital artist | Kaleida Studio

Richard Landau, sales | M20 Associates, LLC

Lindsay Moroney, COO | Artory

Moderated by Louise Carron, Executive Director | Center for Art Law
5:20 – 5:30 PM: Wrap-up and Closing Remarks
5:30 – 7:00 PM: Cocktail Reception
---
ORGANIZED BY:
Libralex EEIG: network of law firms located in major international business centers, mostly in Europe, founded by a group of independent lawyers to work together to respond to the needs of their clients in matters of international trade, investment, and dispute resolution.
The International Art Market Studies Association (TIAMSA): association encouraging the study of art markets of all regions and periods and providing an infrastructure which supports both research and networking among art market professionals and scholars.
Christie's Education, New York: higher education institution internationally recognized as a center of academic excellence, specializing in the study of art business and the art market, art history and art world ecosystems, curating and connoisseurship.

Center for Art Law: nonprofit aggregating resources, providing insights, and educating attorneys, students, artists, scholars, and other arts professionals on the legal practice surrounding the visual arts, through their website, monthly newsletter, and educational events.