Description
The Enchanted Garden opened its' gates. It invites the visitor on a journey of mysteries and wonders, transformations and metamorphosis. This large and natural garden, situated just near the 'border' between the French and the Flemish part of Belgium, hosts a most special International art exhibition: It is eclectic, with a multitude of expressions in spirit and form – amazing and beautiful, fun and burlesque, poetic, thoughtful, meditative …
Art Inspired by, and in Dialogue With, Nature.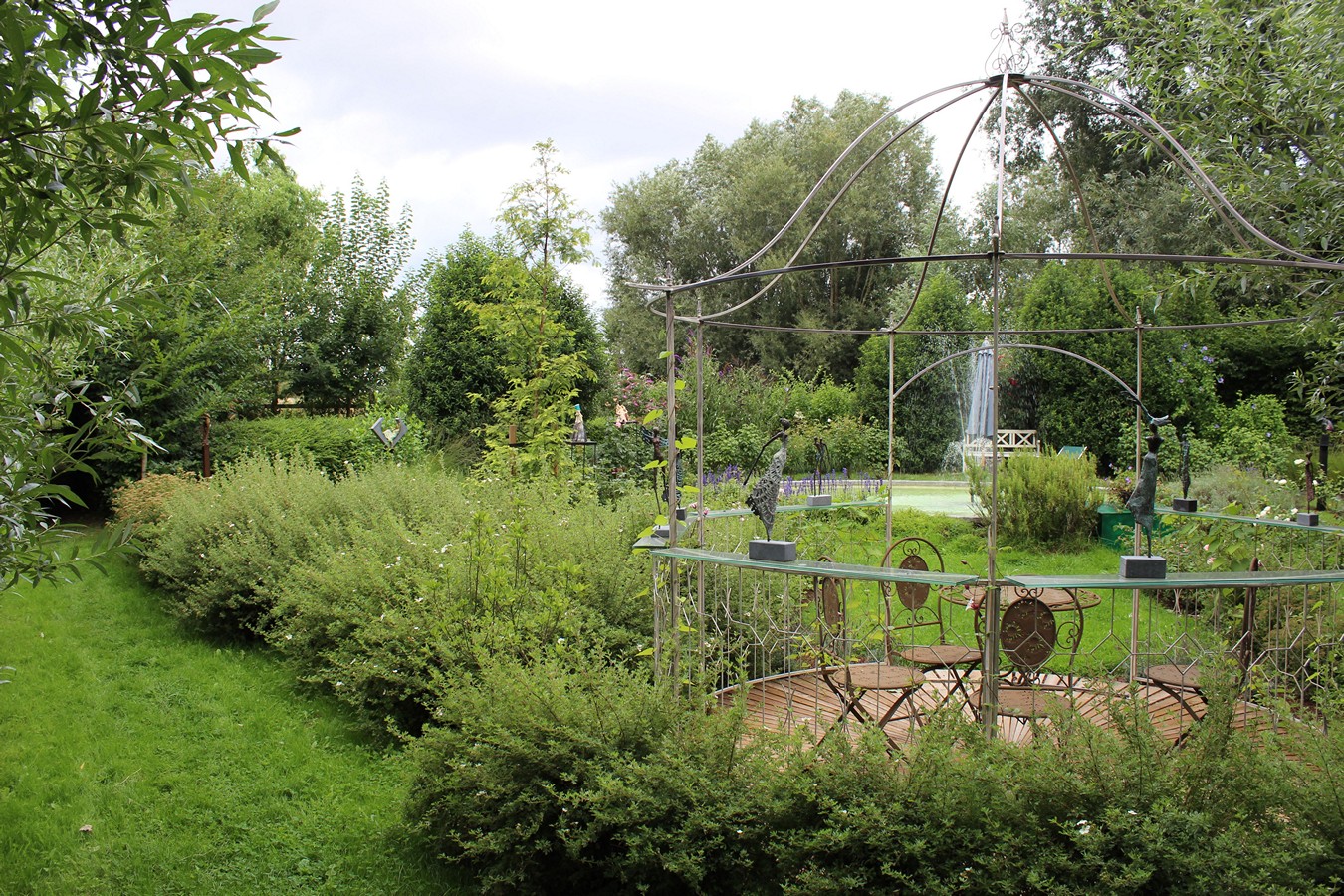 Nearly forty artists from Belgium, France, Indonesia, Netherlands, Norway, and United Kingdom, are represented with works in glass, stone, metal, wood, and ceramics, land art and street art, sound installations and music. This year Art Sanctuary welcomes many new artists, e.g.:
-> Ann Geirnaerdt (B) – Bronze
Typical about the sculptures of Ann Geirnaerdt is that she starts modelling using natural materials such as bark, branches and bean shells, which inspires her through their form, movement and structure. These materials leave an imprint which she gratefully embraces and forms.
-> Chris Engels (B) – Ceramics
After a career in informatics, Chris Engels wanted to explore creativity using sculpting and ceramics. He was closely supported and followed-up by the well-known ceramist Elly De Jaegher (+2011). Raw clay is the main material of the sculptures of Chris Engels, kneaded and moulded into characters being an expression of movement and emotion. The process of colouring and firing in a kiln gives each object a personality of its own.
-> Christian Delory (B) - Artist and craftsman reusing materials
Christian Delory, - an original artist and master craftsman, - uses all kinds of old iron to create poetic, new life. Whether it's a racing horse, a golf-playing chicken or a "waffle box"-reader, all move, jump, run or hide.
-> Diane Gacki (B) - Ceramic and glass
Diane Gacki explains that a sculpture in glass comes to life in its environment, in a relationship of mutual enrichment with the surrounding nature: the metamorphoses of the landscape, the sun rays, the rhythms of the days and the seasons interact with the colours of the translucent art work.
-> Guy Deltour (B) - Blue stone
"The blue stone sculptor Guy Deltour is in harmony with nature amid which he lives and creates his work. He works with fervour all year round with 'Jurassic' stone from the quarries in the neighbourhood, and finalizes them with the finesse of a philosopher of art in the 21st century." (Translated text from David De Graef).
-> Jean-Luc Absil (B) - Bronze
Jean-Luc Absil shows the woman in all the lushness of a radiant life. His sculptures, with serene realism and natural sensuality, radiates an atmosphere of intentional lust. The figures show a natural eroticism, and he idealizes the lust of the body and the woman's shyness.
-> Lydia Schroder (NL) - Glass, bronze en ceramics
The light plays a big role in the artworks of Lydia Schroder. Certain of her creations need shadows to show deeper colours. Others require sunlight to increase the reflections. Lydia Schroder's work can be described primarily as an ode to nature.
Every work of Marjan Smit is unique, because excavating the glass from the mould breaks the mould. A sand 'skin' forms the back of the object. Due to the intense heat, the front is completely smooth. The bottom is sawn with a diamond saw and then polished so that the object can remain stable. With a gas burner, some glass rods inclusions are made and heated to 525 degrees Celsius before including them in the glass work.
-> Martine Bossuyt (B) – Bronze and Ceramics
Martine Bossuyt introduces in her sculptures the force of contemplation and introspection, the slow and thoughtful movements of the soul, beyond everyday affairs and everyday emergencies. The soul that looks inwardly sees and keeps silence. This silence, however, is not an empty silence, which renounces communication, on the contrary, her sculptures interpret the most subtle emotions. The spectator is invited to descend also in his or her own silence.
-> Nele Schildermans (B) – Ceramics
The ceramics of Nele Schildermans (© Elenneok) want to be fun and at the same time attractive. From wide laughing heads to personalized house numbers, all her works are characterized by a style in which the texture and colour of the clay remain visible. Accents are laid with the soft colours of oxides.
-> Oystein Sevag (N) – Music –'New Age' compositions and keyboard
Oystein Sevag's international career includes award-winning albums sold in more than 100 countries. As composer, pianist, and producer he has worked in several genres; jazz, world music, electronic avant-garde, pop, and classical music. Sevag's productions have by many been described as music with a rare existential power of touch. Sevag has collaborated with many of Norway's most renowned jazz musicians, such as Bendik Hofseth, Nils Petter Molvær, Eivind Aarseth, and Paolo Vinccia. Numerous Norwegian and international ensembles have contributed in recordings of his music, among others London Philharmonic Orchestra. Sevag also worked for many years with music in therapeutic contexts, together with psychology Katharina Martin.
---
Practical Information:

'The Enchanted Garden' opens on Friday August 11th at 18 hours and closes on Sunday September 24th, 2017.
Address: Rue Du Tilleul 22, 1370 Saint-Jean-Geest (Jodoigne)

'The Enchanted Garden' is situated halfway between Brussels and Liège (40km), near 'De Vlaamse Toontuinen' in Hoegaarden, in the beautiful Hesbaye landscape around Jodoigne, on the bicycle path between Tienen and Namur (Ravel) on the N25 (Tienen – Charleroi) connecting the E40 (Brussels – Liège) and the E411 (Brussels – Namur).

Opening hours: Friday from 18 till 21, Saturday and Sunday from 14 till 20. We ask a contribution to cover costs of 6 euro / person, children below 12-year free entrance. Groups +10 persons are invited to make an appointment and contribute 5 euro / person.
A free drink for each contributing visitor.

More information can be downloaded from:
News about Art Sanctuary and 'The Enchanted Garden': www.art-sanctuary.blogspot.com
Information about the exhibition: http://www.the-enchanted-garden.info
Information about the artists 2017: www.the-enchanted-garden.info/ArtistLibrary/
Preview Images 2017: http://www.the-enchanted-garden.info/PictureLibrary
Sunny? https://www.buienradar.be/weer/saint-jean-geest/be/2787393
Directions: http://www.google.be/maps/place/Art+Sanctuary

Contact: Tone Aanderaa:
Phone: +32(0) 10 81 06 14, GSM: +32 (0) 474 285 130,
Mail: ArtSanctuary@live.com.
Date and Time
Location
Refund Policy