Join us for a virtual cross-disciplinary dialogue among academics, practitioners, and scientists about intermittent fasting.
About this event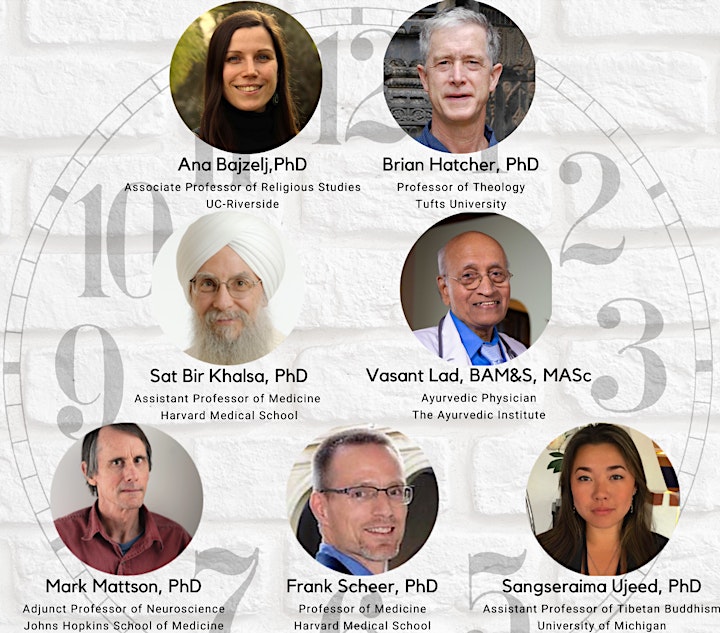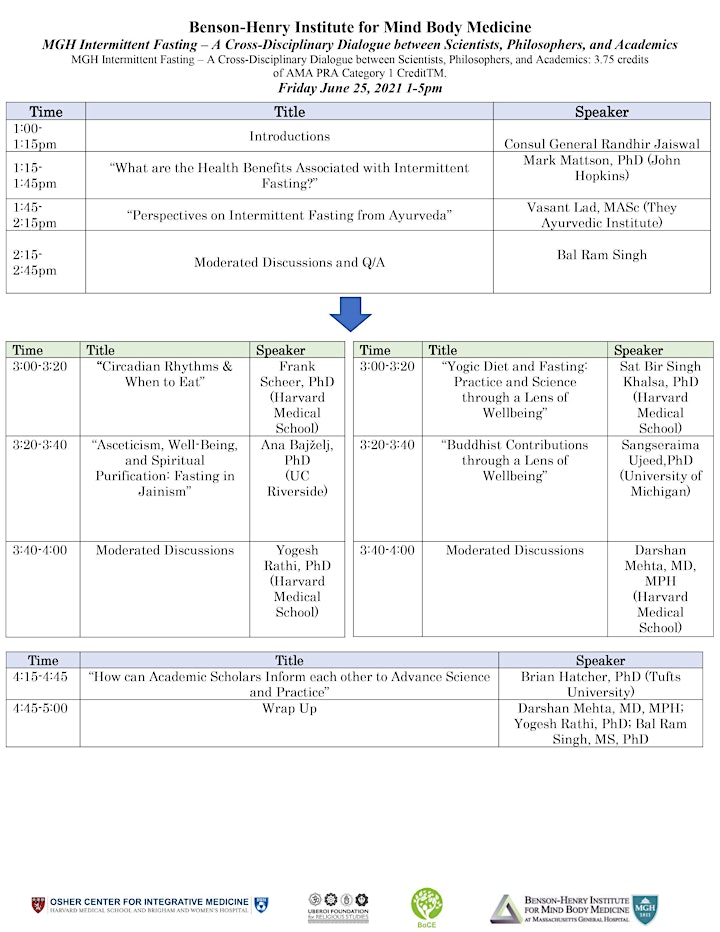 For more information: https://drive.google.com/file/d/1Ul0Kgwkg_AiKrWlBW4FUiH_qVxfz8Fn0/view?usp=sharing
For those seeking CME Credits
Learning Objectives:
Upon completion of this activity, participants will be able to:
1. Summarize the health benefits associated with intermittent fasting for application in clinical context.
2. Examine the cultural underpinnings around popular practices of intermittent fasting.
3. Identify gaps between practices and current knowledge around intermittent fasting, along with opportunities for future inquiry.
Course Description:
Well before the scientific world became aware of the tremendous health benefits of fasting, intermittent fasting, and caloric restriction, this practice was being observed by participants from a variety of cultures over the span of thousands of years. Recent research has shown that intermittent fasting of up to 20 hours each day can have significant health benefits ranging from an increase in life span to better outcomes in cancer treatment therapies (Cabo et al, New England Journal of Medicine, 2019). However, a variety of benefits can be obtained by participating in different regimens of intermittent fasting.
Given the increased popularity and interest, there is a need for trans-disciplinary dialogue, especially since thousands of people adhere to fasting in the dharmic traditions. One goal of this conference will be to invite academic scholars to elaborate upon the different fasting methods/regimens, how people prepare/train for fasts, and the types of foods allowed/disallowed during intermittent fasting. In addition, this might provide "food for thought" to scientists and researchers as opportunities for further inquiry. This dialogue will help to delineate what type of intermittent fasting is well supported by current scientific understanding and what remains to be investigated. In addition, the current scientific evidence can also inform practices that may be detrimental to health. Finally, the last goal of this meeting is to minimize the cultural appropriation around intermittent fasting and acknowledge the contributions that the worldwide traditions have in these practices.
Target Audience:
This activity is intended for Healthcare providers (MDs, NPs, PAs), Dieticians, Social Workers, and Lay public.
Course Directors:
Yogesh Rathi, PhD and Darshan Mehta, MD, MPH
Accreditation:
Mass General Brigham is accredited by the Accreditation Council for Continuing Medical Education to provide continuing medical education for physicians.
Mass General Brigham designates this live activity for a maximum of 3.5 AMA PRA Category 1 Credits(TM). Physicians should claim only the credit commensurate with the extent of their participation in the activity.
Registration Cost:
Free for all attendees. For those claiming CME credits, there is a $40 charge.