Intermediate Sewing-Skirt

Monday, January 27, 2014 at 5:30 PM

-

Thursday, January 30, 2014 at 7:30 PM (EST)
Event Details
FashionCenter International
ART OF INSPIRATION  DESIGN & SEWING
Form..Shape..FASHION
Hello SewNISTAS,
Thank you for inquiring about Level 2 sewing classes, sponsored by Fashion Center International. So you want to sew at the next level...then varoom up your speedy sewing machine. Come into this Class; learn Darts, zippers and facings during this class project.
This class is perfect for level 2 beginners.
Beginner Group Sewing Lessons-Level 2
Class Information
Sewing Level 2-Prior Sewing experience required for lesson. This class is for participants with some  Knowledge of reading a pattern, sewing straight stitch and threading your machine. Learn new techniques,darts,zippers and facings to create this sexy fall fitted skirt by McCall's Pattern Company.
Learn to sew at the next level.
This class is for you.Learn to sew and create this sexy fall fitted skirt by McCall's Pattern M3830 Company.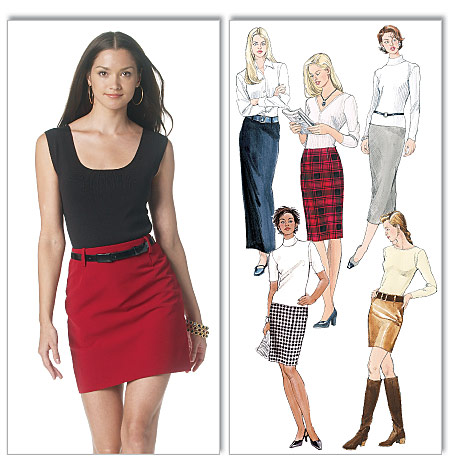 MISSES' SKIRT IN FIVE LENGTHS: Skirt in five lengths have front and back darts, back zipper, faced waist and optional carriers; skirt A, B and C have back vent.
NOTIONS: Thread, 7" Zipper, One Hook and Eye.
SUGGESTED FABRICS: Cotton and Cotton Blends • Linen Blends • Wool Crepe • Gabardine • Lightweight Woolens • Wool Blends • Synthetic Suedes and Leathers.
**Without Nap ***With or Without Nap - Use With Nap Yardages and layouts for pile or one-way design fabrics. Additional Fabric may be needed to match stripes or plaids.
For more Info on this Pattern
http://mccallpattern.mccall.com/m3830-products-2773.php?page_id=113
Note:If this pattern is unavailable prior to class, a substitution pattern can be purchased.Please check with Instructor prior to purchasing.
CLASS SCHEDULE
Monday         January   13,2014               5:30p-7:30pm       Class
Tuesday       January    14, 2014              5:30p-7:30pm       Class
Wednesday January      15, 2014              5:30p-7:30pm        Class
Thursday     January      16,  2014            5:30p-7:30p m       Class
 SUPPLY INFORMATION
Bring your own sewing machine in good working order
- Thread
-2 yds. Fabric-see above
- Pins and pin cushion
- Seam ripper
- Sewing/seam gauge
- Cutting shears
- Measuring tape
Extra bobbins
Note:See additional supply information above in Class Information section.
A $10 sewing kit fee is payable to the instructor the first class if you do not have sewing kit.
Cost:$100.00 for Four Day Workshop
Participants total cost for class is $100
Sewing Kit $10
Sewing Pattern $10
 or $45 per class fee for individual class.
Total hours: 8hrs
Total Days: Monday thru Thursday(4days)
Total Students:10 MAX
FABRIC STORES
Location: 1219 Vine Street -2nd Floor –Studio F
Monday-Thursday -October 14-17,2013
Time: 5;30pm- 7:30pm
Age: sixteen years of age to register for this class and some prior sewing experience required .
This class is for ages 16yrs & above and is held four consecutive classes.

In Person Registration: 1219 Vine Street-2nd floor by Appointment-215-285-7080

Make Payment :C/O: Ms.Takedda Fashion Center

Mailing:FashionCenter PA ,P.O.Box #2395,Phila,PA 19103

CANCELLATION POLICY
If event is cancelled prior to 01/13/2014, Participants understands this to be a forfeiture of the deposit and is not responsible for further fees. If event is cancelled after 01/13/2014 participants understand that all fees are forfeited to Fashion Center International.Minimum of four students per workshops.In the event of low enrollment Fashion Center reserves the right to change,cancel or reschedule workshop for a later date. 
INDEMNIFICATION
Student/Participants Name____________________ agrees to release, indemnify, and/or hold harmless Fashion Center International with respect to any claim or demand for loss, damage, and/or injury to property, person, or thing rented, owned or brought into the class or workshop.
SOCIAL
WEB: http://wwwfashioncenterinternational.webs.com/
FACEBOOK:https://www.facebook.com/pages/Fashion-Center-International/114501868576554
 TWITTER: http://twitter.com/FashionCenterPA
LinkedIn:www.linkedin.com/pub/fashion-center-international/19/bb/317
CONTACT
Email:FASHIONCENTERPA@gmail.com
WEB: fashioncenterinternational.webs.com
Tel: 215-285-7080
Twitter:@FashioncenterPA
Facebook: www.facebook.com/pages/Fashion-Center-International
LinkedIn:
http://www.linkedin.com/profile/view?id=62953219&trk=tab_pro
MERCHANDISE
Fashion Center has Tote Bags, sewing kits, patterns and more for purchase to explore your crafting and sewing class projects.ToteBag Cost $15
PARKING
ON STREET METER PARKING AVAILABLE &PARKING GARAGE NEXT DOOR.
CLASS PHOTOS & EVENTS
http://www.facebook.com/pages/Fashion-Center-International/114501868576554
http://wwwfashioncenterinternational.webs.com/apps/photos/ 
This invitation was sent to you by Fashion Center International because you requested sewing information via by phone, text or email.
Share this event on Facebook and Twitter
We hope you can make it!
Cheers, Fashion Center Intl.
 Additional Information on Policies &Terms received upon registration.
Disclaimer Statement for this Email Information:
Fashion Center International makes every effort to provide accurate and complete information, various data such as names; telephone numbers, etc. may change prior to updating. Some of Fashion Center International information and email database may have been added from you or third party sources. We strongly recommend that sources may change the data in some way. While .Fashion Center Intl provides no warranty, expressed or implied, as to the accuracy, reliability or completeness of furnished data. Some of the documents on this server may contain live references (or pointers) to information created and maintained by other organizations. Please note that Fashion Center International does not control and cannot guarantee the relevance, timeliness, or accuracy of these outside materials. Fashion Center International and its companies welcome your feedback and suggestion. We make every opportunity to disclose information to intended person/s, companies and databases. If you have received an email in error of submission we will remove your information from our databases. Please submit your request to thefashioncenter@hotmail.com or the above transmission.
When & Where

Fashion Center Interational
1219 Vine Street
Philadelphia, PA 19107


Monday, January 27, 2014 at 5:30 PM

-

Thursday, January 30, 2014 at 7:30 PM (EST)
Add to my calendar
Organizer
Fashion Center International is a Fashion Design and sewing  business located in Philadelphia.