Intermediate Records Series

Wednesday, February 19, 2020 at 9:30 AM

-

Wednesday, March 18, 2020 at 12:00 PM (PST)
Event Details
Intermediate Records Series: Land, Church, Court and Immigration for Genealogy
 Five Wednesday mornings 9:30 AM - 12:00 PM
Lisa Gorrell
This course will be held at the Oakland FamilySearch Library in five (5) Wednesday mornings. These sessions will run:
February

 19, 2020

9:30 AM to 12:00 PM

February

 26, 

2020

9:30 AM to 12:00 PM

March

 4, 

2020

9:30 AM to 12:00 PM

March

 11, 

2020

9:30 AM to 12:00 PM

March

 18, 

2020

9:30 AM to 12:00 PM
Are You Ready for the Next Level?
Do you want to take your genealogy research beyond vital records and census records?

Do you want to understand probate, church, immigration, and land records that appear on sites like Ancestry and FamilySearch?

Are you stuck and feel you need to perhaps find records in local repositories?
This intermediate class will focus on four specific record groups and demonstrate how to find these record types both on and off line.
Court Records: Probate, Guardianship, Wills, Other

Church Records: Sacramental, Membership, Business

Emigration, Immigration, & Naturalization

Land & Property Records: Federal, State, & Local land records, & Tax Records

Off-line Research: Using Online Sources to Find Off-line Records
 The course will consist of both lecture and group hands-on activities. There will be immediate practice using these newly taught skills. There will also be optional homework so practice can continue at home.
Prerequisite: either "Building Skills for Successful Research" or ability to build families using vital, census, and other records found in own homes; an understanding of citing sources; and creating research plans.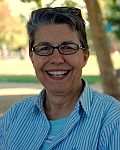 Lisa S. Gorrell, CG,,  a Certified Genealogist®, has been seriously researching her family for more than twenty years.  It was the birth of her daughters that began the journey connecting the past and the future generations.  One trip to Sutro Library to use microfilm of the 1920 census and finding her grandfather's family got her hooked Besides U.S. Southern and Mid-western states, she researches German, Irish, English, and Swedish families.mShe is a former board member of the California Genealogical Society, a board member with the Contra Costa Historical Society and a past-president of the Contra Costa County Genealogical Society.
She loves learning and has attended several genealogy institutes in Salt Lake City, Pittsburgh, and Birmingham. She has also been tour leader with the California Genealogy Society's research trip to Salt Lake City. She enjoys giving genealogy presentations and writing about her family on two blogs: "Mam-ma's Southern Family" http://mam-massouthernfamily.blogspot.com/ and "My Trails into the Past" http://mytrailsintothepast.blogspot.com/. She has also written a three-generation family history about her husband's Swedish ancestors.
REGISTRATION INFORMATION:
Pre-registration is required. Class size is limited so register early to confirm your seat. This is a repeat of last year's popular, and sold out series.
This class, held at the Oakland FamilySearch Library, is available to CGS Members at the cost of $100.00*.  Cost for non-member is $140.00*, and if joining CGS, this fee will cover the cost of one year's membership.
PAYMENT OPTIONS:
Credit card payments will be processed by Eventbrite.
*Event fee is non-refundable.
Save This Event
When & Where

Oakland FamilySearch Library
4766 Lincoln Avenue
Oakland, CA 94602


Wednesday, February 19, 2020 at 9:30 AM

-

Wednesday, March 18, 2020 at 12:00 PM (PST)
Add to my calendar
Organizer
   Connecting people to their diverse family heritage

Whether you have Gold Rush ancestors or have no family connection to California, you will find extensive support for your genealogy research at the California Genealogical Society (CGS) in Oakland. The society offers research services, online indexes and databases, and a research library housing over 38,000 reference materials from California, the United States, and around the world. CGS is a 501(c)(3) nonprofit corporation. The library is conveniently located in Uptown Oakland, one block north of the Paramount Theatre, at 2201 Broadway, Suite LL2. We are three blocks from the 19th Street BART Station.
Phone: (510) 663-1358 
Non-Discrimination Statement
The goal of the California Genealogical Society is to connect people to their family heritage and to promote a spirit of diversity and inclusivity for our members and patrons. The California Genealogical Society does not tolerate discrimination in any form. 
Courtesy Request
In order to maintain a welcoming and healthy environment, please refrain from using scented products at CGS events or in the library.
Photography Notice
California Genealogical Society (CGS) may take photographs, audio recordings, and video footage in our library, classrooms or events for historical records or publicity purposes.  If you do not want to be photographed or filmed, it is the individual's responsibility to 'opt out' by notifying the event leader or photographer at the event.