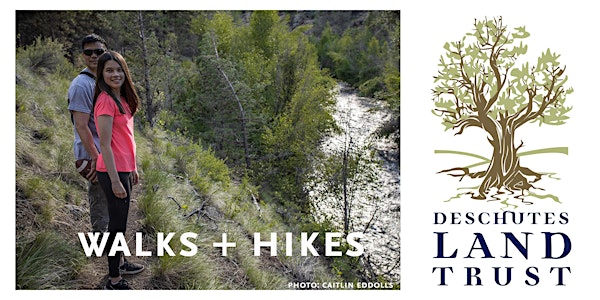 Intermediate Mountain Bike Ride, Metolius Preserve
Join Gary 'Gus' Gustafson for a 6-8 mile intermediate mountain bike ride at the Metolius Preserve.
About this event
Join the Deschutes Land Trust and Gary 'Gus' Gustafson for a 6-8 mile intermediate* mountain bike ride at the Metolius Preserve. Visit all three sections of the forested 1,240-acre Metolius Preserve following singletrack trails and dirt roads. Along the way, we'll stop in various locations and talk about the many hidden qualities of the Preserve, including habitat types, animal and bird species present, fish passage, vegetation, and other interesting tidbits. Registration is required and opens 1 month prior to the event.
*Intermediate-level riders are riders in good physical condition and comfortable riding in areas of loose dirt and sandy soil. Riders should be able to ride over obstacles in the trail such as rocks and vegetation. This ride does not take place on smooth, well-packed trails. It is a mix of logging roads and trails with some climbs and descents.
Face masks: Per Oregon Health Authority (OHA) guidelines, face masks are no longer required indoors or outside. Individuals who wish to wear a face mask may do so.
Ride Rating: This is an intermediate 6-8 mile mountain bike ride on dirt roads and singletrack trails.
Route: This ride will start at the North Trailhead of the Metolius Preserve and explore trails in the area. Terrain will be uneven at times.
Elevation gain/loss: There is moderate elevation gain/loss on this ride.
What to Bring: Your bike, helmet (it is required during your ride), a bike repair kit, plenty of water, and snacks/lunch. Dress for the weather.