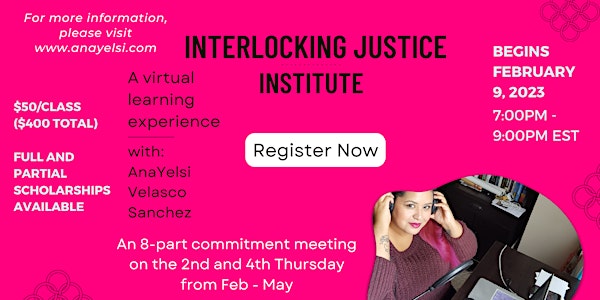 Interlocking Justice Institute 2023
An 8-session virtual cohort designed to give participants a foundational understanding of Interlocking Justice
Refund Policy
Refunds up to 7 days before event
Eventbrite's fee is nonrefundable.
About this event
Join The Interlocking Justice Institute for an 8-session (Feb-May) virtual cohort designed to give participants a foundational understanding of Interlocking Justice.
It doesn't just matter that we go about the work of justice. It matters how we go about that work. What we do and how we do it is meant to be good medicine. An offering to one another in our journey toward mutual liberation. We are connected. Our work is connected. But we often don't act like it. The Institute is led by the creator of Interlocking Justice, AnaYelsi Velasco Sanchez, and exists to teach movement leaders a way forward.
Cohort participants will engage in formal learnings and conversations specific to interlocking justice. Topics will include the history of interlocking justice and relevant frameworks; a deep-dive into the 5 core practices of interlocking justice; and training in the personal and collective application of interlocking justice.
The Institute's 2023 cohort will meet virtually twice a month for 120-minute sessions (every 2nd and 4th Thursday for now) for a total of 8 sessions.
Unlike the typical online experience, the institute provides live, real-time facilitation and one-on-one engagement that supports each individual's learning journey. Participants will be required to attend 75% of the sessions (miss no more than 2 sessions) and complete assignments (2-3 hours per class).
If you have an accommodation need (for example, if you have a hearing impairment and an assigned video does not have captions), please inform the instructor as soon as possible. All sessions will be captioned, In English, and we are working to make the cohort more accessible overall, but as we make these improvements, we want to address immediate concerns as swiftly and effectively as possible.
Program Overview:
Session #1
February 9, 2023 - Naming the Problem
Session #2
February 23, 2023 - Knowing the History
Session #3
March 9, 2023 - The Continuum and Restorative Practice
Session #4
March 23, 2023 - Integrity Practice and Community Practice
Session #5
April 13, 2023 - Convergence Practice and Expansive Practice
Session #6
April 27, 2023 - Assessment
Session #7
May 11, 2023 - Application
Session #8
May 25, 2023 - Review
You'll walk away with:
A powerful method for doing justice through the 5 practices of interlocking justice
A Network of peers committed to pursuing justice the interlocking way
A certificate upon completion
This program is perfect for:
Anyone new to interlocking justice that is interested in doing a deep dive into the 5 practices. Those in leadership positions (businesses, non-profits, faith communities, community collectives, higher education) are strongly encouraged to participate.