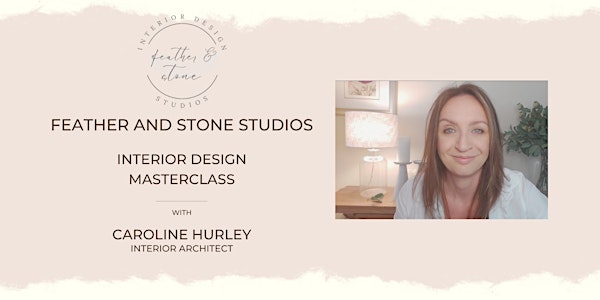 Interior Design Masterclass
A Masterclass of Professional Interior Designer's Tips, Secrets and Techniques to make any space more beautiful, functional and homely.
When and where
Location
Killashee Hotel Kilcullen Road W91 DC98 Naas Ireland
Refund Policy
Contact the organiser to request a refund.
About this event
Are you building, renovating or redecorating your home?
Are you unsure how to bring your design ideas together or plan your new space?
Or
Are you redecorating a space in your home and need some expert tips to help you pull it all together?
Join my Interior Design Masterclass and, in this live 2.5 hour workshop, I will give you the tips you need to transform a home you "kind of like" into a home you LOVE!
We are asking so much more of our homes now that many of us are working from home and living family life all under one roof!
Learn from a professional Interior Architect, the top tips and secrets that make a well designed, beautiful and functional home.
Hi, I'm Caroline Hurley and I am a professional Interior Architect and I have helped many Irish families to transform their spaces into homes they love. From small homes to mansions, designing high-end, luxury kitchens to creating smaller, more intimate family spaces, I have helped many many stressed out friends and clients to fix huge mistakes in their properties.
I want to help you avoid the mistakes and pitfalls of home design that can end up costing you a small fortune.
In this Masterclass I will share the 7 biggest secrets you need to know to get your design done right.
We will cover;
1. Proper Space Planning
One thing I always notice with clients is that it is so hard to gauge from a 2D architects plan just how much space you really have or how to visualise that space in real terms. I will show you how to ensure you have the right circulation spaces in your home, how to plan comfortable spaces that work well and feel great and how to avoid accidentally ordering pieces of furniture that are too big or too small or ending up with annoying 'pinch points' in your home.
2. Kitchen Design Essentials
Learn the essentials of designing a beautiful, perfectly zoned, symmetrical kitchen that works like a dream (I have years of experience as a high-end kitchen designer, so this will be an extra special part of the masterclass!)
3. Bathroom Design Essentials
Bathrooms are often a design 'after-thought' but they should't be. Bathrooms should be your own little retreat, a comfortable and luxury space you go to relax and unwind in a hot bath or shower. They should not only function well but they should make you feel great too. Learn to design bathrooms that feel like a mini-spa in your own home!
4. Choosing the right colours for your space
This is probably the most common Interior Design question. "How do I choose the right colours for my space?" There are so many different shades of just white paint, for example! So how do you know what to pick? I will show you exactly how to work with undertones, lighting and creating a colour scheme that works cohesively!
5. Window Dressing
Blinds? Curtains? Voils? Shutters? Rollers vs Romans!
All your window dressing questions answered, plus my top tips on how to use widow dressings to create a perception of more height in your space and how to create a more luxurious look with just a few small adjustments.
6. Flooring Choices
Choosing the right type of flooring in each space can be a little bit daunting. Should you run the same flooring throughout the whole space? Should you mix and match? Should you go for hardwood, engineered wood, laminate, tiles, carpet? All your flooring questions answered.
7. Lighting and Natural Light
How to make the most of what you've got in terms of lighting. Lighting and natural light are the single biggest elements that affect the feel of a space. You could have the most beautifully designed home in the world but if you poor light, the whole thing falls flat! Learn the the very simple, expert lighting tips that will instantly elevate any space!
We will also feature special guests - Industry Experts (to be announced soon) chatting with us about many of the above topics. The conversations will cover topics like colour chouces, styling, lighting, flooring and more.
So, if you are planning a renovation or building project or you are wanting to update some spaces in your home, you won't want to miss this.
Click the link to book your spot now. This is a live, in-person Masterclass in the Kilashee Hotel, Naas, so spaces are limited. Don't miss out!