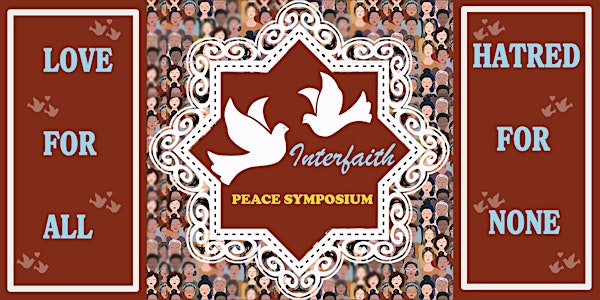 Interfaith Peace Symposium (Women's Only Event)
An event to unite women of diverse faiths and backgrounds on the theme of " Women as Architects of Peace".
When and where
Location
Baitul Ata 1800 Willow Trail Parkway Norcross, GA 30093
About this event
This is the first Interfaith Peace Symposium hosted by the women of the Ahmadiyya Muslim Community (AMC) (GA Chapter) organized under the banner of the Ahmadiyya Muslim Women's Auxiliary (AMWA) (GA Chapter).
AMC (GA Chapter) is one of the 73 chapters of the Ahmadiyya Muslim Community (AMC) U.S.A and comprises of Muslims who believe in the Messiah Mirza Ghulam Ahmad of Qadian as the much awaited reformer of the latter days who came to revive Islam to its pristine form.
The community is the largest International Muslim organization under the leadership of a single spiritual leader known as the "Khalifa" and spans over 207 countries and territories worldwide. The current Khalifa is His Holiness Mirza Masroor Ahmad who resides in London (U.K.).
AMC believes in building bridges of understanding and promoting peace and tolerance through discourse, interfaith dialogue and service to community. It's members consider loyalty to the country as part of faith and strive to live by its community motto: "Love for All, Hatred for None".
AMC U.K. has been organizing Interfaith Peace Symposiums in London for the past many years under the guidance of the Khalifa.
Therefore, following in the footsteps of its leadership, the organizers from AMWA-GA intend to bring together women from diverse backgrounds on the theme of "Peace" at their mosque Baitul Ata in Norcross to coincide with the "Women's History Month".
This FREE to attend event will not only highlight the role of women in achieving peace by speeches but will also showcase some amazing non-profit organizations that are making a difference in the local community including:
Gwinnett Interfaith Alliance
Humanity First U.S.A
Just Serve
Green Cell ATL
GIPL (Georgia Interfaith Power & Light)
Raksha Inc.
Families First
Noor Family Services
Peace Of Thread
Noah' Ark
The attendees will also have the opportunity to visit the Holy Quran Exhibition.
Baby sitting for children (under 10) and refreshments will be offered.
Contact us at waamcga@gmail.com for any questions.