Description
*Parking is at 425 Shatto Pl. Read important info below!*

Please join us on the 4th annual
*Strengthening diversity, plurality, unity*
Now a flagship partner of the Interfaith March for Peace & Justice, the world's largest coalition of interfaith marches.
Sunday, September 22, 2019
Registration begins at 1:00 pm; program ends around 5:00 pm
Click here for the day's PROGRAM
Join Marchers in 24 locations around the world on September 22nd!
USA: California: Grass Valley, Los Angeles, Ventura; Idaho: Boise; Illinois: Chicago, Rock Valley; Michigan: Grand Rapids, Holland; New Jersey: Newark; Ohio: Columbus, Toledo; Pennsylvania: Erie, Pittsburgh; South Carolina: Columbia; Virginia: Charlottesville; Wyoming: Cheyenne
International: India: Jammu & Kashmir; Israel/Palestine: Tel Aviv/Bethlehem; Malawi: Lilongwe, Nkhudzi Bay; Pakistan: Faisalabad; Uganda: Gulu
---
To all people of every faith, philosophy, and creed:
As a symbol of our solidarity with our neighbors and colleagues, we invite you to march with us between several select houses of worship, as together we lead the way toward peace and unity among all people.
The theme of this march is that we reject all hatred and oppression in the name of religion, both at home and abroad;
And in light of the rise in politically motivated hate crimes, and the persistence of genocides, we support the most vulnerable of religious communities against Islamophobia, Anti-Semitism, and all forms of religious or ideological extremism, as we stand in support of every person's right to freedom of worship or belief, and the right to live peacefully.
---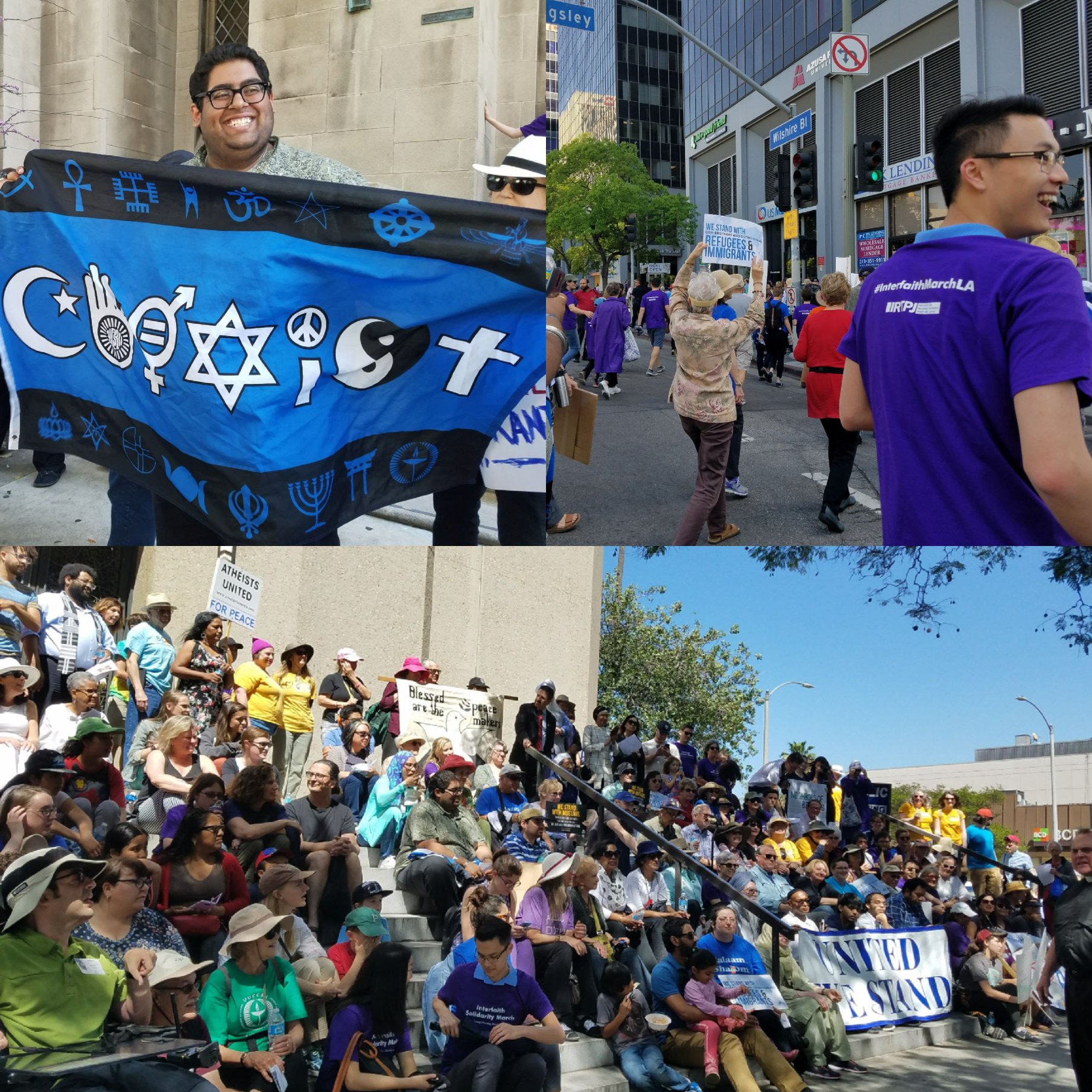 March route, approximately 1 mile (subject to change):
Meet at The Islamic Center of Southern California (434 S Vermont Ave, Los Angeles)
Walk to Founders' Church of Religious Science (3281 West 6th St.)
Next stop Immanuel Presbyterian Church (3300 Wilshire Blvd.)
Return to The Islamic Center of Southern California
There will be an exciting program of speakers, performers, and activities included! Stay to the end of this free event and enjoy delicious food, courtesy of Sikhs of LA and the ICSC.

---
******************Marchers: Please read this important info!
For your convenience, we are sharing this information so that you can better plan your attendance and participation in the fourth annual Interfaith Solidarity March, and make it an extraordinary, effective, and safe experience for all.
PARKING:
• Most parking will be at 425 Shatto Place (adjoining with the Dept. of Child and Family Services), behind the Islamic Center of Southern California (ICSC).
• Street parking.
This event begins and ends at the same place, so there will be no need for shuttles. We recommend that marchers carpool as able. Some spaces will be available before 1:00 PM, but many more will open up at 1. There is no need to arrive before 1:00, as there will be time for registration and activities before the march begins.
We will be gathering together in the back lot of the ICSC. The formal program begins at 1:45 PM. Take a program at registration to see our timing, route, and other pertinent info. The final rally and program of speakers will begin at the Islamic Center of Southern California around 4:15 PM, followed by refreshments and reception.
Please bring hats and sunscreen to protect yourself from the sun. Water and snacks will be provided at the beginning, however please take care of yourself with extra libations and your own fan/cooling devices.
You may opt to bring signs reflecting solidarity, unity, and peace. Try to avoid using overly negative or divisive comments/messages on the signs. We want to include, rather than exclude. Please do not mount your signs on sticks, as per the explicit request of LAPD. (Please try to make your signs vertically oriented, rather than horizontal, for the purposes of safety and space savings on the sidewalk where we will be marching.) There will be some materials available at the check-in tables for making signage.
Please rest assured that our friends in law enforcement will have a very visible and proactive presence at this march, in order to ensure the safety and security of all. The event organizers have made every attempt to ensure that a positive and healthy experience will be had by all participants. We ask that everyone abide by the laws and regulations governing this area and that everyone practice good habits of courtesy and tolerance toward all. Remember, this is a march for unity, solidarity, and peace.
Please note that in attending this event, each participant assumes full responsibility for his or her own safety and security, and agrees to hold harmless the organizers of the event, as well as any other participants or entities involved.
Please arrive on time and try to bring 10 people with you. Share the march on social media.
Please register for our event on Eventbrite, and find more information on Facebook, and other social media with the links and hashtags below:
#InterfaithMarchLA #IRTPJ www.IRTPJ.org ***************
---
For more info contact: InterfaithMarchLA@gmail.com (323) 454-0557
Organized by the Institute for Religious Tolerance, Peace and Justice, with great assistance from numerous partners and collaborators.
#InterfaithMarchLA #IRTPJ IRTPJ.org
View updates on our website, Facebook event, or Eventbrite page
facebook.com/IRTPJ/ RSVP: interfaithmarchla2019.eventbrite.com

More details will be posted here and on our website as the event draws near!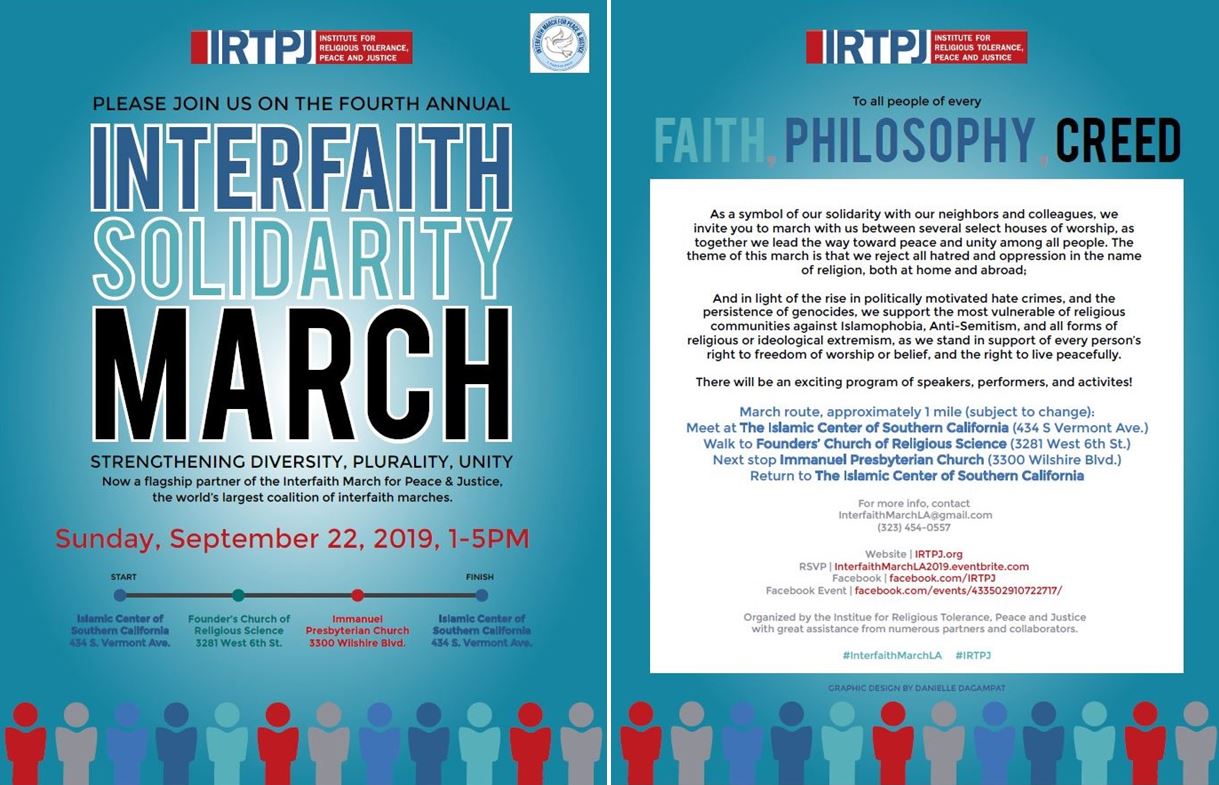 **************************
Event Ground Rules
By choosing to attend this event, you are committing to participate nonviolently and in accordance with the law, to work to de-escalate confrontations with others, and to obey the orders of authorized event marshals and of law enforcement. You also acknowledge that you are solely responsible for any injury or damage to your person or property resulting from or occurring during this event and that you release all event sponsors and organizers (and their officers, directors, employees, and agents) from any liability for that injury or damage.
*****
LAPD and security will be present throughout.