Interfaith Labyrinth Walk with Live Music at Grace North Church Berkeley-Free- FRIDAY, OCTOBER 25TH

Monthly Event - Last Friday of every month: 6:00 PM to 7:00 PM (PDT)
Event Details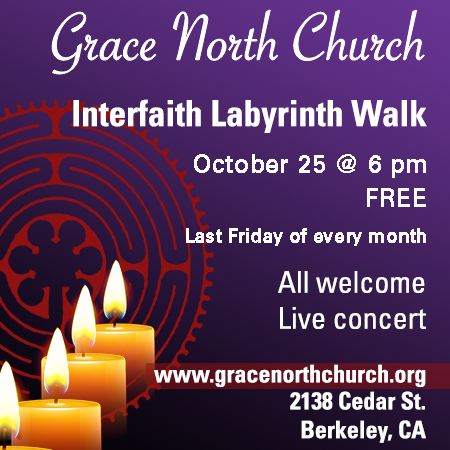 Would you like to start your weekend refreshed? 
Labyrinth Walk with Live Music
Friday, Oct 25 at 6pm
FREE!  All Welcome! 
Our last labyrinth for 2013 !
Hosted by Grace North Church
2138 Cedar Street, Berkeley, CA
Find peace. Find calm. Find hope. 
-- by walking the Labyrinth.  With 97 candles lighting the way, our Labyrinth Walk with Live Music is open to all ages, walks of life, and faiths.
Did you know there is no wrong way to walk a labyrinth? Unlike a maze, a labyrinth has no false turns, instead there is one path in and one path out. Since ancient times, the Labyrinth has been a form of meditation. Walking the winding path reminds us that even though life has many twists and turns, we always end up at center. When you wind your way back to the beginning, find that you feel more refreshed. While you walk, our musicians play a concert of beautiful music from many world religions--that inspire inner peace and hope. You can choose to walk, sit, listen, sing or meditate.
All ages, walks of life, all faiths are welcome!  Yes, this free event is Open to the Public. You and your family and friends are welcome! Come as you are -- casual or work attire.
Musicians  The Winding Way musicians perform a concert of beautiful music, playing a variety of instruments: guitar, violin, cello, piano, voice, to match the songs of the month. Songs may come from Christian, Buddhist, Judaism, Hindu and more traditions.
Where   The Labyrinth is indoors at Grace North Church-- enter on 2138 Cedar Street, walk upstairs! Enjoy the neighborhood. The Grace North Church Labyrinth follows the pattern of the Chartres Cathedral Labyrinth in France that was constructed in the 13th century. Grace North Church is located at 2138 Cedar Street, Berkeley. (corner of Walnut and Cedar Streets at Christ Church)--just one block east of Shattuck Avenue in the "gourmet ghetto" neighborhood of North Berkeley, home to famed eateries and coffee shops.
When  Friday, September 27 at 6-7pm. Enjoy the Labyrinth together with the great autumn weather of Berkeley! The Labyrinth is the last Friday of every month. Simply show up -- this free event requires no tickets!

Grace North Church  Visit our website at www.gracenorthchurch.org or call us at (510) 548-2153 for more information. Grace North Church offers exciting events and programs for the community.
Have questions about Interfaith Labyrinth Walk with Live Music at Grace North Church Berkeley-Free- FRIDAY, OCTOBER 25TH?
Contact Grace North Church
Where

Grace North Church
2138 Cedar St
Berkeley, CA 94702


Monthly Event - Last Friday of every month: 6:00 PM to 7:00 PM (PDT)
Add to my calendar
Organizer
Grace North Church is a progressive Christian community that welcomes anyone, regardless of who you are, what you've done, who you love, and what you believe or don't believe. Come join us for a worship celebration that is formal and friendly at the same time, ecstatic and thoughtful, and meet folks who are diverse and caring. Our music is folky and original and we are GLBT friendly—and dog-friendly, too! (Yes, you can bring your dog. Really.)