Meet your insect neighbors and get ready for the 2021 City Nature Challenge!
About this Event
At the Botanical Garden, insects can be observed pollinating flowers, moving seeds, and so much more. Have you ever stopped to wonder what's flying, crawling, and wriggling around our city? Over 3,000 species of insects have been observed in Los Angeles on the iNaturalist/Seek apps, and new species are still being discovered by scientists today!
Anyone can become a community scientist and help to identify and document species living in our city. Meet your insect neighbors and get ready for the 2021 City Nature Challenge (April 30th - May 3rd).
Register for this free virtual event to:
• Ask questions with UCLA scientists Eva Horna Lowell & Alejandra Gamboa
• Learn about insect identification
• Explore how to use the Seek app
• Print your very own Insect Explorer Guide
Support Free Educational Programs at the Botanical Garden
Help ensure that the UCLA Mathias Botanical Garden can provide free educational programs to the public. Become a Member today!
What is the City Nature Challenge?
Invented by citizen science staff at the Natural History Museum of Los Angeles County (Lila Higgins) and California Academy of Sciences (Alison Young). The City Nature Challenge is an international effort for people to find and document plants and wildlife in cities across the globe. It's a bioblitz-style competition where cities are in a contest against each other to see who can make the most observations of nature, who can find the most species, and who can engage the most people.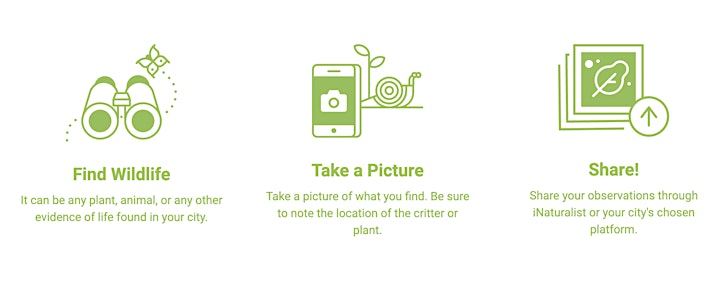 Why participate in the City Nature Challenge?
There is nature all around us, even in our cities! Knowing what species are in our city and where they are helps us study and protect them, but the ONLY way to do that is by all of us – scientists, land managers, and the community – working together to find and document the nature in our area. By participating in the City Nature Challenge, not only do you learn more about your local nature, but you can also make your city a better place – for you and other species!