Description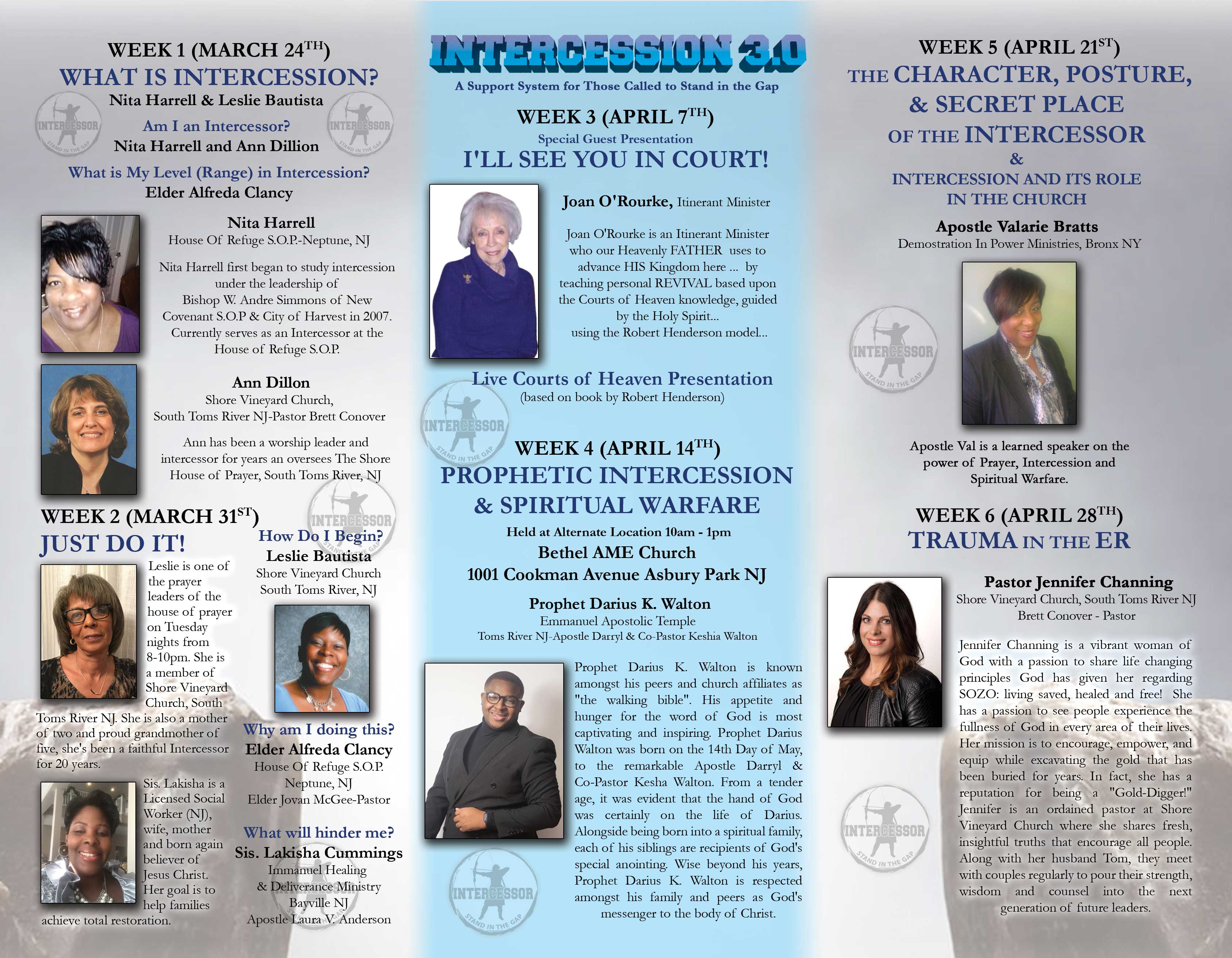 PLEASE BE ADVISED THERE HAS BEEN A CHANGE IN LOCATION CONCERNING THE PROPHETIC INTERCESSION & SPIRITUAL WARFARE CLASSES TAUGHT BY PROPHET DARIUS WALTON. WE WILL BE AT BETHEL AME CHURCH, 1001 Cookman Avenue IN ASBURY PARK NJ AT 10AM. WE WILL HAVE LUNCH AFTER THE CLASSES ARE OVER. THANK YOU FOR YOUR CONSIDERATION IN THIS MATTER.

Hello everyone!!!,
Let me first start of by saying TO GOD BE THE GLORY! When the Lord impressed upon my heart to do this workshop...my first thought was YOU!!! I want to make sure you get all you need..so with that being said:
Get ready for this Powerful, Informational 6 Week Workshop! The information you will receive will equip you to take this back to your church and operate with power as you STAND IN THE GAP.....For your Pastor/Church and Family. You do not want to miss this!
We will have different speakers covering different aspects of Intercession and the power we possess! Get equipped to STAND IN THE GAP!
What you will get along with the workshop teachings and registration:
I'll SEE YOU IN COURT!-This LIVE presentation will be an eye-opener for you! (Based on the book by Robert Henderson(I cant give away the details:) Just come and see for yourself.
SOUL FOOD LUNCH catered by At the table! You do not have to pay for this, it's included in the registration. Our lunch will be at Bethel AME Church-1001 Cookman Ave Asbury Park NJ 07712.
The Intercessor Manual-A question/answer study guide to better equip you for your journey AHEAD!!!
A pen with my Logo on it:)
Note++If you choose to come when we have the lunch and workshop the price will be $30.00. Each session sold separely will be $10.00 except the dinner/worshop on April 14, 2018. Hope to see you there!
Just to keep you on schedule....there will be one Saturday in April that will need to be changed to April 14, 2018 and the location is different. We will be at 1001 Cookman Avenue-Bethel AME Church, Asbury Park, NJ 07712