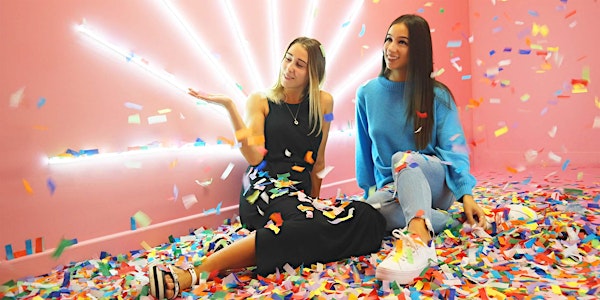 Interactive Pop-up Exhibit "Fairy Island"
When and where
Location
Fairy Island 152 Lexington Avenue New York, NY 10016
Refund Policy
Refunds up to 7 days before event
Description
EXTENDED!
Fairy Island will be open until DECEMBER 5TH!
Fairy Island is an upcoming novel interactive pop-up exhibit that portrays a dreamland where women can actually find a complimentary ambience to give wings to their long pending desires and dreams.
The exhibit will feature 6 magical multi-sensory installations to inspire an exciting exploratory and engaging atmosphere for visitors: Melody's Zootopia, Ester's Observatory, Isabel's Time Machine, Catherine's 7-Eleven and Joan's Dressing Room.
The last room is yet to be titled and it is open for the public to name it. The person who will be able to give the best fitting name to the room will get a special prize.
FAQs
Do you have a specific date and time for tickets?
We do not have a specific date and a time restriction. If you purchase a weekday ticket, you can come on any weekday except holidays. This rule applies to weekend tickets as well.
How long can I stay on Fairy Island?
To maintain a better experience for all of our islanders, we have an ONE-HOUR limitation in our exhibit.
Can I purchase a student ticket and come on weekends?
Sure thing. Student tickets have no restrictions on dates, either weekdays or weekends, you can use student tickets on Fairy Island. All you need to do is bring a valid student ID.
Is this exhibit good for children?
Definitely! We love children and hope them to have fun on Fairy Island as well. However, we do have small glitters and confetti, do not let your children eat or touch these small things, we are not responsible for their safety.
Do you have age restrictions for children tickets?
We do not have an age restriction, but kids under 16 years old need to be accompanied by an adult. It will be free admission for kids under 3 years old. Children under 12 years old will be $12 per ticket.
What is your outside photography policy?
We only allow the camera and a small tripod in our exhibit due to limited spaces.
Will you be open on Columbus Day?
Yes! You can come in with a weekday ticket.
How can I contact you with any questions?
You can always contact us at marketing@fairyislandusa.com.