| | |
| --- | --- |
| INTERACTIVE CONNECTIONS 2011 | |
Event Details
Digital Discipleship: Transforming Ministry Through Technology
January 31 to February 3, 2011
The 2nd Annual INTERACTIVE CONNECTIONS CONFERENCE 2011, takes place in Orlando, FL.  Keynote speaker John Roberto, president of Life Long Learning and editor of LifeLong Faith, on Monday evening and Tuesday morning will focus on Envisioning and Designing the Future of Faith Formation.
On Tuesday, National catechetical and ministry leaders will cover a wide variety of topics including the use of meeting and teaching technologies via web for parishes and dioceses, social networking and web innovation, creating digital stories, and using web-based technology in the catechetical process.  A full program is available online.
IC 2011 collocates with the nationally acclaimed Florida Educational Technology Conference - in order to benefit from over 200 Learning Sessions featuring current and emerging technologies, as well as best practices developed through research and actual experience.  The FETC Expo welcomes over 300 vendors where new ideas and contacts for ideas and resources are available.
Location: Doubletree Resort - International Drive, Orlando, Florida (Reserve rooms at special conference rate - $89.00 per night, call: 800-327-0363.)
2 CEU's from the University of Dayton are included in the registration.
Note:  All cancellations and requests for REFUNDS will be subject to a $50 administrative fee and  must be postmarked by January 3, 2010.  No refunds will be given after that date.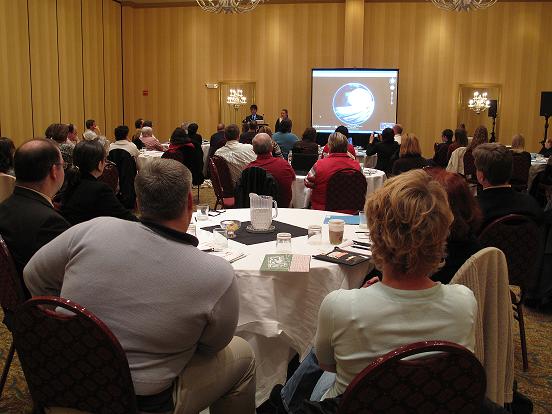 IC 2011 Learning Sessions
Social Netowrking and the Church - Joe Luedke, Vice President of Interactive Media for Liturgical Publications (LPi)
Church Life & Evangelization After Google - Michael Cooper, S.J., S.T.D. Professor of Spirituality and Pastoral Studies, Saint Leo University, near Tampa, FL
Catholic Websites: Tools of Evangelization - Terry Modica, Founder, Good News Web Designers Association
Faith Connect: Helping Teens Connect with their Faith in an Online Environment - Ailis Travers, writer and researcher, Department of Catechetics, Veritas Publishers
Bulletin 2.0 - Joe Luedke, Vice President of Interactive Media for Liturgical Publications (LPi)
The Easy Art of Digital Stories - Christine Dandaraw, Training Coordinator, Diocese of St. Petersburg
Come To Our Meeting...But Stay Where You Are - Tony Krisak, a priest of the Diocese of Trenton, is the Director of Internet Services at the Paulist National Catholic Evangelization Association in Washington, DC.
Technology and Faith in the 21st Century - Claudia McIvor, Educator, Master Catechists and Lay Pastoral Minister, Diocese of St. Petersburg
Virtual Vision: 21st Century Learnng with Digital Programs - Trina Trimm, Director/Head of the National Catholic Virtual School, www.CSK12.com and Principal for St. Andrew Catholic School
Digital Discipleship - Caroline Cerveny, SSJ-TOSF, D. Min., Founder and President of Interactive Connections
Making Dreams Come True in Orlando and your parish! Joyce Guris, Director of Religious Education and Youth Ministry, Transfiguration Catholic Church, Marietta, Georgia
CaTECHesis: Out of the Classroom, Into the "Net" - Cheryl Smith, Resource Center Administrator, Diocese of Syracuse, Office of Faith Formation-Eastern Region and Andrea Slaven, Director of Faith Formation, St. Helena Parish
The program for Wednesday-Thursday, February 1-2, 2011
FLORIDA EDUCATIONAL TECHNOLOGY CONFERENCE (WWW.FETC.ORG)

Expert Speakers: K-12 Education technology leaders help you explore current and emerging technologies ¨Outstanding Programming: 200 breakout sessions and 60-plus workshops focus on the latest resources and techniques—wikis, blogs, social networking, virtual learning, podcasting and more ¨Direct Access to Top Solution Providers: Meet face to face with hundreds of top technology solution providers in the tech-specific Exhibit Hall.
Note: FETC registration is included in your IC/FETC registration. 

IC Conference Registation for Monday evening and Tuesday

For individuals and groups who are interested in attending only the Monday evening and/or Tuesday events You may use the IC 2011 - Registration form.   Click on "Download" for a copy of the form for you to print and use.  Registration form and payment must be postmarked no later than December 31, 2010. If you are registering a group from the same organization, all registrations must be received in the same envelope.  Please direct your questions to Sr. Caroline at - 727-744-4684. 

Where

DoubleTree by Hilton Orlando at Seaworld
10100 International Drive

Orlando, 32821


Organizer
A global community of ministry professionals and practitioners dedicated to providing leadership and service for faith-based educational technology.